Crash a Panthers tailgate, a beautiful Saturday in Freedom Park, or Zada Jane's on Sunday morning, and you'll notice there's plenty of Charlotte love to go around. But even in a city with mass appeal for young singles and families alike, we've all got a few gripes -- 99 to be exact.
1. Two years behind on every food trend
2. Nightlife is only diverse one weekend a year (thanks, CIAA)
3. As highlighted by local businesses (cough)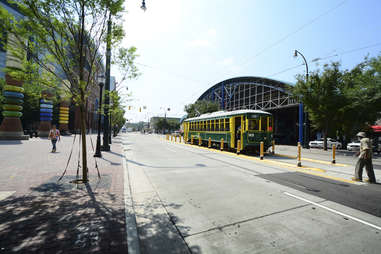 4. The streetcar debuted and immediately wrecked someone
5. Dilworth bungalows cost 10x more than you think they will
6. Morris-Jenkins
7. Lack of rooftop bars
8. Tiny pockets of dives, squished by new apartments
9. B-list celebrities that we have to treat like A-listers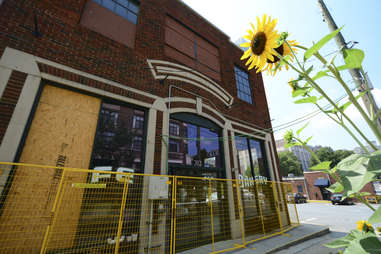 10. Our one good Cronut place burned down
11. The streets change names every 10 seconds
12. Saying goodbye to movie sets in town
13. We're still touting the DNC like we're the only city that has ever hosted it
14. Even the slight scare of snow sends everyone into sheer panic
15. Northerners who act superior during said snow scares
16. The Metropolitan parking deck sucks your soul
17. As does 77 from about 3 to 7pm
18. You can guess where someone works in three tries or fewer
19. The Roasting Company chicken pies only on Wednesdays
20. Way too much Randy Marion family history
21. Banned happy hours
22. The end of Jackalope Jack's
23. Mayor, jail time, 'nough said
24. Amelie's long-ass line anytime, day or night
25. Having to wait in the same long-ass Amelie's line whether you want food, coffee, or just one tiny salted caramel brownie
26. The train that runs through Plaza Midwood at 5mph
27. Comparisons to Atlanta and DC... just don't
28. Steve Smith, we're still not over you
29. CLT is a driver's city, bikers and pedestrians beware
30. Yeah, yeah, downtown is uptown
31. Exit 28's "sail boat" fail
32. You better bring cash to Johnny Burrito or you'll get yelled at
33. We got pro Ultimate Frisbee before soccer or MLB
34. Who actually works in the Keyman Building?
35. Twenty-seven years later, 485 is complete
36. People who move down South then make fun of Southern accents
37. James Beard disses
38. Main loyalty to the arts is going to see the Nutcracker every year
39. Stephen Curry, it's time to come home. Riley agrees.
40. Subpar reality show representation -- minus Emily Maynard
41. Having to dress up to go anywhere
42. Sad times: Cheesecake Factory has a longer wait than Good Food on Montford
43. No one knows about Va da Vie gelato (go now!)
44. College football allegiance -- to everywhere but here
45. Ditto for basketball
46. Checkers apologists: "It's actually fun!"
47. People who insist Charlotte isn't a "real city"
48. We only just got ramen. See #1.
49. People in Fort Mill think they live in Charlotte
50. We can actually keep a Lilly Pulitzer store in business
51. Having to use GPS to navigate out of your hometown airport
52. Where's the upscale Mexican food?
53. Crisp uptown has 100x more visitors daily than the NASCAR Hall of Fame
54. The light-rail ticket machines are inefficient, in a city full of rule-followers
55. TOLL ROAD WTF
56. You must take every out-of-town visitor to the Whitewater Center
57. Largest pub crawl = hide from uptown
58. Scorching hot summer but 77 stands between you and the lake
59. The Knights were perfect -- pre-weird dragon
60. The Queen's Cup is just Carolina Cup part two
61. Your friends have a 50% chance of moving away at any time
62. Cool, you can go to Europe direct but still have to fly through ATL for Chicago or Nashville
63. Men who think meeting at BlackFinn counts as a date
64. Uber drivers and cabbies asking you for directions
65. The far-off Super Bowl dream circa 2003
66. No one offers cookie delivery
67. You have to drive at least an hour for true Carolina barbecue
68. Muscadine wines are the highlights at local wineries
69. Anyone who calls it "The 704"
70. Charleston envy
71. We brought the buzz back, without the wins
72. Highly educated but can't keep bookstores alive
73. Where are all the dog walkers?
74. New levels of road rage -- at the Dowd Y parking lot
75. Cannot fit four cars across on Randolph Road
76. Ryan Lochte
77. The slow, painful death of business on Independence
78. Good luck finding food after 10pm
79. The EpiCentre
80. Need new nickname. There are not enough Queen puns for your royal pleasure.
81. Getting lost in the uptown underground maze
82. No cheap wings en masse
83. Queens Queens Providence Providence
84. The light rail doesn't go to NoDa
85. "Oh, you can just park on the street"
86. Anyone who talks about riding the bull at Whisky River
87. Trying to explain the uptown ward system
88. The lack of attendance in the fourth quarter of Panthers games
89. Uptown has zero good retail
90. Need. More. Bagels.
91. Nowhere to eat with friends who have CLT layovers
92. 7th St Market's inconsistent shop hours
93. Late to the party on Postmates and Hinge
94. The only free big-name concerts are country
95. Which reminds us, Speed Street
96. Population growing faster than jobs
97. The hype and subsequent letdown of Billy Joel
98. Scarce good street musicians, and no cool painted people
99. But you could get preached at on the street at any time
Sign up here for our daily Charlotte email and be the first to get all the food/drink/fun in the Queen City.