10 Bears jerseys you can't wear, ever
The Bears opened up with a win, and things are looking good. Well, GENERALLY speaking things are looking good, but some of you are looking terrible, stepping out in jerseys of players who are no longer with the team. And no, that doesn't mean Dan Hampton or Gale Sayers. These are the 10 Bears jerseys that should no longer be in your closet, let alone on your person. Make no mistake, this is not meant to represent a list of the worst Bears ever, which is a topic for another day. To crack this list, a player must have achieved a certain level of expectation and notoriety such that it's at least plausible that, at one point in time, people wanted to own their jersey before eventually coming to regret the decision.
10. Anthony Thomas
Hard to believe the A-Train was once upon a time reigning Offensive Rookie of the Year and a worthy heir to Neal Anderson's number. The good news? He was not the most disappointing University of Michigan alum to come out of his draft class.
9. Rashaan Salaam
Another failed attempt at developing a running back, the Heisman Trophy winner had a decent rookie year but that was about it. He would later emerge in the XFL, and it would be revealed he had been too busy smoking weed to work hard during his NFL career.
8. Any Pink Jersey
Age and gender are irrelevant. Wear a real jersey. Even if it's one of the ones that gives proceeds to breast cancer research, there are FAR more efficient ways to donate your money.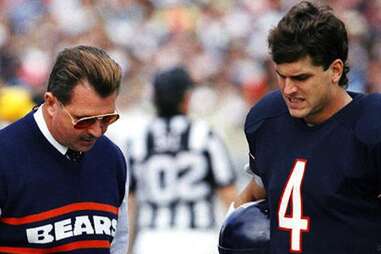 7. Jim Harbaugh
He's turned into an impressive (if possibly sociopathic) coach, but before he became part of the NFL's most celebrated coaching brotherhood, he was an incredibly disappointing quarterback who damn near killed his poor, mild-mannered coach.
6. David Terrell
Impressively, Mr. Terrell was disappointing enough to make this list BEFORE getting arrested on charges of selling marijuana. Thomas... Harbaugh... Terrell... maybe just lay off those Michigan Wolverines.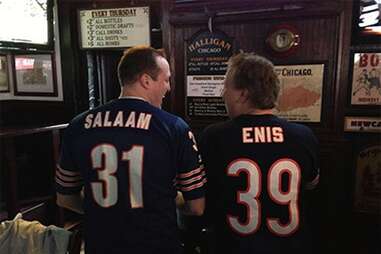 5. Curtis Enis
Enis seemed like a bust right when they drafted him -- no one could succeed with a name that rhymes so hilariously -- and yet, no matter how low your expectations were, he still sank below them.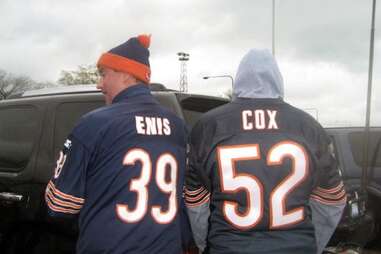 4. Bryan Cox
Cox and Enis should be the title of a TNT buddy cop drama. Neither of them ever should have played for the Bears.
3. Cedric Benson
He did manage to string together half a decent season during their Super Bowl run, but few players were able to combine a disappointing career with just being a generally unlikeable person the way Cedric did.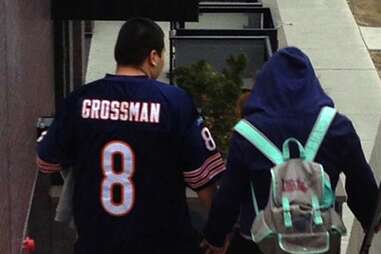 2. Rex Grossman
Sexy Rexy did "lead" the Bears to a Super Bowl. If only he had remembered to play in it.
1. Cade McNown
Will a Bears QB ever have the cojones to choose old #8 again? If I ever see a #8 Bears jersey on the streets, it had better be a Maury Buford, or there's about to be trouble.