Because everyone knows all those coins Mario collected were really about seeing what was under Princess Peach's dress, the burlesque performers at Gorilla Tango are bringing back Boobs and Goombas, a burlesque take on the Nintendo super-franchise. Let's-A-Go!
Recommended Video
Join Us for This Year's Best Day of Your Life
Previous Venue
Next Venue
Venue Description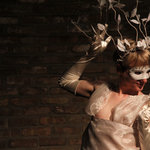 1. Gorilla Tango Theatre
1919 N Milwaukee Ave, Chicago, IL 60647
Gorilla Tango Theater performs hilarious live theatrical entertainment, including its popular parody burlesque shows. It's got an ever-expanding roster of deliciously naughty film- and TV-spoofing shows (Game of Thongs: A Game of Thrones Burlesque, A Nude Hope: A Star Wars Burlesque, and more). GTT is known for its humor and commitment to characters which, when you're spoofing sci-fi, is as essential as taking your clothes off.