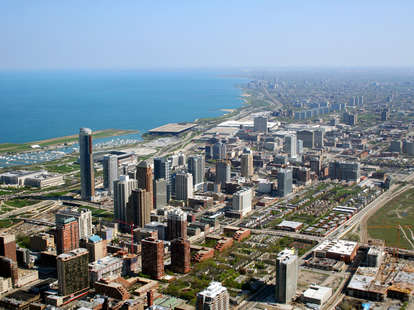 Shutterstock
Shutterstock
I've spent a lot of time on the North Side of Chicago -- I've worked there, dated there, lived there, and I might even move back one day. I have friends and colleagues around Wicker Park, Uptown, Lakeview, Logan Square -- basically every neighborhood that has a gourmet donut shop.
But since I've lived on the South Side for most of my life, you could say that I've spent a lot of time noticing the differences between those sides of town. The North Side has a lot of things that the South Side doesn't, namely multiple 4am bars, consistent cab service, plenty of movie theaters, and music venues.

"... to the greater part of Chicagoland, the South Side is defined as a war-torn shit sandwich -- aka 'Chiraq'..."

Our part of town has a few distinctions as well, but unfortunately, to the greater part of Chicagoland, the South Side is defined as a war-torn shit sandwich -- aka "Chiraq" -- filled with gangs battling over turf and corrupt politicians running roughshod over communities.
As a result, South Siders don't quite get the same perks of belonging to Chicago that North Siders do. The Stanley Cup never seems to make its way to bars and restaurants south of Cermak. That "If Chicago's Neighborhoods Were Game of Thrones Houses" post from your friends' Facebook wall most definitely ignores the lower half of the city (not part of the "known world"?). There's a persistent attitude that there's no reason for local Chicagoans to ride the Red Line beyond The Cell.
I'm here to say that the picture that's been painted for you is FAR from being the defining image of the entire South Side. Rather than spend a lot of time shaming insular hipsters or recent transplants -- be they Big Ten bros or suburbanites -- for buying into the false narrative, it's worth calling out the people who put these ideas in those folks in the first place.
Now you've likely heard or read some version of these sentiments about the South Side:
"It is safe?"
"Why don't they protest that?"
"Why are they tearing up their own neighborhoods?"
"I don't want to get shot."
We as South Siders know exactly what you mean when you talk about our neighborhoods in such a demeaning way. We're aware of the challenges in our neighborhoods and we take on that weight. Last year, I logged onto Facebook to find out that my friend's wife -- who was working for an anti-violence non-profit -- had been shot in front of their home. Of course, folks around here aren't happy about the spread of violence, just as they aren't happy to reminded of it over and over again and have it made out to be their sole characteristic.
Unfortunately, violence is a part of our culture. These days, people walk into schools, movie theaters, college dorms, churches and act out. So heartbreaking violence isn't exclusive to the South Side. Remember during the mayoral election when Senator Mark Kirk told the Chicago Sun-Times that if Mayor Emanuel wasn't re-elected, the city would turn into Detroit? He may not have been aware of what he said, but he was only stoking the fears people have about city life, stirring the same sentiments that brought about white flight in the first place.
Earlier this summer, Kirk once again developed foot in mouth disease when he said that his Senate colleague Lindsey Graham was "a bro with no ho." He followed that up with a tone deaf "That's what we'd say on the South Side." In what world does Kirk represent the voice of anyone on our side (or any side) of the Chicago?

"A city that is so rich in history deserves better. To keep strictly to the North Side of the city would be like going on a vacation without ever leaving the confines of the resort."
We expect to hear stereotypes reinforced by politicians, but the media also falls victim to the same thirst trap regarding the narratives of the South Side's problems, or as I call them, "south of Roosevelt Road problems." If local media wants to cover a certain part of the city, they ought to get in touch with writers from this area or at least go there themselves. The fact of the matter is, the writers who don't put their feet on the ground have no business writing about this area of the city any more than I would have covering city council meetings in Naperville. Local media too often misses, or outright ignores, the southern parts of the city. That's a slap in the face to so many of us. You can't just wait with bated breath to report the Fourth of July shooting tallies and then call it a year on coverage.
Outside of the media and politics, oppressive dog-whistle language even filters down to something as basic as getting directions to a museum in Chicago. The Museum of Science and Industry, a South Side staple, gives questionable directions on how to navigate through the South Side streets:
"A less direct train route is to take a CTA Red Line or Green Line train to Garfield and transfer to an eastbound 55 Garfield bus. However, we suggest that people unfamiliar with the city may prefer to take CTA trains as far as downtown, then transfer to an express bus or the Electric Line as mentioned above."
I'm pretty sure the museum meant well, but something may have been unknowingly implied -- "Come, enjoy the museum... then get the hell out of Dodge."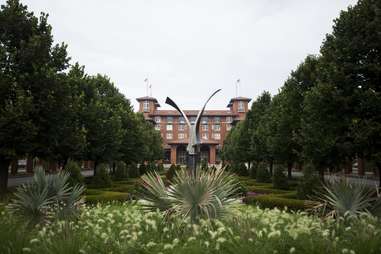 Many of you know that South Siders are a proud bunch. I suggest you check us out. Visit Pullman, Pilsen, South Shore, Beverly, Hyde Park (you might not find parking), Little Village, Pill Hill, Bronzeville, Englewood, or Bridgeport. A city that is so rich in history deserves better. To keep strictly to the North Side of the city would be like going on a vacation without ever leaving the confines of the resort.
Here's a few places you can visit that you don't hear much about:
The South Shore Cultural Center: Longtime South Shore residents still call it the "Country Club." At one point in the building's history, black and Jewish folks weren't welcome. You might remember this building from one of the final scenes of the iconic Blues Brothers movie. Also, the president and the first lady were married there.
The National A. Philip Randolph Pullman Porter Museum: This Pullman neighborhood museum is one of the places to learn about our city's history in terms of labor practices in an area that is uniquely Chicago. A. Philip Randolph was a civil rights leader who fought for fair labor practices. He and the Pullman porters helped create the Brotherhood of Sleeping Car Porters, America's first black labor union.
National Museum of Mexican Art: If you want to learn more about the history of a proud people, check this Pilsen spot out. While you're there, ask about why they don't charge an admission fee. It's a cool story to hear.
And of course, there's plenty of great places eat around the South Side, and we don't mess around when it comes to BBQ, chicken & waffles, and more.
North Side homies, what I am trying to say to you is don't rely on others to do the thinking for you. Come down here to see for yourself (not that we're begging -- that's not in our nature). I'm aware of the fact that some of you may take this letter as a knock on the North Side. That's not the case. As Jay-Z once said,"It's not a dis song, it's just a real song. Feel me?" Pay us a visit and then let me know how you feel about us.
Sign up here for our daily Chicago email and be the first to get all the food/drink/fun in town.
Evan F. Moore's work has appeared in The Nation, Chicago Magazine, The Cauldron, Chicago Tribune, RedEye, Chicago Reporter, Huffington Post, Time Out Chicago, and Community Media Workshop's We Are Not Alone/No Estamos Solos project on youth violence.