As a Chicagoan, it's crucial that you make use of every proper summer afternoon that you get, so when you head to the beach it's best to have a plan of attack. Yes, there will be sand and water, but there are many, many more things you can do on the shore of Lake Michigan (Fire pits! Kite surfing! Fried chicken deliveries!). This guide will brief you on the best spots for 29 Chicago beach activities you should be taking advantage of, none of which are that ungodly bike cart thing.
Promontory Point in Burnham Park
When to do it: Evenings -- you can reserve a spot by contacting the parks department
Chicago's fire codes have been pretty strict ever since most of the city burned down that one time, but this park's fire pits allow you to (legally) host a proper bonfire for s'mores with a view.

Foster Beach
When to do it: Dusk on nights with a full moon
If you like drum circles and guys wielding flaming whips then the Full Moon Fire Jam is your kind of party.
12th Street Beach at Northerly Island
When to do it: Early summer is windier
Kites are basically the only things flying above the former site of Meigs Field these days; if you can't get it up, ask for a hand from the Illinois Kite Enthusiasts who regularly take advantage of the area's unimpeded winds.

Montrose Beach
When to do it: Once you've mastered the basics
If you want to graduate to a kite that can get you off the ground, kitesurfing is restricted to a couple local beaches, and you need to be certified before you can take off near unsuspecting beach-goers.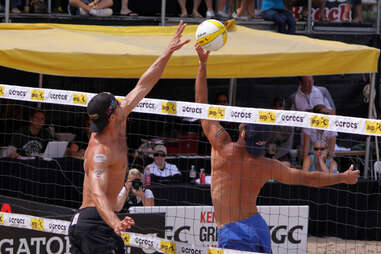 Smash a volleyball
North Avenue Beach
How to do it: Leagues or pickup games available
Work those guns and show them off to the tanning masses at the premiere spot for volleyball in the city. Groups like Chicago Sport & Social and Players Sport & Social Group run leagues on the beaches, especially during the week, but you can head over anytime to join a pickup game or rent equipment to start your own.

Ashe Beach
When to do it: 6am-11pm
Prove to everyone that you understand how topspin works as you hit the courts in this park named after tennis champion Arthur Ashe.

Burnham Skate Park at 31st Street Beach
When to do it: Before the park closes at 11pm
Channel your inner Rodney Mullen (or whatever character in Tony Hawk's Pro Skater you played as).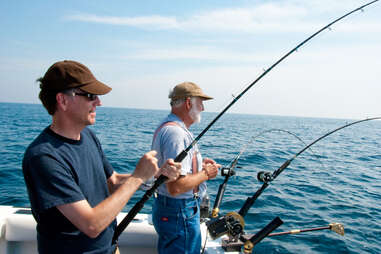 Go fishin'
Burnham Harbor
When to go: Dawn or dusk
Just a short walk from 12th Street Beach, the harbor is famous for being home to salmon, trout, and even some bass that can be snagged while standing on the shore.

Loyola Beach
When to do it: July 12th
Look: Lake Michigan
It's expansive blue waters
Are like, really blue

Take a power nap
Oak Street Beach
When to do it: On a lunch break during the week
On those days when you just can't wait to get away, head to the beach, rent a chair and an umbrella, and catch a couple winks while the waves crash onto the shore.
Watch the sun rise
12th street beach at Northerly Island
When to do it: The sun typically rises in the morning
Get up early -- or stay up late -- to catch the sun rising over Lake Michigan, and wander around to see one of the best views of the skyline with an extra splash of color.

Beaches in Evanston and Rogers Park
When to do it: All summer
The Evanston Chicken Shack, one of our favorite chicken joints in the area, will deliver deep-fried goodness to the beach. Chow down and do your best Jaws impersonation.

Grab some paletas or ice cream
Everywhere
How to get it: Just listen for the bell
Palateros work hard dragging their carts across the sands, so the least you can do is buy something cold and delicious from them. In case you don't know, paletas are fruit popsicles often made fresh in Chicago.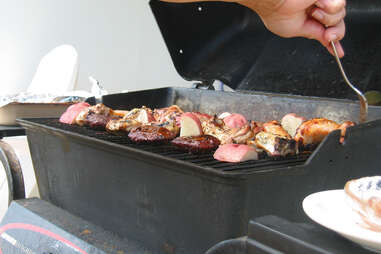 Test your grilling chops
Montrose and Foster Beaches
Where to do it: Grilling is permitted on grassy areas near hot-coal containers
You'll need to step away from the sand, but grilling is permitted at some beaches, usually on the grassy areas farther away from the shore. If you're using charcoal, be sure to deposit your used bricks in the hot-coal containers so people don't step on them with their bare feet.

Montrose Point
When to go: Early morning as birds get going
Explore the "Magic Hedge" at the Montrose Point Bird Sanctuary, famous for attracting a wide range of birds as they pass through the area.

Play with dogs
Montrose Beach and Foster Dog Beach
When to go: Any of the dog (!) days of summer
Bring your own dog or watch others' pooches as they cut loose on their very own beach.
Montrose Beach
When to do it: Saturdays, Sundays, and sunset on Thursdays
Chicago SUP Yoga takes balance exercise onto the waves by holding yoga classes on top of paddleboards on Lake Michigan.

Ohio Street Beach at Olive Park
When to do it: Whenever, just wait your turn
This beach is popular with triathletes because it uniquely faces North, making it possible to swim (in dedicated lanes) parallel with the shore and stay in shallower waters.

Brave the deep
57th Street Beach
How to do it: Talk to the lifeguards first
While the beach near Promontory Point does technically allow deep-water swimming, lifeguards get nervous when you head into darker waters, so pros say having a chat before diving in can help avoid any hassles.

Pratt Beach
When to do it: June 21st
Danceprov brings together improv games and lip-syncing to give adults a chance to cut loose, meet new people, and have some fun.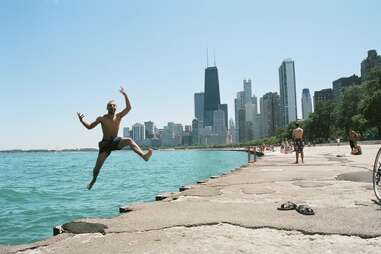 Oakwood Beach
When to do it: July 11th & 12th
The folks behind Spring Awakening are bringing a new beachside dance music festival to Chicago, including headliners Empire of the Sun and Passion Pit.

North Ave., Hollywood, Montrose, Foster, and Rainbow Beaches
How to do it: Wi-Fi, baby
Five beaches now offer high-speed Internet access, so bring the office to the beach if you really have to. Don't forget to grab an umbrella to keep glare off your screen.
Play chess
Oak Street Beach
When to go: When the weather is good
Test your mettle against the regulars who frequent the boards at Chicago's only chess pavilion. Drop the name "Kasparov" a bunch.

South Shore
When to do it: Latest tee time is 8 pm
Get a quick nine holes in before soaking up even more sun at the beach at this country club bought and restored by the city.

Belmont Harbor
When to do it: Classes available throughout the week
This trapeze school sets up outdoors so you can truly feel like you're flying -- just watch out for seagulls.
31st Street Harbor
How to do it: Book it online ahead of time
With a FlyBoard, jets of water propel you into the air like Iron Man -- no metal suit required.

Captain your own boat
Montrose Beach or North Avenue Beach
When to do it: When you're sober
There are all kinds of water transports available to rent, most of which require a driver's license to pilot, including motor boats, sailboats, Jet Skis, and waverunners. The smaller crafts are more manageable and don't require a special license to drive.
North Avenue Beach and Montrose Beach
When to do it: Open until 7 pm
Get some exercise and check out the lake from water level.

31st Street Beach
When to do it: Anytime
Jet Ski rentals at 31st Street Beach include a GoPro camera so you can document all that sweet air you get, or find out how that figure 8 whipped you into the water and out of your swimsuit.
Sign up here for our daily Chicago email and be the first to get all the food/drink/fun in town.