For many of us, using Airbnb is a slightly classier version of couch-surfing; your hope is to beat hotel prices without fear of catching bed bugs. But allow us to avail you to a sect of Airbnb hosts that go above and beyond in their accommodations; we're talking designer furniture, projector TV screens -- pretty much everything in the "after" portion of a renovation show on HGTV. We scoured the thousands of Chicago rental listings to find the cream of the crop -- whether you're putting up visitors, need a staycation, or just feel like boozing inside a converted church. (Note: rental prices may fluctuate based on seasonality/demand.)
Wicker Park
Price: $200/night
Spend a night in this spectacular former church complete with vaulted ceilings and 35ft cathedral windows. This sinfully stylish abode features original George Nelson, Milo Baughman, and Charles Eames furniture and is mere steps from bustling Wicker Park, should you prefer to spend your Saturday nights running with the devil and Sunday mornings repenting at brunch.
Gold Coast
Price: $210/night
This airy loft is the perfect place to spread out and unwind for a few days. Wake up late in a king-size bed and lounge around on the blue leather couches for a while before heading to the game room for a few rounds of pool and shuffleboard. Then in the evening, head on up to the roof to strike up the grill and take in the city's skyline. Rinse, repeat, and you've got yourself a five-star long weekend.
Ukrainian Village
Price: $175/night
If Warren Buffett were a young 29 years old, he'd certainly hold down a pad like this. It's sensationally rich, yet modest and serene at the same time. With features like a private sauna, two-person soaking tub with rainfall shower head, working fireplace, private sauna, heated floors, private sauna -- what else is there really to say? Private sauna?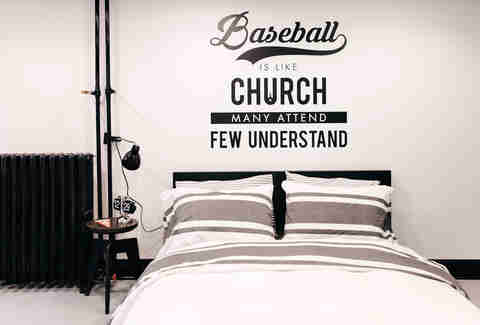 Wrigleyville
Price: $220/night
Regardless of the Chicago Cubs playoff odds, if you bleed Cubby blue, you'd be wise to consider coming to this incredible studio for a homestand. A short walk from Wrigley Field, this listing is themed with legit lockers, benches, and trophies of every shape and function, so you can feel like part of the team, but polished enough so you feel like a club owner at the same time. And when you're not sitting in the stands, you and your buddies can grab a beer, fire up some brats, and catch all the highlights on the huge drop-down projector screen far into the night.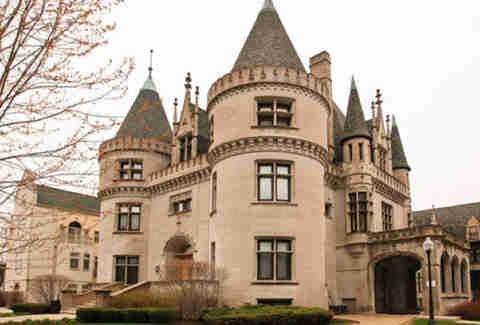 Hyde Park
Price: $70/night
Located two blocks from Obama's Hyde Park home, this historic home was designed by Henry Ives Cobb in 1891. A beautiful blend of Romanesque and Gothic Revival architecture, it's a stunning standout. While it's a true antique outside, for sure, on the inside of your private entrance, you'll find 15ft ceilings, a Jacuzzi tub, and all the modern comforts you'll need for a great night away.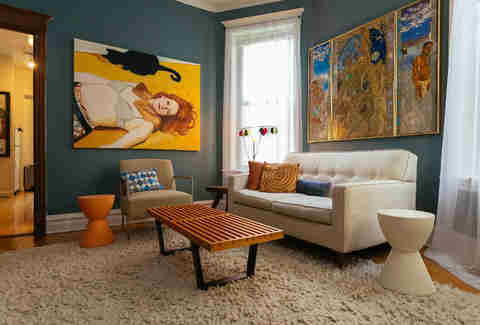 Uptown
Price: $95/night
Tucked away beyond Uptown's concert venues and international cuisines is this amazing old greystone. It's lined with bright colors, antique furniture, and a lifetime collection of art from around the globe, so one can easily find the energy and inspiration missing from their daily grind. This place is begging you to curl up with a book off the shelf and let the paint take you away into a whimsical daydream (or just a nap).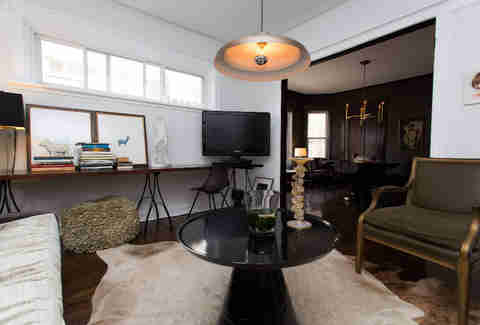 Lakeview
Price: $95/night
Part Martha Stewart, part Christian Grey, this sexy courtyard home is lined wall-to-wall with various furs, woods, and mysteries. With a few different rooms to choose from, guests can close up for a few nights in a cozy single or spread out in the former dining room on a sleek yellow four-post bed. Just be sure to look around the corners if you're superstitious, as to not be crossed by the resident black cat or the shark in the kitchen.
Ukrainian Village
Price: $65/night
This is for the kind of person who watches The Royal Tenenbaums and wishes they had that magic movie ticket from Last Action Hero to crawl into the film and live within the meticulously styled polychromatic home. Just look at those stenciled purple walls! This place is overflowing with vintage charm and bewitching hues -- you have to assume your neighbor is Bill Murray.
Andersonville
Price: $74/night
This warm and comfortable home is the perfect combination of form and function. It's like going home for the holidays, but without being bothered by your family. Inside you'll find plush furniture, exposed wooden beams, and heated floors. But it's the private back garden -- complete with koi and turtle pond -- where you'll find yourself oddly craving sushi.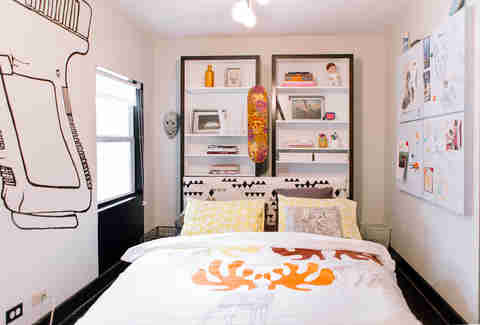 Humboldt Park
Price: $276/night
Everything about this home is over the top, which is understandable being that it straddles between Humboldt and Wicker Parks. It's right next to the brand-new 606 Trail and it's got personality with top-of-the line appliances and artwork with a sense of humor. It's candy-coated and kitschy, but also lush and luxurious. There are three bedrooms to choose from, each with their own tone, and a pink line connecting you throughout.
Sign up here for our daily Chicago email and be the first to get all the food/drink/fun in town.
Zack Shornick is a Chicago writer and comedian who still listens to Hanson. He's 28. Follow him at @zackshornick.