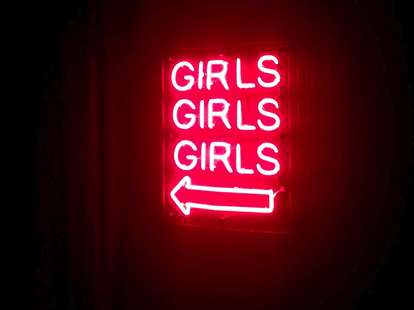 Deep dish pizza. Corrupt politicians. Below-.500 baseball teams. Chicago is known for many things, but an overabundance of strip clubs is not one of them. However, that doesn't mean you can't locate a good one with a little effort, which is why we put in said little effort, and found seven.
Hey, you can't get in trouble with your girlfriend for just reading, right?
Stone Park
This West suburban stripping outpost (not to be confused with Scores New York, to which it is not affiliated) claims to be the Midwest's number one club for bachelor parties. And while that's debatable, we're pretty sure if you do have your bachelor party here, you'll have all the essential bases covered, with 100+ girls, deals with local limo companies, embarrassing stage shows, and a 5am closing time.
Chicago Heights
If you like porn star Lisa Ann (who played Sarah Palin in a 2008 Larry Flynt flick), this is the place for you, as she'll be stopping by to celebrate this South suburban club's 10-year anniversary in September. In the meantime, you can sign up for local White Sox games or golf outings, smoke in a fully enclosed "smoking haven", and dine on blackened mahi mahi sandwiches in the "executive lounge". Or stop by on Thursdays for '80s music and $2 Kamikaze shots.
River West
This may be Chicago's only full-liquor strip bar, but the booze comes with a price, and that price is weird-looking boob pasties that make nipple-gazing impossible. Get around the $20 cover by asking your cabbie for a free pass, or stop by after a Cubs/Sox game for free admission with your ticket stub. Oh, and stop by on Wednesdays to see dancers peeling off costumes that look like they've been raided from a local Lover's Lane shop during "Fantasy Night".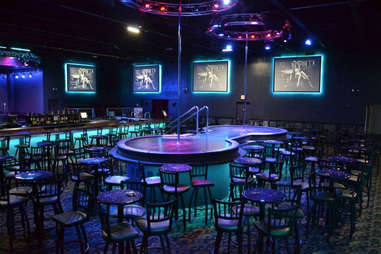 Bridgeview
This massive, 18,000sqft club offers all the trappings of a traditional Vegas-style club, with 150+ dancers (or "kittens", as they are known around here) offering all-nude dances and "full contact" lap dances... if that's your thing. And if you don't feel like driving all the way out to Bridgeview (hint: it's near Midway), fill out an online form and they'll pick you up in a Mercedes Sprinter party bus. And yes, it comes fully equipped with its own stripper pole.
Ford Heights
This cavernous, 20,000sqft club looks like a Greek palace from the outside, and the inside does not disappoint either, with 24 private dance rooms and 10 suites. Go high-roller-style at the opulent Plato's Penthouse (decked out with its own private, see-through glass stage) or dine on lobster tail and grilled swordfish while staring at either the girls, the saltwater aquariums, or both. Bonus: as one of the cleaner clubs around, you won't need an STD test after using the bathroom.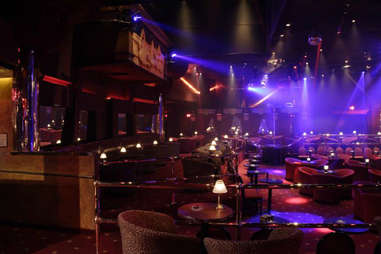 Uptown
Perhaps Chicago's best-known club, Admiral Theatre has a few things going for it: an all-nude "showroom" (yes, that's what they call it), a 6am closing time, a cool old theatre building, $10 nude table dances, and fun, themed events like Thursday night amateur night & "Night of the Stripping Dead". Hell, they've even got a Miley Cyrus lookalike contest. The downside? No alcohol. And when you're talking strip clubs, that's a big downside.
University Village
This place lays claim to the "Best Adult Entertainment" Award from the Chicagoland Award Program. Whether or not that's a legitimate organization, we're not sure, but we are pretty sure if you're into strip clubs, you'll have a good time here. The dancers are attractive, the food (filet mignon and herb-roasted chicken Vesuvio) is good, and it's BYOB. If you're really into it, you can even become a lifetime member… for $10k.
Sign up here for our daily Chicago email and be the first to get all the food/drink/fun in town.
Jay Gentile is the publisher of Chicago INNERVIEW Magazine and a Chicago-based freelance writer who is totally out of singles. Follow him on Twitter.