Where to Go on a Date in Chicago This Spring
From '90s-themed escape rooms to luxurious staycations, there's plenty of romance in Chicago.
Chicago's weather is finally warming up as spring arrives with blue skies, green trees, and all the crop tops and short shorts that go along with balmy 53 degree weather. Whether you and your beau want to scale new heights rock climbing, level up at one of the area's many arcades, or simply walk hand-in-hand outside among the most beautiful foliage Chicago has to offer, we've got you covered no matter what the vibe is. Warm up with these fun date ideas, from indoor haunts to outdoor adventures.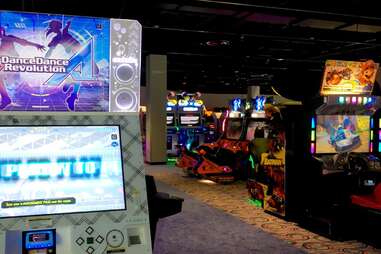 Hop into an arcade for some co-op action
Although busy weekend nights mean that many of Chicago's arcade bars fall short of ideal date night spots, not much can compare to hopping into Emporium, Replay, Logan Hardware, or Mission Control at 6 pm on a Wednesday, having a couple of drinks, facing off over an intense game of pinball, and then grabbing a bite to eat. If you and your beau crave a more arcade-focused experience, however, Dance Dance Revolution showdowns at Round 1 and Street Fighter Alpha tournaments at Galloping Ghost Arcade won't let you and your "Player 2" down.
Get vaccinated
Pretty much every Walgreens and CVS across Chicagoland offers on-demand, walk-in vaccines and boosters—so why not make a date of it? Keeping current on your vaccinations is key to a healthy life, and having a partner there through the process will make navigating the process more manageable for both of you. In addition to keeping current with your COVID boosters, it's also a good idea to make sure you're up to date on your TDAP, Hep A, and Hep B shots—and recent guidance from the CDC has made the HPV vaccine, known to help prevent many kinds of cancer, widely available to people under the age of 45. Why not make a day of it? Get vaccinated with your partner, prepare for the inevitable post-shot wooziness by stocking up on snacks in advance, and spend the rest of the day snuggled under a blanket together confident that you're both taking care of your health. Honestly, there's not much more romantic than that! Plus, if your honey happens to faint at the sight of the needle, at least you'll be there to catch them.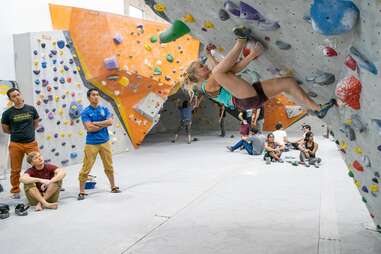 Scale new heights with your better half
There's no better way to build trust than to have climbed 50 feet with aching muscles before looking down to see your significant other give you the thumbs up, letting you know that they've got you, that you're doing great, and that they will literally catch you if you fall. Climbing might not be a traditional date-night activity, but trust us and check out one of First Ascent's guided climbing sessions.
Outwit Chicago's best escape rooms
For couples that relish in a bit of puzzle-solving, Quandary Escape Rooms has it covered. Grab your beau and maybe another couple or two for an escape room triple date! Steps from the Belmont brown/red line station, Quandary features a wonderfully retro "Escape the '90s Room" full of nostalgic touches, including custom-modded Super Nintendo games. That said, it's probably a good idea to wait on the escape room date until you've been together for a little bit, especially if you or your partner get frustrated easily.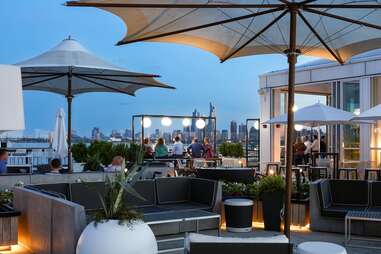 ​​Take in the views from the world's largest rooftop bar
Over the past few years, advances in outdoor seating and heating solutions have made it possible for Chicago's best rooftop bars and restaurants to keep couples comfy all year round, even on those odd days in May when it's randomly 37 degrees out. If you're looking for a romantic rooftop getaway, braving the crowds at Navy Pier—wait, hold on, we promise it's worth it—to take in Offshore Rooftop's food, drink, and views. It's the world's largest rooftop bar, meaning there's actually likely to be seating available for you and your date.
Get your sweat on, together
It's easy to fall into a bit of a Netflix-and-chill rut (no shade though) when fickle spring weather turns rainy and cold. There are few things cozier than cuddling on the couch with a cup of tea when it's storming out. But sometimes, it's helpful to remember that there's a world outside your fuzzy blanket, and getting a sweat in with a loved one can really help connect you both to the world around you, and each other. Zen Yoga Garage offers a variety of different classes from Flow to Burn to Vinyasa, complete with expert trainers to help you through your workout no matter your ability.
Step into the ring
There are few things more romantic than watching somebody throw somebody else through a table. Luckily, Chicago is home to a variety of independent wrestling promotions that put on shows all over the city. Big names AEW, WWE, Impact, and NJPW bring talent like Zack Sabre Jr., Keith Lee, Athena, Will Ospreay, Kylie Rae, Thunder Rosa, and many others to wrestle in the Windy City—these shows are not to be missed. There are plenty of local wrestling promotions in the city, including AAW and Warrior Wrestling, but Freelance Wrestling is the best. Visit the official website to keep track of upcoming events and get tickets. Then, get your beau a drink and settle in for a date night that neither of you will ever forget.
Enjoy Chicago's best museums
Strolling through a museum holding someone's hand means romance. Interactive exhibits feed a romantic spark best, and the Museum of Science and Industry is perfect. Not only is it a beautiful building, situated in a picturesque pocket of Hyde Park, but the exhibits are consistently top-notch. Be sure to say hi to the baby chicks.
Support local businesses with a cute shopping date
Once you've won over your number one with your cooking skills, show them where to score those ace ingredients. Green City Market has already opened for the season in Lincoln Park (the West Loop market opens May 6) with 58 local farmers and producers, including several new vendors by way of Flatwater Farms (Buchanan, Michigan) and Kankakee Valley Homestead (Walkerton, Indiana). New food vendors include Molino Tortilleria, an heirloom corn tortilla purveyor sourcing corn from local farmers, and Flat & Point, a Logan Square mainstay featuring sourdough, bagels, and other baked goods. Meanwhile, longstanding market favorites like Nichols Farm & Orchard and Mick Klug Farm will be there as well. Check out the upcoming dates on the Green City Market website.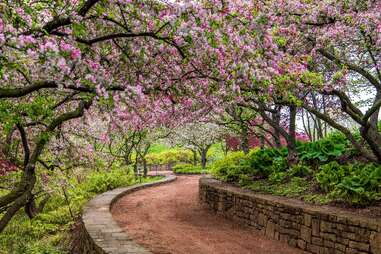 Immerse yourself in fabulous foliage
Flowers on a date are always a good idea—especially if you're discovering them together. Lovebirds should absolutely make a point of taking advantage of the spring weather to check out the new blooms. Be sure to visit the colorful Circle Garden, as well as the Lakeside Gardens—if you visit in late April or early May, you'll be treated to 300 blooming crabapple trees by the glittering basin. It's the perfect spot for a romantic stroll hand-in-hand with your soulmate.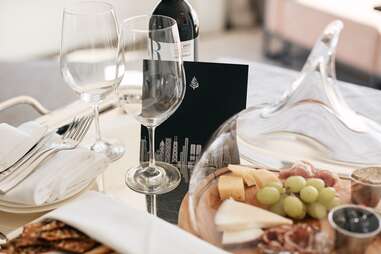 Treat yourself to a fabulous staycation
When a full-on excursion feels too costly—or like too much of a commitment—nothing sets the mood like a properly planned staycation. After a recent multi-million-dollar renovation, the Four Seasons Hotel Chicago reopened its doors with new public spaces featuring open floor plans, textured jewel tones, and thoughtfully selected art (including an eye-catching installation by Toronto-based Unitfive Design, an abstract interpretation of a tree canopy meant to honor Chicago's closeness to nature). Check into one of the 374 rooms, then head straight to Adorn, where James Beard-award-winning chef Jonathon Sawyer serves globally inspired cuisine showcasing the Midwest's bounty (the majority of which is sourced within 200 miles of the restaurant). Enjoy plates like Miso-Glazed Sablefish or a Fred Flintstone Beef Short-Rib, and be sure to check out Sunday brunch, when you can pair your fare with live music. The newly renovated spa, pool, and fitness centers will be open on June 1st.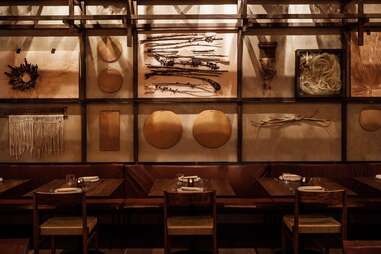 Chicago's dining scene dazzles on a date if you know where to go. At the unsurpassed Kasama, Genie Kwon and Timothy Flores offer Filipino cuisine and innovative baked goods by way of options like fried pork spring rolls and truly game-changing longanisa, egg, and cheese breakfast sandwiches—but the best part is that it's all ready to take on the go. Whisk your beau there, and then take your deliciousness as you stroll through Ukranian Village or Wicker Park.
For a tourist-in-your-own-town downtown jaunt, Lure Fishbar puts up impressive plates of sushi and seafood right on the Mag Mile, while the South Loop continues to draw savvy city dwellers to the dark, sexy interior of The X Pot. On State Street, Tzuco's sublime Mexican fare and a fancy-pants interior make it perfect for breaking out that suit jacket or dress you haven't had a chance to wear in awhile. The divine bocadillos and refined shareables at Bocadillo Market are perfect for a casual lunchtime outing while TriBecca's Sandwich Shop puts together the very best Cubano sandwiches. Head to the West Loop's newest and largest outpost of Goddess and Grocer for favorites from local vendors like Hewn, Mera Bites, and Victory Dance Foods.