Chicago's 11 Coolest and Most Romantic Spring Date Ideas
Get sprung at farmers markets, floral shows, sexy staycations, and a 'Bridgerton' experience to remember.
It doesn't get any steamier than an episode of the hit Netflix series Bridgerton—unless, of course, you and your beau step into the storyline yourselves. Leave it to event production team extraordinaire Fever to help create that kind of immersive encounter at the April 22 debut of The Queen's Ball: A Bridgerton Experience. Expect acrobatic performances, royally appointed cocktails, and live music from a string quartet (mirroring the show's classically riffed pop covers), all while taking in opulent décor and period costumes straight from England's Regency Era.
For those frigid surprises that springtime in Chicago can so frequently deploy, there's no better time to sweat it out together courtesy of one of the city's go-to workouts. For ambitious types (who aren't afraid to get competitive with their cutie), opt for a class at SoulCycle, where 45 minutes of synchronized bike movements can give you solid perspective on whether or not your honey can cut it on the dance floor. With numerous rides per day at locations throughout the city (and one in Skokie), you've got plenty of options for how and when you pedal with your plus one. If you're in a Sunday-kind-of-love mode, keep it chill with a class at Zen Yoga Garage, where expert instructors guide students through breath-to-movement classes that are as grounding as they are groovy.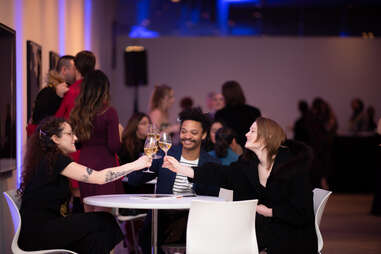 These food awards pay much-deserved homage to the local culinary scene, while also serving a most-worthy cause: The Cystic Fibrosis Foundation, a nonprofit benefiting those with cystic fibrosis through research, development, and specialized care. Dress to the nines, grab your better half, and gear up for red carpet-esque thrills throughout the night, starting with a Champagne reception, moving on to the ceremony, and culminating in an after party spanning DJ-fueled dancing, drinks, and bites. With categories ranging from Best Bartender to Best Heritage Restaurant, Pastry Program of the Year, and Chef of the Year, enjoy an evening of all-encompassing, food-loving entertainment for an excellent cause.
Once you've won over your number one with your cooking skills, it's time to show them where you scored those ace ingredients. The Green City Market returns to Lincoln Park on April 2 and to the West Loop on May 7, bringing with it 58 local farmers and producers including several new vendors by way of Flatwater Farms from Buchanan, Michigan and Kankakee Valley Homestead from Walkerton, Indiana. Expect longstanding market favorites, too (such as Nichols Farm & Orchard and Mick Klug Farm), along with a few exciting new food vendors—case in point with Molino Tortilleria, an heirloom corn tortilla purveyor sourcing corn from local farmers, and Flat & Point, a Logan Square mainstay featuring sourdough, bagels, and other baked goods.
Flowers on a date are always a good idea—especially if you're discovering them together. It's a feat made all the easier come spring, when new growth blossoms across the city and beyond. The Spring Flower Shows at Garfield Park Conservatory and Lincoln Park Conservatory (both running until May 8) showcase sweeping landscapes of color, while a visit to Hyde Park's Jackson Park reveals more than 100 cherry blossom trees just beginning to bud. Head to the Chicago Botanic Garden for their Spring Orchid Show (now through March 27), and make a night of it with cocktails and hors d'oeuvres at Orchids After Hours on March 24.
There are now myriad sites across Chicagoland offering COVID-19 vaccines and boosters—so why not make a weekend of it? We're just saying. Could be cute. And if your honey happens to faint at the sight of the needle, at least you'll be there to catch them.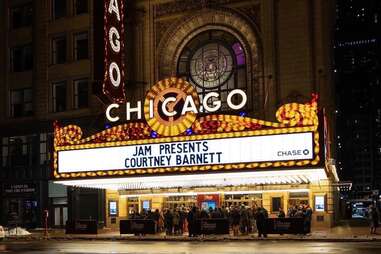 Live music is making a fierce comeback at all of our favorite local venues—and things are only heating up this spring. Catch New Zealand singer-songwriter Lorde on her Solar Power tour at the Chicago Theatre on April 22 and 23, White Stripes legend Jack White at the Credit Union 1 Arena at UIC on April 12, and Grammy Award-winning group The Flaming Lips when they grace the Riviera stage on April 6. At Thalia Hall, spot exciting acts like Shovels & Rope and Kishi Bashi in early April, while fan favorites like Fruit Bats and Pedro the Lion arrive on the scene later in the month. And if classical or jazz is more your frequency, book it to one of Fever's Candlelit Concerts, which span everything from Mozart to Miles Davis.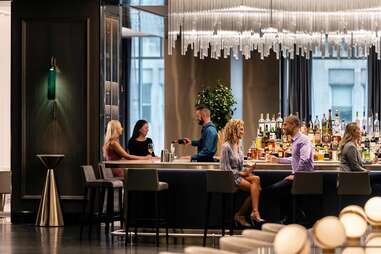 When a full-on excursion feels too costly—or like too much of a commitment—nothing sets the mood like a properly staged staycation. After a recently completed multi-million-dollar renovation, the Four Seasons Hotel Chicago reopened its doors with brand-new public spaces featuring open floor plans, textured jewel tones, and thoughtful art curation (including an eye-catching installation by Toronto-based Unitfive Design, an abstract interpretation of a tree canopy meant to honor Chicago's closeness to nature). Check into one of the 374 rooms, then head straight to Adorn, where James Beard-award winning chef Jonathon Sawyer serves globally inspired cuisine showcasing the Midwest's bounty (the majority of which is sourced within 200 miles of the restaurant). Enjoy plates like Duck Confit Pappardelle or Pan-seared Ora King Salmon, and save room for dessert: Pastry chef Juan Gutierrez (recent winner of Netflix's School of Chocolate) has several of them up his sleeve, including the PB & Jam It (with peanut mousse, roasted grape sorbet, and toasted bread ice cream) and the Pistacia Vera (with semolina cake, pistachio ice cream, and kataifi). Come morning, check out Sunday brunch, when live music graces diners beginning April 3.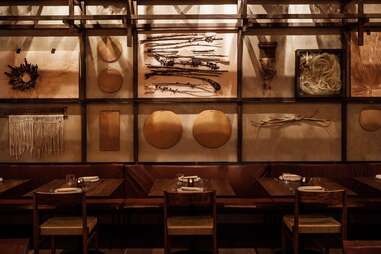 Chicago's dining scene continues to dazzle, and dishes go down so much easily in the company of your love. Lure Fishbar puts up impressive plates of sushi and seafood on the Mag Mile, while the South Loop continues to draw savvy city dwellers to Mercat a la Planxa, The Exchange, The X Pot, and Apolonia. And for those seeking a little escape, flee the city (if only via your palates) with visits to Tzuco for elevated Mexican fare or Bocadillo Market for Spanish-inflected sandwiches and shareables.
Keep the good eats a comin' with stops at TriBecca's Sandwich Shop for chef Becca Grothe's epic take on the almighty Cubano, or head to Goddess and Grocer West Loop, the latest (and largest) outpost from the beloved deli, sandwich shop, and bakery that continues to peddle favorites from local vendors (think Inbictus Factory, Hewn, Mera Bites, and Victory Dance Foods). At Mortar and Pestle, chef Stephen Ross serves up thoughtful, international-leaning morning fare, while at Kasama, Genie Kwon and Timothy Flores excel at Filipino-focused cuisine and innovative baked goods by way of options like Fried Pork Spring Rolls and truly game-changing Longanisa, Egg, and Cheese Breakfast Sandwiches.
Have wheels, will travel. Pack your s'mores kits, build an epic indie playlist, and direct your GPS to the corner of nature and beauty for a seasonal jaunt to some of the mighty Midwest's most charming escapes. Madison, with its lakeside vistas, dynamite dining, and vibrant student life proves to be an excellent destination this time of year. The college scene is just as bustling in Iowa City, home to dozens of cozy cafes and restaurants worth their salt (including Pullman Bar & Diner, The Dandy Lion, and The Webster). And over in Kohler, the illustrious American Club (and all of its A-grade amenities, from a world-class spa to ultra-romantic private cabins) continues to impress throughout the year. Got a little extra cash on your hands? Go ahead and treat yourself to a top notch stay in one of these luxurious Airbnbs.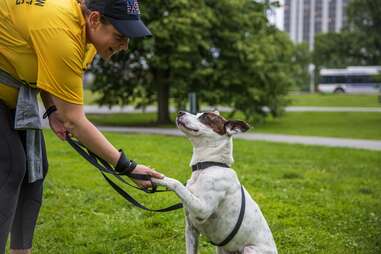 There's nothing more attractive than a benevolent heart, and our city offers plenty of ways to flaunt such a trait. Evaluate your beau's lit and kid skills with some tutoring sessions at 826 Chicago, a nonprofit offering creative writing and publishing opportunities to Chicago youth. See if you're pet-compatible by spending some QT with the residents at any one of the city's animal shelters (including PAWS and The Anti-Cruelty Society), which are often in need of eligible volunteers. And if impromptu aid is more your thing, visit ChicagoCares.org, where you and your boo can browse several one-off ways to serve.