As tempting as it may be to host a date in your apartment in the comforts of your (super sexy) Cubs Snuggie, the dating world doesn't go on hold just because the thermometers dip below zero. The good news is there are plenty of hot dates to be had in both the cold of Chicago winter and the rest of the year. So bundle up and get cozy with these can't-miss date ideas. This list should help you and your cuddle partner keep warm all year long.
 
Snuggle at a fireplace bar
Drinking at a fireplace bar is a rite of passage during Chicago winter, but not all fireplace bars are created equal. Hubbard Inn offers two fireplace lounges on two floors, while Moody's Pub is a romantic medieval castle-like favorite. Get the full rundown here.
Lace up the skates and hit the ice
Options for winter ice skating used to be fairly limited in Chicago, but these days, weather permitting, in addition to Millennium Park you can now lace up at outdoor venues like Maggie Daley Park, not to mention local parks like Wentworth Park where you can try (and fail) to reenact the closing scene from Serendipity. It won't be hard to find free skating on the schedules, but keep in mind you'll have to pay for rentals (or bring your own).
Two words: ski trip
Take your date to the next level with either a day trip to a local ski "resort" like Villa Olivia or the newly renovated Wilmot Mountain, or test your relationship with an overnight trip a bit further afield somewhere like Devil's Head or Cascade Mountain. We recommend Boyne Mountain for some of the best skiing in the area. This may be a pricier option, but the real question is: can you really handle 10 hours in the car together?
Get on your back on a sledding hill
There may not be massive mountains to navigate in Chicago, but you can still tap your inner child through a variety of sledding hills in and around the city. Some of the best options in the city include the Dan Ryan Woods, Palmisano Park, and Caldwell Woods, while the burbs offer an array of hills like James Park in Evanston and Riverside's Swan Pond.
Test your mettle on a winter hike
The 606 isn't just for summertime. Take in the fresh air on a winter stroll along the 2-7-mile elevated path from Bucktown to Humboldt Park, or hold hands as you gaze out into a frozen yet eerily beautiful and quietly calm Lake Michigan along the 18-mile Lakefront Trail.
Get intimate inside the comforts of a drinking dome
Instead of (or in addition to) a winter rooftop bar or hot new restaurant, another solid option to get to know your date while experiencing the magic of winter (without all the cold) is to snuggle up in an outdoor drinking igloo at places like the I|O Godfrey, where you can sip hot drinks like the Jameson- and heat-infused Godfrey Toddy while exploring its "Winter Wonderland" rooftop log cabin.
Engage in some silly sports
Get close and person with the old man winter sport of kings at the Chicago Curling Club (yes, this exists -- but it's more expensive for serious lessons). You can also shoot bows and arrows in Humboldt Park at Archery Bow Range Chicago or chuck axes at the wall at joints like Bad Axe. (These spots aren't too pricey and tend to have cheaper rates for groups and other options too.)
Take in some live comedy
Second City is, of course, the granddaddy of comedy-themed date nights, but good times can also be had for fewer dollars (and fewer people from Iowa) at indie comedy venues like the Cornservatory or regular stand-up nights like Timothy O'Toole's "Comedians You Should Know" (see full list here). Fortunately, comedy shows tend to be pretty cheap dates.
Take in a night of theater
The entire city of Chicago has a ton of excellent theater. If you want to keep it in the neighborhoods, the Belmont Theater District in Lakeview is actually the largest in the city if you count by theaters. But is there anything more romantic than the 100-year-old theaters in the Loop Theater District, like the CIBC for you high-roller Hamilton lovers or the Auditorium Theatre for fans of live music and dance? We think not.
Keep it on the lowdown at a secret bar
Show off how cool you are with your in-depth knowledge of Chicago's secret bars. Since knowing that the mural on Damen in Wicker Park opens up to Violet Hour is no longer considered insider information, Booze Box is a sexy bet, The Office is uber-swank, and East Room is not technically secret but does lack proper signage.
Take a bike ride together
If your partner is a hardcore biker, Chicago boasts some pretty awesome bike paths, and if you and your date both want to be a little more active, a ride is the perfect way to spend a day. The obvious (and gorgeous) choice would be to ride along the Chicago Lakefront Trail, but the 606 is a better choice if you want to stop for food and drinks along the way. (And, frankly, why wouldn't you?)
Go out to the ballgame
Chicagoans are lucky to live in a two-team baseball town, and everyone ought to take advantage. The fun part is, Wrigley and Guaranteed Rate couldn't be more different, so there's a ballpark experience for everyone. If you want to be a part of a bustling bar scene and enjoy the game in one of baseball's most storied ballparks, hit up a Cubs game. If you'd rather have a less expensive and quieter (and, some might say, less obnoxious) time, check out the White Sox.
Nerd out at bar trivia
If your ideal date involves demonstrating what a stable genius you are, show off your deep base of useless knowledge at one of the many bar trivia nights around town. The Globe Pub is the granddaddy on the scene, Reggie's is a great Monday night spot for sports and music trivia, and Simone's is a standout choice for Q&A trivia Tuesday nights.
Go for dinner and a movie (duh)
The stylish Logan Theatre or Music Box Theatre is always a solid date choice, but becomes even better in spring or summer when you can enjoy an ice-cold pre- or post-movie cocktail at the bar inside..If you're looking to get a bit rowdier, Brew & View is never a bad idea, while a fancy dine-in movie theater like AMC Dine-In Block 37 is the ultimate low-pressure, two birds/one stone lazy afternoon out.
Live it up at a tiki bar
There is perhaps no easier summer date than at one of Chicago's fine tiki bars: immediately fun and tropical, the only way you can screw this up is to start talking politics. Three Dots and a Dash and Lost Lake are among the most famous in the city, but alarmingly fun times can also be had outside city limits at popular suburban hangs like Hala Kahiki and Chef Shangri-La.
Get smart at a boozy bookstore
A bookstore may not sound like the most exciting date in the world, but places like Lincoln Park's Kibbitznest are tailor-made for summer. With a front room stacked with newspapers and magazines, a bar stocked with everything from Chicago dogs to Irish coffee, and a back game room, a quick stop in from the heat here can quickly turn into three hours gone by in a flash.
Road trip to New Glarus or Geneva
Remember how nice it was when you didn't have to spend 20 minutes brushing and scraping snow and ice off your car and shoveling a pathway out of your parking spot? Of course you do, because the time is now! Enjoy the great open highway with the windows down and show your date a change of scenery. Hit up Geneva for some gorgeous waterfront drinking, New Glarus to enjoy "America's Little Switzerland" (and lots of yummy beer), or any of a slew of other options.
Scale cliffs at an indoor rock climbing facility
Not only is a place like Brooklyn Boulders the ideal location to scale fake rocks when you can't get out to the real thing, it also cultivates a fun scene with a regular slate of events including pizza parties, movie nights, yoga, and more. A full day pass is just $25.
Join the circus at Aloft Loft
One of the most awesomely weird spaces in the city, Aloft Loft is located in a 110-year-old Logan Square church and offers a variety of circus performances and classes in everything from aerial arts and trapeze to contortion and clowning. If your relationship can survive a clown class, it can survive anything. Check the schedule for pricing and classes.
Feel the heat at Garfield Park Conservatory
The Garfield Park Conservatory, which is brimming with lush plant life year-round, is a sight for sore eyes after a winter of staring at gray skies and barren concrete. Admission is totally free, but leaving a donation at the door can't hurt your chances with your date.
Race turtles
It doesn't get much more Chicago than turtle racing at Big Joe's. But remember, there are rules. If your date is a natural at turtle racing, this can only mean good things are on the horizon. Trust.
Dance with Lady Luck at an area casino
Chicago may not be known as a gambling mecca per se, but the city is surrounded by a variety of casinos that can make for a fun alternative to the standard dinner-and-a-movie routine. Hit up suburban casinos like Rivers Casino, Harrah's, and Grand Victoria, or ride the shuttle to places like Horseshoe Hammond and try to get lucky in more ways than one. Some free advice: Don't spring this one on a first date unless you know you're both high rollers.
Get kitty with it by petting cats
As the old saying goes, the couple that pets cats together stays together. For a super-fun time with some cute little furballs, check out The Catcade in Lakeview or Windy Kitty Cafe in Wicker Park. In either location, you and your date can hang out in comfy chairs and get to know each other, or just "ooh" and "aah" over the adorable (and adoptable) cats all around you.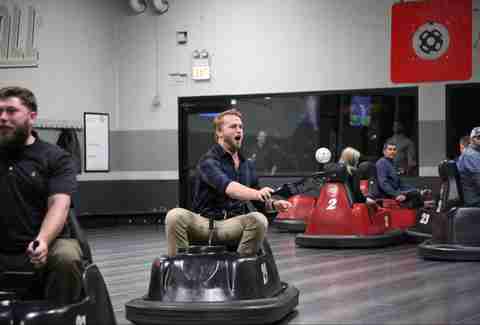 Attack the pins at a bowling alley
In the wise words of that dashing Casanova Walter Sobchak: "Fuck it, Dude. Let's go bowling." This indoor sport where you're encouraged to drink is one of the great fun equalizers we have on this planet. Luckily, Chicago is brimming with lively bowling options like Diversey River Bowl and Southport Lanes. Or, if you prefer your bowling with more weird bumper cars, a summer date to Whirlyball is clearly calling your name.
Unleash your inner Picasso over a bottle of wine
Painting parties paired with wine are the name of the game at uber date-friendly spots like Bottle & Bottega. If you can't seal the deal after this date, something must have gone seriously wrong (let's hope it wasn't your art).
Learn the art of the tease at a burlesque show
Chicago's burlesque bona fides are not to be questioned, and you can sex up your night out with a visit to one of the city's many burlesque stomping grounds like Untitled or The Drifter. Stop by the store to pick up a few tassels and feathers if you want to try and re-create the experience at home.
See a concert in a living room
It's always great to see a concert at a major venue like the Riv or Aragon, but if you're looking to save a few shekels while still partaking in the live music experience, there's no shortage of great bars with live shows in Chicago. And as much as we love Beat Kitchen and the California Clipper, we simply cannot end this paragraph without recommending The Hideout. Or if you'd rather see live music in the comfort of your own living room, check out Sofar Sounds.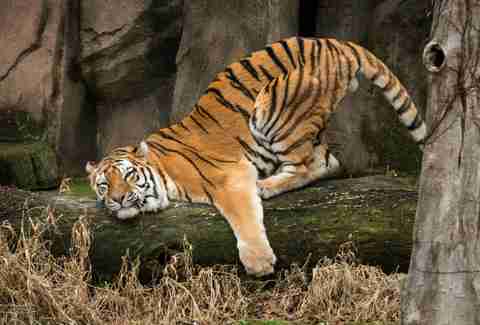 Explore the free and fearsome Lincoln Park Zoo
The Lincoln Park Zoo makes for a great first date, and not just because it's free (but also, that's pretty cool). Much like a festival, the zoo itself provides plenty of conversation starters, so you probably won't have to worry about awkward silence. Plus, it's in Lincoln Park, which is a great neighborhood for grabbing lunch or dinner after you're done staring at wild animals together.
Learn about our tallest and most impressive buildings
Any kind of Downtown tours have the reputation that they're for tourists, but that's a shame. There's plenty for Chicagoans to learn about their city, and an architecture walking tour makes for an awesome date. For starters, you're not piling onto a bus or a boat, so you're not trapped. And secondly, Chicago's architecture is awesome, period. This is the perfect option if you want to impress your date with how cultured you are, but don't want to sit in a dark theater or walk through a museum for two hours.
Hit up any of the many festivals in town
Chicago has an unbelievable number of festivals and markets throughout the summer months, and these events make for a perfect date: There's plenty to see if conversation dwindles, but there's also ample opportunity to talk as you wander through if the chemistry is really working in your favor. Whether you want to eat and drink in a zoo or listen to gospel music, there's a festival for you.
Plot your getaway from an escape room
When on a date, it's always good to have an escape plan in case things go sideways. But instead of faking an emergency, book a trip to a local escape room like Room X Escape where you can choose your own adventure like trying to escape an old house with secret treasure before the creepy pirate returns for his stash.
Experience night at the museum
Every third Thursday of the month, Adler After Dark -- one of our best museums -- welcomes in couples for themed events that include live entertainment, museum access, unlimited sky shows, and some of the best skyline views in the city. General admission is just $20 a person.
Head underground to navigate the city
The Chicago Pedway was created for the very purpose of navigating the city to lessen the impact of the cold and snow of winter, so it's the perfect place to explore this season with an adventurous date. You can also hop on the L and scour the city for burgers, if that's your thing (hint: it's your thing).
Get really weird around the city
If you're looking to get weird in Chicago, a date to an off-the-beaten-path location like the International Museum of Surgical Science is a pretty good bet. You can also check out a leather museum with its own dungeon, screening room, and leather bar. Fortunately, we have a guide to weird things that will make this an easy search. Our quirks bring us closer, after all.
Sign up here for our daily Chicago email and be the first to get all the food/drink/fun in town.