Chicago's Coolest and Most Romantic Winter Date Ideas
These dates are sure to impress and will make any outing with your significant other feel special.
It's winter in Chicago, but that doesn't mean your love life has to be frosty. There are plenty of amazing events, both indoor and (gasp!) outdoor to keep your heart warm even as the lake freezes over. So get out there and make some sentimental memories with any of the activities below, whether you're on your first date or your 40th. And for fun things to do with anybody in your crew, check out our equally compelling list of platonic seasonal activities.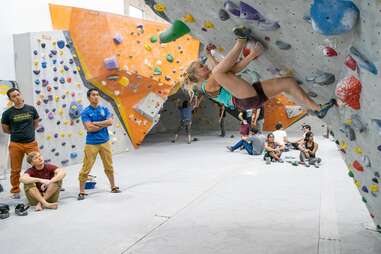 Scale new heights with your better half
There's no better way to build trust than to have climbed 50 feet, muscles aching, and look down and see your significant other give you the thumbs up, letting you know that they've got you, that you're doing great, and that they will literally catch you if you fall. Climbing might not be a traditional date-night activity, but trust us and check out one of First Ascent's guided climbing sessions.
Outwit Chicago's best escape rooms
If you're the kind of couple that relishes in a bit of puzzle solving, Quandary Escape Rooms has you covered. You could also add another couple or two for an escape room triple date. Steps from the Belmont brown/red line station, Quandary features a seasonally-appropriate "Left At Home" room where you can help Cal McKevinister fend off a couple of bandits. That said, we'd probably wait on the escape room date until you've been together for a little bit, especially if you or your partner is the type to get frustrated easily.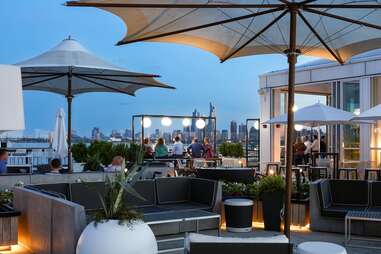 Take in the views from the world's largest rooftop bar
Over the past few years, advances in outdoor seating and heating solutions have made it possible for Chicago's best rooftop bars and restaurants to keep couples comfy even in chilly weather. If you're looking for a romantic rooftop getaway, we recommend braving the crowds at Navy Pier—wait, hold on, we promise, we know, it's worth it—to take in Offshore Rooftop's food, drink, and views. Offshore Rooftop boasts the world's largest rooftop bar, meaning there's actually likely to be seating available for you and your date.
Get your sweat on, together
It's easy to fall into a bit of a Netflix-and-chill rut in the winter. And no shade to Netflix-and-chill! There are few things more cozy-romantic than cuddling on the couch when it's negative 20 degrees out. But sometimes, it's helpful to remember that there's a world outside your fuzzy blanket, and getting a sweat in with a loved one can really help connect you both to the world around you, and each other. Zen Yoga Garage offers a variety of different classes from Flow to Burn to Vinyasa, complete with expert trainers to help you through your workout no matter your ability.
Step into the squared circle
There are few things more romantic than watching somebody throw somebody else through a table. Luckily, Chicago is home to a variety of independent wrestling promotions that put on shows all over the city. Big-name AEW, WWE, Impact, and NJPW talent like Zack Sabre Jr., Keith Lee, Athena, Will Ospreay, Kylie Rae, Thunder Rosa, and many others have stopped in to wrestle in the windy city—these shows are not to be missed. There are plenty of local wrestling promotions in the city, including AAW and Warrior Wrestling, but our favorite here at Thrillist is Freelance Wrestling. Visit their official website to keep track of upcoming events and get tickets. Then, get your beau a drink and settle in for a date night that neither of you will ever forget.
Enjoy Chicago's best museums
When was the last time you and your partner got dolled up for a museum trip? There are few things more romantic than strolling through a museum holding someone's hand. Though the city has plenty of museums on offer, we find that interactive exhibits feed a romantic spark best, which is why the Museum of Science and Industry is our top date pick. Not only is it a beautiful building, situated in a picturesque pocket of Hyde Park that looks incredible with a light dusting of snow, but their exhibits are consistently top-notch. Be sure to say hi to the baby chicks, and don't miss the final days of their LEGO exhibit boasting the largest-ever collection of LEGO art (open through January 16).
Support local businesses with a cute shopping date
Once you've won over your number one with your cooking skills, it's time to show them where you scored those ace ingredients. The Green City Market is going strong through the winter, bringing with it 58 local farmers and producers including several new vendors by way of Flatwater Farms from Buchanan, Michigan and Kankakee Valley Homestead from Walkerton, Indiana. Expect longstanding market favorites, too (such as Nichols Farm & Orchard and Mick Klug Farm), along with a few exciting new food vendors—case in point with Molino Tortilleria, an heirloom corn tortilla purveyor sourcing corn from local farmers, and Flat & Point, a Logan Square mainstay featuring sourdough, bagels, and other baked goods. Check out the upcoming dates here.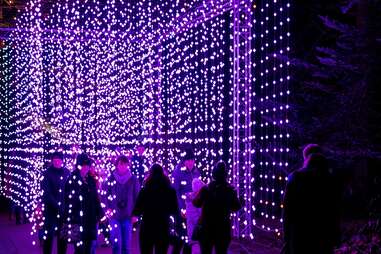 Immerse yourself in glimmering lights and fabulous foliage
Flowers on a date are always a good idea—especially if you're discovering them together. It might be cold out, but lovebirds should absolutely make a point of braving the wintry weather to check out the newly-reimagined lightscape night walk at the Chicago Botanic Garden. Featuring a 1.25-mile trail of lights among the greenery, it's the perfect spot for a romantic stroll hand in mitten-ed hand with your soulmate. Check upcoming dates here.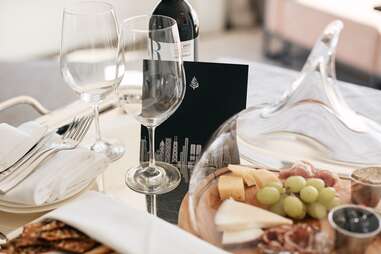 Treat yourself to a fabulous staycation
When a full-on excursion feels too costly—or like too much of a commitment—nothing sets the mood like a properly staged staycation. After a recently completed multi-million-dollar renovation, the Four Seasons Hotel Chicago reopened its doors with brand-new public spaces featuring open floor plans, textured jewel tones, and thoughtful art curation (including an eye-catching installation by Toronto-based Unitfive Design, an abstract interpretation of a tree canopy meant to honor Chicago's closeness to nature). Check into one of the 374 rooms, then head straight to Adorn, where James Beard-award winning chef Jonathon Sawyer serves globally inspired cuisine showcasing the Midwest's bounty (the majority of which is sourced within 200 miles of the restaurant). Enjoy plates like Miso-Glazed Sablefish or a Fred Flintstone Beef Short-Rib, and be sure to check out Sunday brunch, where you can pair your fare with live music.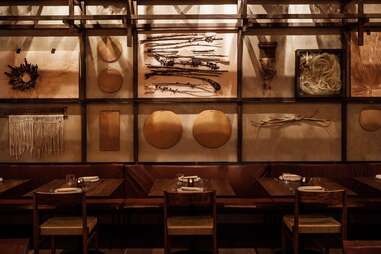 Chicago's dining scene continues to dazzle, and dishes go down so much easily in the company of your love. Lure Fishbar puts up impressive plates of sushi and seafood on the Mag Mile, while the South Loop continues to draw savvy city dwellers to Mercat a la Planxa, The Exchange, The X Pot, and Apolonia. And for those seeking a little escape, flee the city (if only via your palates) with visits to Tzuco for elevated Mexican fare or Bocadillo Market for Spanish-inflected sandwiches and shareables.
Keep the good eats a comin' with stops at TriBecca's Sandwich Shop for chef Becca Grothe's epic take on the almighty Cubano, or head to Goddess and Grocer West Loop, the latest (and largest) outpost from the beloved deli, sandwich shop, and bakery that continues to peddle favorites from local vendors (think Inbictus Factory, Hewn, Mera Bites, and Victory Dance Foods). At Mortar and Pestle, chef Stephen Ross serves up thoughtful, international-leaning morning fare, while at Kasama, Genie Kwon and Timothy Flores excel at Filipino-focused cuisine and innovative baked goods by way of options like Fried Pork Spring Rolls and truly game-changing Longanisa, Egg, and Cheese Breakfast Sandwiches.
Rock out together
The weather may be cold, but live music in Chicago is only heating up. Impress your date by whisking them away to a show this winter. There are tons of upcoming shows to hit up, but we recommend looking into Tomorrow Never Knows Fest. The festival is coming up in January, with some of the nation's hottest indie acts playing across 5 of Chicago's best venues: Metro, Golden Dagger, Schubas, Lincoln Hall, and Sleeping Village. If you're looking for specific recommendations, we highly suggest you check out Cheekface at Lincoln Hall on the 19th—their live shows are legendary.