Look, any day spent living in Chicago beats most days living just about anywhere else (we're looking at you, Davenport!), but that doesn't mean certain days aren't better than others -- specifically, these 17.
July 4th
Because it's America's birthday and you're spending it in America's greatest city. If you happen to have some friends with a rooftop who are inclined to throw a BBQ and give you a 360-degree fireworks display, the day is looking even better.

The first patio Saturday
It's a little different each year, but you know when it happens -- that first, no-doubt-about-it, beautiful, 75-degree Saturday when you know every beer garden, rooftop, and patio in the city is going to be buzzing the second it opens. You're going to get sunburned. You're going to be hurting on Sunday. You're going to have brunch on a patio somewhere, and know that it was all worth it.

The day your friend is throwing a party for a Summer street fest
Look, the myriad street festivals that seem to multiply each year are great and all, but once you've been to a few, they do tend to run together a bit -- walk around, eat some fried stuff, have some beers… should you buy one of those weird candles? Or those beer bottles turned into drinking glasses? After an hour or two, you're usually ready for something else. BUT, if a friend with a well-located apartment is throwing a party to use as home base? It's a game-changer, letting you seamlessly float between festival and party and giving you an option when you want a reprieve from the crowds.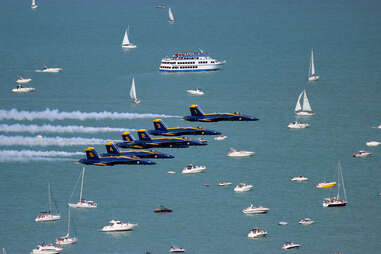 Air & Water Show rehearsal day
There's something thrilling about thinking we're finally being invaded by Russia for a split second before you realize it's that time of year again. But those jets will still get you again next year.

Bears opening day
The city's divided when it comes to baseball. The NBA and NHL always sneak up on you in a "Hey, you guys aren't supposed to be playing yet" kinda way. But on that first Bears Sunday, the energy is palpable -- until someone important blows out a knee in the second quarter.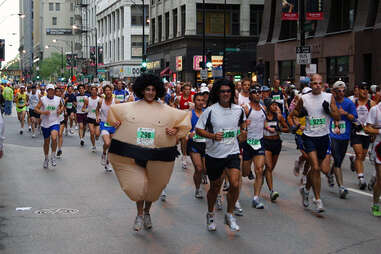 Marathon Day
If you're running, it's the culmination of months of training and sacrifice. If you're watching friends run, it's a chance to party with them after the race and laugh at how shockingly low their tolerance has become.

Grown-up Halloween
You aged out of trick-or-treating a while ago, so you probably don't end up doing much on October 31st when it falls on a random Tuesday or something. But whatever Saturday is closest to the 31st, you better believe you're figuring out some overly clever costume -- "A Clockwork Orange Is The New Black?" -- you'll end up struggling to explain to a sexy cat... but she'll probably end up making out with you anyway. Also, you're gonna eat some Reese's Cups at some point, because you aren't a goddamn communist.
The first snow
Yes, it's a signal of many months of car-scraping, dibs battles, and stealthily deep slush puddles ahead. But call us nostalgic and sentimental (you have called us worse!) -- there's still something magical about that first time the city gets a pristine blanket of white. It wears off pretty fast, though.

November 21st
NO MORE STREET CLEANING TICKETS UNTIL APRIL!!!

Black Wednesday
A chance to reconnect with old friends who are in from out of town, and have your parents question your direction in life when you're hungover for Thanksgiving dinner… at 4pm the next day.

The Winter Classic
Outdoor hockey is unassailably cool, and the Hawks' talent/popularity should ensure this is at least a semi-regular occurrence for the foreseeable future.

That random 55-degree day in January or February
It's usually a short reprieve from the oppressive cold, but it's just enough to keep you going, reminding you that there are better days ahead and to enjoy the thrill of a marginally lighter jacket.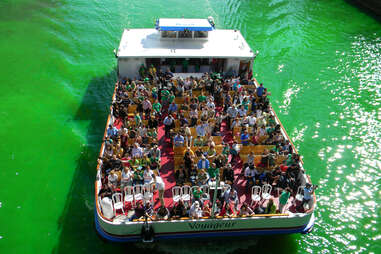 St. Patrick's Day
Weather-wise it's a bit of a crapshoot, but it doesn't matter. This is the day the city emerges from it's collective hibernation and you see all those friends who you like and all, but aren't QUITE important enough for you to bother to see when it's -15 degrees outside.

When that one restaurant opens
You know, the one RIGHT by your place that's had the "Coming Soon" sign up for months (possibly years) that you've been eagerly awaiting. They just opened the doors quietly and you waltzed right in, made friends with the owners, and let them know you'd be a regular.
Any Wrigley Field concert
You don't even need tickets. The sound carries. Even if Jimmy Buffett is playing, you'll have a great time. Even if you HATE Jimmy Buffett.

"All The Sports" nights
They're probably most common in the Spring when you could find yourself on the couch toggling between a Hawks and a Bulls playoff game (and checking in on the Cubs and Sox if the other two are somehow at commercial at the same time). Actually, probably better to head to a bar so your girlfriend doesn't try to get you tested for ADHD.

The day they finish all the highway construction everywhere
It's coming. Someday. Dream the dream.
Matt Lynch is a Senior Editor at Thrillist. You can make him add TODAY to this list and follow him @MLynchChi.