A proper staycation carries the luxury of sleeping in a strange cushy bed without the hassle of traveling anywhere or really packing anything. No, you're not at the hotel for the big conference; you're there because you've busted your ass at work all month and you deserve to have a maid for one weekend. So treat yo' self and make a reservation at these 12 hotels/inns around Chicago with an ideal itinerary for food and nightlife.
River North
This sexy hotel is the perfect stay for a fantasy night of rockstardom or a weekend out with friends. With a wet bar, extra seating, and hi-tech audio in your room, you may end up staying in -- and staying up -- to party.
Where to eat: Walk just down the block to Eataly and take a seat at any of the delicious half-dozen restaurants from the famed Batali and Bastianich families.
Where to drink: Try any of the Painkillers at Three Dots and a Dash, and sip on a Weston from The Berkshire Room at the hotel before bed.
What to do: Hit up one of the nearby piano bars for a few songs.
Where to brunch: Go to Bottlefork for a "Bag" of Crisps & Eggs.
Old Town
Just a short trot from Lake Michigan and North Avenue Beach, Hotel Lincoln is a trendy, up-cycled blast from the past. Too bright to be a Norman Rockwell painting and too dark to be a Wes Anderson creation, this Americana-inspired hotel sits firmly in the cool middle.
Where to eat: Go old school with a slab of baby back ribs from Twin Anchors (yes, the restaurant from Bonnie Hunt's Return To Me).
Where to drink: Stop by any of the nearby dive bars like the Old Town Ale House to drink cheap beers or head over to Old Town Social for a cocktail.
What to do: See Chicago's up-and-coming comic talent on the stages at The Second City or witness Michael Shannon in a play at his old stomping ground, A Red Orchid Theatre.
Where to brunch: With some tasty dishes and a great patio, Perennial Virant is a great bet.
Logan Square
This six-room, tavern-style hotel-above-a-whiskey-bar is perfect for the local traveler looking for a few drams and night away from home. With rooms bridging the gap between modern luxury and private design studios, you'll feel like you're staying with a good friend -- if your friend were a successful eccentric artist who tastefully didn't believe in the oppression of bathroom doors.
Where to eat: Yusho, Japanese noodles and grill from former Charlie Trotter's Executive Chef, Matthias Merges
Where to drink: Throw down an Anxiety's Door from Billy Sunday and don't look back.
What to do: Stop by some specialty boutiques before catching a midnight movie at the Logan Theatre.
Where to brunch: Go to Off Site Bar's weekend pop-up Donut Shop (Longman & Eagle's little brother next door), or try Reno for a killer breakfast sandwich on its house-fired English muffin.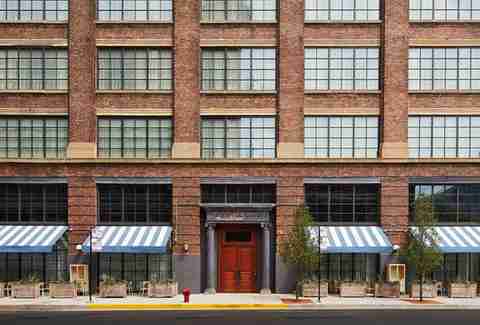 West Loop
If you're a foodie (which, come on, everyone is now), Soho House Hotel is the spot for you. Swarming with amenities and situated on Chicago's Restaurant Row -- home to a number of different public and private dining options -- the higher room rate is worth the investment.
Where to eat: Take your pick of BBQ by the pound from Green Street Smoked Meats, a burger from Au Cheval, or meals from celebrity chef Stephanie Izard at Girl & the Goat or the more casual Little Goat Diner.
Where to drink: Sit back with a hookah and a Marrakesh cocktail while enjoying belly dances at Alhambra Palace.
What to do: The hotel itself has got a lot going on: drop by the spa for an array of relaxing treatments, take a quick dip in the secluded rooftop pool, sit down to a private screening of a film in the plush, 30-seat theatre, or go a few rounds with your friends in the regulation-size boxing ring.
Where to brunch: You can never go wrong with offerings from best butcher shop in town at The Publican.
 
Oak Park
So you want to get as far away as possible, but must stay reliant on the CTA? Easy, jump on the Green Line and ride to Oak Park's Harvey House Bed & Breakfast. This little five-room B&B offers beautiful rooms in a variety of styles with modern amenities and, of course, a home-cooked seasonal breakfast.
Where to eat: Snack throughout the day on a cheese flight from Marion Street Market, then sit down to dinner at the lively local favorite, Maya Del Sol.
Where to drink: After dinner, get up and walk over to the bar at... Maya Del Sol. There's no such thing as too much of a good thing.
What to do: Sleep in. You're in the suburbs now! When you get up, tour the Hemingway and Frank Lloyd Wright museums for a slice of Chicago history.
Where to brunch: If the Harvey's Popover Pancakes don't fill you up the next morning, Chicago's Home of Chicken & Waffles is just down the street.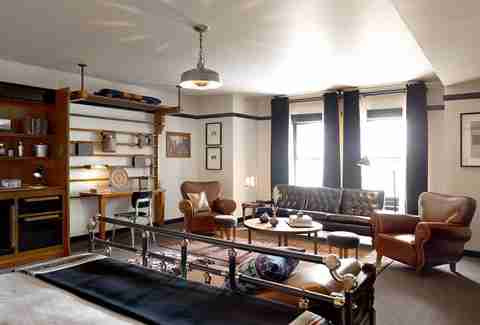 The Loop
The recently revitalized Athletic Association carries history and modern amenities. Rooms are decked out with vintage touches from when the space was a men's club in the previous century, and you'll have one of the best views in the city.
Where to eat: You could easily stay on the premises for any meal, whether it's a steak at Cherry Circle Room or a burger at Shake Shack.
Where to drink: Enjoy a nightcap on the rooftop terrace at Cindy's while watching the fireworks over the water.
What to do: Try your luck on a ticket lottery for one of Chicago's pre-Broadway run of shows, stroll Millennium Park in the moonlight, and play a few rounds of bocce in the hotel's game room.
Where to brunch: Wildberry Pancakes and Cafe has Oreo S'Mores Pancakes.
Andersonville/Uptown
Want to get away, but still want to feel like you're home? The Guesthouse Hotel's condo-style suites are bright, cozy, romantic, and offer sweeping skyline views of the city while also avoiding the out-of-town tourists of many other hotels.
Where to eat: Get in line at Hot "G" Dog for a specialty sausage from this recent venture by former Hot Doug's cooks, then wash it down with a slice of Coffee Toffee Pie at First Slice.
Where to drink: Choose from the enormous selection of craft beers at the likes of Hopleaf or Jerry's Sandwiches, or sift through the 35-page whiskey list at Lady Gregory's.
What to do: Spend the day perusing a lineup of great boutiques and antique shops, then relax into Al Capone's old booth at The Green Mill for a late-night jazz set and a classic cocktail.
Where to brunch: Tweet, Big Jones, Bongo Room, Taste of Heaven... just to name a few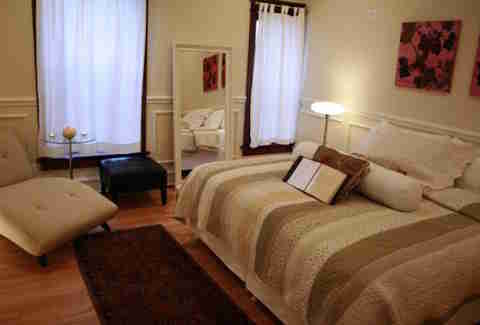 Wicker Park
With a full-service spa below, this intimate, eight-room inn was designed with relaxation and rejuvenation in mind: in-room steam showers, goose-down pillow-top mattresses, a private "healing" garden -- it's perfect for anyone looking for a day to recharge and unwind.
Where to eat: There are so many options in Wicker Park, it's hard to pick just one. We recommend eating delicious and simple at Big Star or Piece Pizza and then indulging in dessert at Mindy's Hot Chocolate. Or go all out with a reservation at the Michelin star-winning Schwa.
Where to drink: The Violet Hour. Just line up and wait at the unmarked door with everyone else. It's worth it.
What to do: Have a spa day complete with facial, massage, and chakra healing, and spend your night at any of the neighborhood's concert venues.
Where to brunch: Head to Dove's Luncheonette for chilaquiles or the smoked brisket hash and a Bloody Maria.
 
Chinatown
Food, culture, more food, and karaoke. It may not be the fanciest hotel on the list, but a stay at the Chinatown Hotel will break you out of your routine without breaking the bank.
Where to eat: Enjoy a traditional dim sum experience at Phoenix for a wide selection of traditional Chinese bites. For dinner check out the low-key, but delicious Go4Food.
Where to drink: Venture to one or all of the many karaoke bars throughout the neighborhood for any number of brightly colored shots.
What to do: Tour the architecture, visit the Chinese-American Museum, and try some Green Tea Oreos or a Wasabi Kit-Kat at Aji Ichiban candy store.
Where to brunch: Pick up some buns at Chiu Quon Bakery to help soak up whatever it was that got you up to sing last night.
St. Charles/Geneva
Sure, it's a little bit of a trek, but these two neighboring towns and historic hotels have a lot to offer. Just ask the likes of famous past residents Louis Armstrong, Gerald Ford, or JFK.
Where to eat: Grab a sub to go from Josef's Elegante Meats & Deli or a pie from Pizzeria Neo, and bring it to...
Where to drink: ... the BYO food tap room over at Penrose Brewing.
What to do: Play an early round of golf at one of several nearby courses, take a stroll along the Fox River Trail or through the Japanese Tea Garden at the Fabyan Forest Preserve, then finish the night off at the Cascade Drive-In for a double feature like the good old days.
Where to brunch: Choose from an assortment of Benedicts at Nosh before selecting a few "tasting" portions of French toasts for dessert.
Lincoln Park
This beautiful seven-room mansion in the center of Lincoln Park is pure luxury. In fact, if you've got the money for this one, you should just splurge on airfare and go somewhere else. And when you get back, try out this quick weekend itinerary.
Where to eat: Grab a po-boy and a craft beer at Local Option for lunch, and dessert at Sweet Mandy B's.
Where to drink: Pick up a snack and drink at The Barrelhouse Flat before heading over to classic Chicago blues club, Kingston Mines.
What to do: If you didn't spend too much time drinking at Local Option, you can walk through the Lincoln Park Zoo like a rational, civilized adult, learning about animals from all over the globe. If you did spend too much time at Local Option, you can still visit the zoo. Just try not to scare the children or animals. Maybe stay out of the Bird House for your own safety.
Where to brunch: If you haven't already had brunch at such Lincoln Park go-tos as Toast or Cafe Ba-Ba-Reeba!, you've been missing out.
 
Hyde Park
Yeah, yeah, it's a big-box hotel chain. But I'll tell you what: it's nice, it's clean, and it's in the heart of a great Chicago neighborhood where our friggin' president hung out! It's just a little walk from trails and parks along the lake that -- honestly -- you've probably never visited. And if nothing else, there's a pool you can use without trying to sneak in.
Where to eat: Try A10 for the homemade pastas like the bucatini carbonara.
Where to drink: At the end of the night, head to the bar at The Promontory for a late music set and a digestif.
What to do: There are so many great small museums in the area like the Oriental Institute and the Smart Museum. Or take in a drama at the Court Theatre on the University of Chicago's campus.
Where to brunch: Medici is the epitome of a classic neighborhood bakery. It's always filled with locals because the food is good. And it's a safe bet that you'll see the Obamas stop in if they're in town.
Sign up here for our daily Chicago email and be the first to get all the food/drink/fun in town.