Don't tell anyone about these Chicago secrets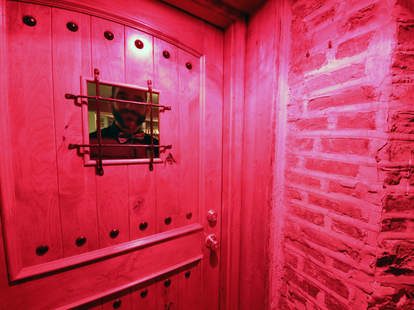 We here at Thrillist pride ourselves on blowing the lid off of the coolest under-the-radar stuff around your city. "But Thrillist, if you're telling us about secret stuff, isn't it not secret anymore?" Well, um... damn, we were never really good at handling paradoxes. While we try to figure out an answer, check out these underground items -- speakeasies, burgers, supper clubs -- before they merge into the mainstream.
11 Chicago secrets you didn't know existed
Just when you thought you knew Chicago like the back of your hand, you realized there's a whole 'nother secret hand that you didn't even see! Hopefully it doesn't belong to one of the dead guys buried in Lincoln Park, because -- according to these 11 secrets of Chicago -- THERE ARE DEAD GUYS BURIED IN LINCOLN PARK! READ MORE
Sean Cooley
This is Potbelly's entire super-secret menu
Of the many bits of interesting trivia about the local sandwich chain, most impressive is the length of its secret menu. The Chicago sandwich standby puts West Coast burger chain In-N-Out's secret menu to shame, with ELEVEN sandwiches and FOUR desserts, all of which you won't find in any official Potbelly's materials... but you will find laid out, in all their glory, right here. READ MORE
The Chicago secret bar primer
Because we're terrible at keeping secrets (especially ones about how terrible we are at secret-keeping), here's a lid-blowing guide to nine secret bars in Chicago, and how to find (and get into) every single one. READ MORE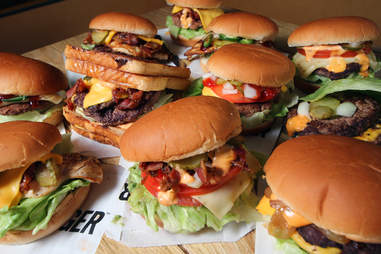 Sean Cooley
This is M Burger's entire super-secret menu
Chicago has plenty of secrets (though, Al Capone's vault is no longer one of them -- thanks Geraldo!), but disappointingly, not a lot of ones that involve 14 off-menu burgers, fries, and shakes. In fact, there's just one, and it belongs to Chicago mini-chain M Burger, where the secret menu is more than double the length of the regular one. Here's every single item on it... READ MORE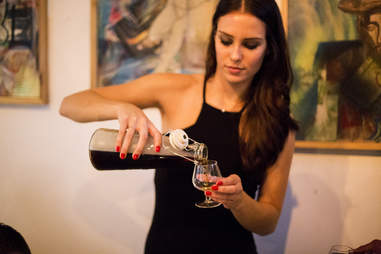 Jim Vondruska
Everything you need to know about Chicago's new secret cocktail club
Whether you're into all things secret (bars, supper clubs, sandwiches) or just want a break from the typical bar scene, you're gonna want to become a member of Liquor Lab. That's because it's a roving underground cocktail club doing drinks that you've never seen before (wood-chip-smoked Manhattan?) inside places you've never been (galleries, man caves, penthouse suites), and it's all run by an A-team of bartenders, cocktail technicians, and nightlife bookers. This thing is basically a secret supper club for booze, and (surprise, surprise!) we've got an exclusive first look inside... READ MORE
The 6 secretest supper clubs in Chicago
Everyone loves dinner. But you know what everyone loves even more than dinner? Secret dinner, which's why we spent a week learning a trillion different secret handshakes on our way to uncovering six underground supper clubs in Chicago. READ MORE
Sean Cooley
How to get into the secret speakeasy under the Old Chicago Inn
Meeting somewhere in the middle of the intoxicated choruses at Trader Todd's karaoke bar and the muted B & B environs of the Old Chicago Inn is a members-only, 1920s-themed speakeasy that you've TOTALLY NEVER HEARD OF called Room 13. It's a password-protected space that's open on Fridays and Saturdays and requires proper attire (suit jacket, no jeans, tommy gun optional). READ MORE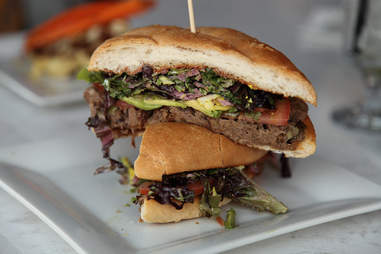 Scofflaw
From secret sandwiches to lobster pizza: how to go off-menu in Chicago
If you really want to impress a date at a restaurant, you don't have to tuck in your napkin all classy or mention a wine's "mouthfeel and full-bodiedness". The real trick is taking the menu and casting it aside, because you know stuff that isn't even ON there. From sandwiches with exotic meats, to lobster on a damn pizza, you might never consult a menu again. READ MORE
Sign up here for our daily Chicago email and be the first to get all the food/drink/fun in town.
Sean Cooley is Thrillist's Chicago Editor and he wishes there was a name for the meal that comes between brunch and lunch. Follow him @SeanCooley.