9 Kick-Ass Cabin Vacations Near Chicago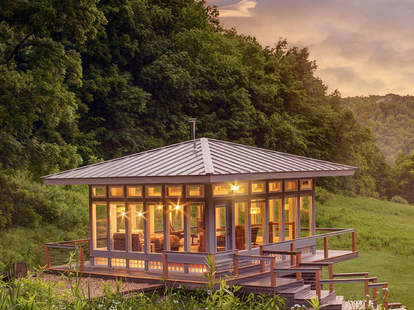 Courtesy of Candlewood Cabins
For the next time you want to get your "weekend getaway" on from Chicago but don't want to crash in another hotel or Airbnb, there's a handy alternative in the cabin. So from here on when you think of cabins, you won't think of every horror movie ever made, but instead, you'll think of this comprehensive guide to nine places around the Midwest where you can cabin your ass off.
Richland Center, WI
Amenities: Jambox, stone patio, outdoor fit pit, massage chair, wood stove fireplace, iPod docks
There are cabins. And then there are CABINS. Like this glass-walled stunner surrounded by nature an hour and a half west of Madison. Choose from four ridiculously high-end properties (with ridiculously low-end prices) and experience nature without ever having to leave your room. Which is obviously the way it was intended.
Ottawa, IL
Amenities: King bed, gas fireplace
For the more traditional s'mores-by-the-fire state park experience, you can't beat Starved Rock State Park and its in-park cabins. True, they don't have TVs with the MLB package, but they've got plenty of bona fide nature (for Illinois). You can also stay slightly more upscale in the more hotel room-ish Starved Rock Lodge itself, which also comes with the added bonus of an on-site outdoor bar overlooking the bluffs.
Sister Bay, WI
Amenities: On-site paddleboats and kayaks, fireplaces, cable TV, Internet, on-site bar
Cabins line this quiet lakeside retreat located within minutes of multiple Door County state parks, and its killer west-facing location results in some of the best sunsets in the Midwest. But the real bonus is the on-site waterfront bar and restaurant Fred & Fuzzy's, where you can dine on freshly caught perch while drinking boat drinks until the sun goes down, and then even seven hours after it's been down.
Courtesy of Birds of a Feather Lodge
Bridgman, MI
Amenities: Full kitchen, flat-screen TVs, whirlpool, back patio bar area
As one of the coolest vacation spots closest to the city, this is the spot for when you'd rather drink beer on the beach with friends than trek through the dense forest with mosquitos. This place is right on the beach near plenty of hiking trails in the quiet, beautiful, dune-heavy Warren Dunes State Park. And it's fancy. REAL fancy. It's even got its own back patio party area.
Wisconsin Dells, WI
Amenities: TV, radio, fireplace, microwave, whirlpool
Located on the shores of the Wisconsin River on a sandy beach, the Great Room Fireplace Villa is your perfect party pad after a long day exploring the pine tree forests and limestone bluffs of nearby Rocky Arbor State Park. It's also within walking distance of River's Edge Pub, which has a massive oak tree sprouting up in the middle of the bar. So you definitely know you're camping.
Courtesy of Galena Log Cabin Getaway
Galena, IL
Amenities: Whirlpool, alpacas!
Situated on a working farm just four miles from Galena, this place is surrounded by 500ft ridges to make you feel like you've got your own little music festival site to yourself. Only substitute the music festival for 12 historic log cabins you can crash in Daniel Boone style as you listen to the sounds of owls hooting under a starlit night while alpacas roam the property. You can even bring animals of your own, but only if those animals are dogs.
Sheboygan, WI
Amenities: Plasma screen, fireplace, wet bar, high-speed Internet
When you're tired of roughing it and want a crash pad with more modern amenities (i.e., a wet bar), rent a balling four-bedroom villa at this lakeside retreat in Sheboygan. It's close enough to a town (within walking distance), a lake (within walking distance), and a beach (also, within walking distance!) to give you the feel of nature without having to survive on bug juice... unless that's your thing.
Oregon, IL
Amenities: Room service, spa, TVs, DVD players
Even though this is one of the closest places to cabin near Chicago, they take their cabin-ing (?) seriously around these parts. So seriously you can get ROOM SERVICE -- or, more accurately, cabin service -- along with a spa treatment and DVDs for your Wet Hot American Summer screenings. It's located on 385 acres in White Pines Forest State Park surrounded by rugged rock outcroppings, serene forest, and creekside trails. And it's probably the only state park with an on-site masseuse. We're pretty sure.
Courtesy of Rustle Hill Cabins
Cobden, IL
Amenities: Fireplace, wraparound deck, upstairs loft, concerts, wine!
If you like your cabins like a fine wine, you're in luck at this winery-side cabin retreat where a wine tasting can be relaxing and doesn't have to end in Paul Giamatti-esque meltdown. The Vineyard Chalet cabins are nestled across the valley from the winery, overlooking a quiet pond and amphitheater where you can watch live bands rock out as you sip your wine cabin-side.
Sign up here for our daily Chicago email and be the first to get all the food/drink/fun in town.
Jay Gentile is a Thrillist contributor who never stays in a state park without an on-site masseuse. Follow him @innerviewmag.