There are chess clubs, and country clubs, and clubs that sail the sea, but the best clubs are strip clubs and may they always be. ESPECIALLY these 14, the best ones Illinois has to offer.

Ford Heights
If you down a couple of shots and squint a bit, Atlantis Gentlemen's Club looks JUST like an estate in the Greek countryside. From the outside at least. Overall, the club is pretty nice, with 20,000sqft of space (which is kind of a lot) that includes 24 private dance rooms, 10 suites, and a VIP lounge which is separated from the main room by a wall of smoked glass. There are also massive saltwater tanks and a kitchen that will whip up baked clams, grilled swordfish, and lobster tail (not from the saltwater tanks).
Peoria
Named after Mr. Capone himself, Big Al's legendary Peoria establishment is less a strip club and more an adult entertainment complex, complete with a fingerprint-access VIP area (yes, this is real), lounge, and two full-service bars. There's also a weekday lunch buffet, starters and sandwiches for dinner, and it's open 'til 4am seven days a week.
Sauget
The Penthouse Club is definitely one of the fancier strip clubs in the humble Land of Lincoln. There's a VIP room complete with... a koi pond???... a (fake) lion, a mounted moose head (real), and a fireplace. Even the general area looks pretty slick with a large bar, lounge-style tables, dim lighting, and private suites. And if you're really stressing out as of late, skip the massage therapist and have one of the "TLC ladies" give you a back rub. Yup.
Springfield
Four things you're basically required to do when visiting our great state's capital: 1) visit Abraham Lincoln's home, 2) take a photo at the Illinois State Capitol, 3) eat a horseshoe sandwich, and 4) get some lap dances. Enter: Déjà Vu Showgirls, where you can check out the XXX theatre, party with showgirls, enjoy amateur nights on Wednesdays, and receive a free personal pizza with VIP admission.

Creve Coeur
Located near Peoria, Club Cabare't bills itself as an old-school gentlemen's club, where visitors can grab dinner, get a haircut and, of course, see some nude-iness. The club itself has a bit of a '70s, Ron Burgundy flair to it, with ceiling tiles, tufted leather seats, fireplace, and several video gambling machines. There's also a VIP wine room, hair shop, nail salon, shoeshine station, smoke shop, and gift shop. So yeah, Club Cabare't can hook you up with pretty much everything except a ribeye steak. Oh WAIT, they offer that too, as well as huge menu of dinner and breakfast offerings.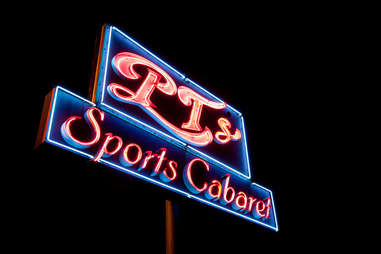 Sauget
PT's Sports Cabaret could actually pass for a pretty nice sports bar if there weren't naked women walking around. But... there are! Seriously though, this place has 25 TVs and two 84in big screens, sports memorabilia displays, and a red brick bar that looks like the outfield wall at Wrigley. Even the stripper stages are made to look like football fields. Patrons can also enjoy a $5.99 lunch special on weekdays and a wet T-shirt contest on Sundays.
Chicago Heights
Club 390 offers private no-sex-in-the Champagne rooms, a private executive lounge, limo and shuttle service, and a climate-controlled smoking area. But perhaps the biggest draw here -- besides the naked people/full liquor bar -- are all the weekly specials: there's a private room punch card (buy 10, get one free), monthly theme nights, and all sorts of $2 shot-and-beer specials throughout the week.
Stone Park
Located in the West suburbs of Chicago, Scores is open from 11am to 5am on weekdays (6pm to 5am on weekends), which pretty much covers all the important hours. And while Scores may not be the fanciest club in the world, it still offers Champagne rooms, VIP seating areas, 200+ girls, private dances, deals with local limo companies, and two full liquor bars.
Bridgeview
Billing itself as a Vegas-style club, PoleKatz claims to staff roughly 150 "kittens" (yes, that's what they call them) that offer pole dancing, lap dances, and "full-contact dances" (tackling not included). The club is big, with 18,000sqft of space, and features a full bar and nine projection screens. Also, if your group is really hurting for a ride to Bridgeview (hint: it's near Midway), you can fill out the online transportation request form and a stripper pole-equipped Mercedes Sprinter party bus will swing by to pick you up. Naturally.

Washington Park
Perhaps the biggest compliment you can give Hollywood Showclub is that the facade looks like something straight out of Road House. The theme is a bit Miami Beach (think turquoise accents and palm trees) and guests enjoy a full liquor bar, fully nude dancers, and a light menu of sandwiches/pizza.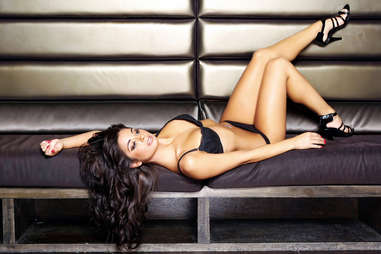 Chicago
Your family perhaps never got behind your career choices, but surely they'll be super proud when you tell them you've obtained a lifetime membership to Pink Monkey for a cool $10K. Right? RIGHT? Even if they don't, you'll still be able to enjoy this clean, colorful strip club. As a bonus, the kitchen cooks up some pretty decent food. And... get this... Pink Monkey is BYOB.

Kappa
Open until 4am nightly (2am on Sundays), Kappa Kabanna keeps the party going with a variety of specials and theme nights. The layout here actually feels more like a classy jazz club than the traditional strip variety, with circular tables and comfy chairs fanning out from a main stage. Kappa Kabanna offers a full liquor bar, amateur nights on Fridays, video gambling, weekly giveaways, and free shuttle service to the Bloomington and Normal areas.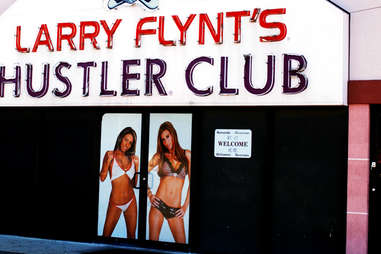 Washington Park
Part of a national chain of Hustler clubs, this Washington Park outpost is located across the river from St. Louis and apparently has been employing the "finest buxom babes this side of heaven" for the past 10 years. Onsite, you'll find fully nude dancers and an erotica boutique (you know, for stocking stuffers), as well as $2 drinks on Tuesdays and a schoolgirl-themed night on Sundays.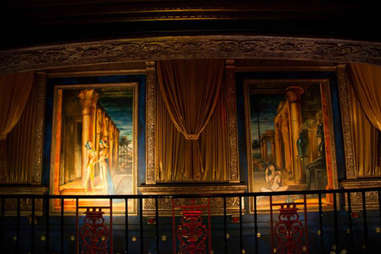 Chicago
The Admiral Theatre is probably the city's most well known strip club, and it's been around so long that a neighborhood group actually handed it an award. There's no booze served at Admiral Theatre, but they make up for it with events such as the "Night of the Stripping Dead" and a Thursday night amateur night, all while you hang out in an old theater until 6am. There are worse ways to spend an evening.
Sign up here for our daily Chicago email and be the first to get all the food/drink/fun in town.
Raf is a long-tenured Baratheon loyalist and Point Break apologist. You can check out his weird-smelling blog Alley Connoisseur, and follow him at @RafFoSho.