Chicago If this weekend was a kid playing Red Rover, it would be that one 300lb second grader because it, too, is gonna TOTALLY DOMINATE, thanks to 30-case beer towers and a wine-soaked free-for-all.
Thursday, September 11th-Saturday, September 13th: Spend the weekend with the only dude who makes Lorne Michaels seem less weird: Judah Friedlander, otherwise known as the mesh cap revivalist Frank Rossitano from 30 Rock. Between minor roles in films, including Meet the Parents and Zoolander, the ping pong-playing, wrestling-obsessed comic brings his stand-up routine to Up Comedy Club for three of the strangest nights you may or may not remember. Continue Reading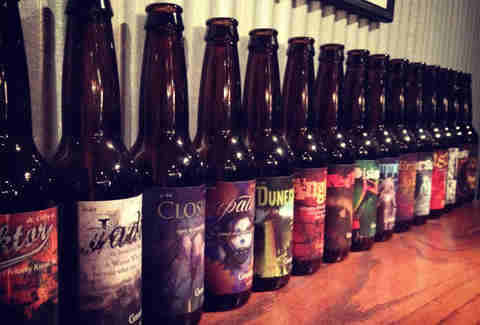 Friday, September 12th, 7pm: Christmas for beer nerds comes early at the annual Carmichael's fundraiser Festiv-Ale: A Celebration of Beer, where local chefs (Three Aces, The Radler, Bottlefork) collaborate with local craft brewers (Greenbush, Fleck, Argyle) to create one-of-a-kind dish samplings and pairings. You can also check out special releases (51st Ward Brewing), new brewers (Breakroom Brewing), and whole pigs (Frontier). Oh, and there's also a raffle to win a "tower" (30+ cases) of beer. So, yeah.


Saturday, September 13th-Sunday, September 14th: If you've ever wondered what it would be like to steal every bottle from a wine shop before having your stash raided by vagrants on the streets of Old Town, Crush in Old Town is a pretty close approximation. Only, instead of pairing your wine with cheese, you'll be sampling mac 'n cheese from local restos, including Kamehachi, Benchmark, and Adobo Grill. It's a little more classy, but not by much.
Sunday, September 14th, 11am: Over time, mankind has attempted all sorts of incomprehensibly ridiculous hangover cures, from deep-fried canaries to dried bull penis. But none have proven to be as effective as the Bloody Mary, which finally gets its due at Chicago's Bloody Mary Competition. All you have to do is make your way to Park West to sample Bloodys from local bars and restos -- all chosen to represent various Chicago neighborhoods -- before voting on the best.


Sunday, September 14th, 6:30pm: What's better than Sunday dinner with the in-laws? Pretty much anything. But especially Sunday dinner with From Good Stock, the new supper club cooking up creative farm-to-table cuisine from top local chefs well off the beaten path in East Garfield Park's Land and Sea Dept. Join Longman & Eagle vet/Promontory sous chef Matt "Skittles" Sliwinski for a "fireside-inspired picnic" of wood-roasted skirt steak, smoked chicken liver mousse, Solemn Oath Butterfly Flashmob Slushies, and one very impressed date.