If you're not cruising Lake Michigan via jetpack, you're doing it wrong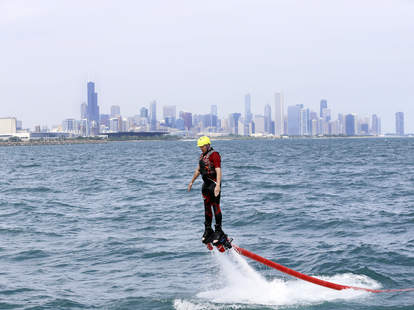 Oh this? It's just the Flyboard, Lake Michigan's first OH MY GOD IT'S A FLYING HOVERBOARD, which, when strapped to your feet, uses two torrents of water to propel you through the air like you're Iron Man (minus the whole electromagnet chest piece that prevents pieces of shrapnel from piercing your heart). You can test drive one of these bad boys at the 31st St Harbor, here's how it's done:
Jim Vondruska
The Harbor
Flyboard rentals are run through boutique water sport rental company Chicago Water Sports (
make a reservation here
) at the harbor in Bronzeville where -- on top of kayak spin classes or paddleboard yoga -- they offer a very Instagramable view of the skyline.
Jim Vondruska
Suiting up
You can slip into your CWS-provided wetsuit inside their brand-new shower and changing facility that sits adjacent to an in-harbor swimming pool. Or if you're shameless (hi there), just change behind one of the storage containers where nobody will ever see you (right?).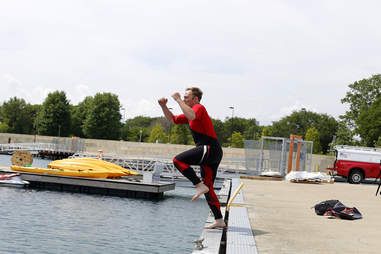 Jim Vondruska
Then it's impromptu...
Jim Vondruska
... cannonball...
Jim Vondruska
... time...
Jim Vondruska
...before heading out on the boat with a jet ski and your Flyboard in tow.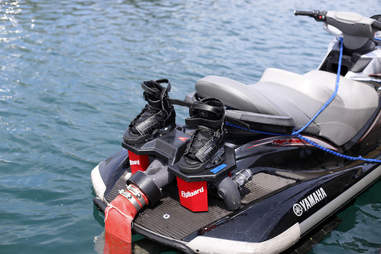 Jim Vondruska
The board
The Flyboard has a pair of strapped boots, similar to a snowboard's, a pair of jets on the bottom, and a 40ft hose on a swivel that's rigged to the jet ski. When the Flyboard's hooked up, all of the jet ski's 8,000 rpms of power are diverted to the jets on your heels.
Jim Vondruska
Flying the damn thing
The process of getting up in the air may take a few tries. You start out in the water on your stomach with your legs locked straight out then slowly let your feet and the jets slide under you and lift you out of the water and up 10-20ft in the air.
Jim Vondruska
You'll need to counterbalance every shift in your feet or legs, so a good sense of balance will help here. If you're the type of person who navigates a wakeboard or snowboard handily, you'll be in good shape. If you're the type of person who falls down on a dance floor while sober, you've got some work to do.
Jim Vondruska/Walt Disney Studios Motion Pictures
In no time you'll be hovering around like you're an Avengers stunt double. See? Can't even tell which is which (I'm the one in the flowery life jacket). Note: you don't have to point your hands like you're a machine, that's just a choice I made personally.
Jim Vondruska
If you're feeling maniacal you can even attempt a few dolphin dives with the jets shooting you back up out of the water.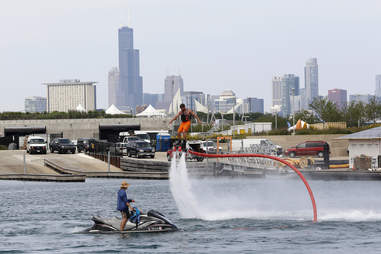 Jim Vondruska
You can also leave the dives, 360s, and general badassery to the trainers on the Chicago Flyboard Team who demo the board at lakefront events.
Jim Vondruska
You may be a little sore in the legs and core, but it's nothing a burger off of the grill won't fix. You'll call it a day having gotten the requisite fun and sun, handing in your wetsuit, and wringing out your underwear (you remembered to wear underwear, right?).
Sean Cooley is Thrillist's Chicago Editor and he knows better than to go commando. Follow him @SeanCooley.