As you know, dating in Chicago is, well, different. And as you also know, dating prices in Chicago are, well, crappy. And while Chicago dating is never going to get un-different, Chicago dating prices can definitely get un-crappy. Especially if you're on one of these 16 dates.
Get in on a free wine sampling every Sunday from 2-5pm at Lush Wine and Spirits in Roscoe Village, then grab a bottle from the $10 rack and head on over to 90 Miles Cafe to split a Cubano ($7) and a Snickers empanada ($3).

Feel like you're a part of the cost-conscious Rat Pack with a 5-7pm happy hour date at this Prohibition classic, which starts with the big-enough-to-split Executive Martini. Stick around on Fridays and Saturdays for the live entertainment and dancing once the Executive starts doing its job.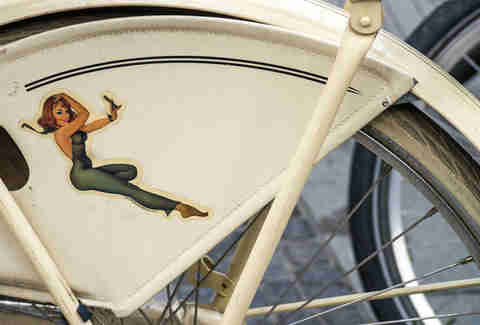 Extra-spice things up and head to Holiday Club on the third Wednesday of every month, where bikes and classy ladies gather for a little bit of hump day revelry. Free admission along with food and drink specials.

Do the "let's catch a movie" thing without looking like you're still in high school with an indie (read: intelligent) flick at Music Box Theatre. General admission is $10, but the venue also features first show of the day and midnight show discounts ($9) as well as $7 Monday admission and buy-one-get-one popcorn and soda.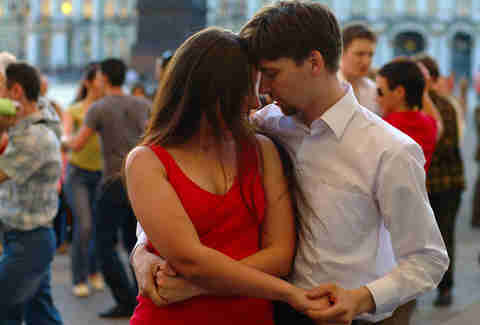 This one might require a shot of the $5 Rumchata special beforehand, but if you like it hot, Dolphin's Salchata Tuesdays, with a $5 cover, might be the best $20 you pull out your wallet this week.

Learn all the ins and outs of the finest of brown liquors on a tandem tour at Koval Distillery. It's $10 per person, which includes tastings of "numerous spirits." NUMEROUS!
If you're looking to save cash, skip the Cubs games (where dropping anything less than a Benjamin is pretty much impossible) once the season rolls around to hit up Dimo's Pizza and grab a slice (Editor's Suggestion: The Mac -- mac & cheese pizza with a crème fraîche base -- oh you fancy, huh!) with a Diet Coke for $5. And it's BYOB, so add some whiskey to the latter. Hell, add some whiskey to the former, too.

Hit up this iconic restaurant in Lincoln Park for the awesome (read: inexpensive) happy hour specials ($3 tapas + $1 from 4-6pm, Mon-Fri; Fri-Sat 10pm-12am). Mondays also = half price cocktails and Tuesdays = half-off bottles of wine. Can't go wrong.
If you're both bike lovers and pity the fools stuck in snow drifts or slush, rent a Divvy bike for $7 (good for 24 hours with docking every 30 minutes) and scoot your way around the city. Bonus points for turning it into a competition about who can dock the fastest. Winner buys beers. $1 beers, of course.

Make like proper Brits and have high tea. But skip the actual fancy afternoon teas and go to Dollop Coffee, Filter Cafe, or any of the Argo Tea locations. Or, for authenticity, hit up Spencer's Jolly Posh to transport yourselves to proper English tea time without the plane travel/accents/bad teeth.
Go retro at the classic Margie's Candies and share one of the huge (we're talking HUGE) sundaes. You know what to do.

12. Tour LSD and show off your driving skills
Rent a car (most start at about $20/day), hit Lake Shore Drive, and take a road trip together outside the city. Bonus points if you pack a picnic or play "Strip I Spy" along the way.

Visit Howells & Hood off of classy Michigan Ave to try one (or a few) of the 114 unique beers on tap. With flights of 6oz tasters that start at $3 each, you can host your own little beer fest.
Pull an early morning date and head to Waffles Cafe for The Wonut, Glazed and Infused for a red velvet donut, or any one of these 10 bagel places. This is also a good test to see if your date is a morning person... or not.

The Vic Theatre? Brew & View? $5 admission to most movies (usually second- and third-run, as well as cult and underground favorites) and cheap drinks? Yup. Yup. Yup.

What would Chicago dating be without trivia, night? And nothing's quite classier than laser-sharp knowledge. Kick back, buy some cheap beers and grub (most places have specials), and impress your date with your useless knowledge at any of these classic trivia nights.
Sign up here for our daily Chicago email and be the first to get all the food/drink/fun in town.
Brandy Gonsoulin and Laura Vecchia are part founders of local lifestyle site DailyUrbanista. Say hi to them on Facebook or Twitter @DailyUrbanista.