Ah, dating in Chicago. If you've ever been single in this city, then you're probably well aware of the fact that dating in Chicago can be, well, different. And, as if trying to navigate standard dating rules wasn't stressful enough, some of us hardcore Chicagoans also have a very specific set of dating dealbreakers.
Commit one of these cardinal dating sins, and we're outta here faster than a #8 bus on a sub-zero day.
1. You refuse to leave the five-block radius around your house
If you seriously believe that life in Chicago begins at Roosevelt and ends at Western, then this honestly isn't gonna work. Sorry. Well, actually not sorry, but, uh, yeah.
2. You refer to Chicago as Chitown, Chiraq, or The Windy City
Or *shudder* "The Big City."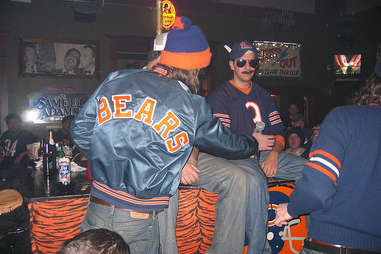 3. You make fun of our ayyyx-cent
Oh my gosh, when we say roof and it sounds like "rough!" And our vowels are stretched out! Hahaha, so funny! No, but seriously, wanna hear something I can say without an accent? "Check, please!"
4. You're not a Cubs fan or a Sox fan
WTF YOU LIKE THE CARDINALS???????? No.
5. You want to get to know each other over drinks at Moe's Cantina...
... on a Saturday night during baseball season. Sure, I'll meet you there... just look for the aggressively drinking blonde wearing a Cubs tank. That won't be me. But you won't care anyways.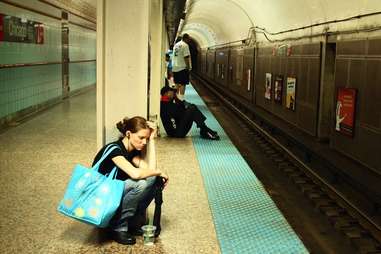 6. You're a CTA snob
You feel "safer" on the Brown Line, your pulse races when you take the Red Line, you're convinced you'll die if you take the Green Line, and you can't figure out the bus? Let me call you a cab... so you can get far away from... me.
7. You said you're from Chicago, but you're actually from the suburbs
It's not you, it's the Eisenhower. And also you, but still.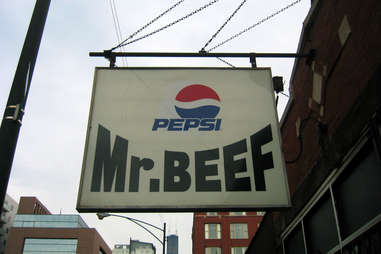 8. You only eat at Avec and Au Cheval
Don't get us wrong, Avec and Au Cheval are fantastic, but most days, we really just wanna throw down on some Golden Nugget or Johnnie's Beef. And you need to be just as excited about getting into a side of giardiniera as you are about getting into the side entrance of the coolest new restaurant (will they have giardiniera there?).
9. You can't navigate a six-corner intersection
Even born-and-bred Chicagoans tend to spaz out when driving Downtown (hi Mom!), but if you can't do this without hyperventilating and prefer to use your phone's annoying talking GPS over common sense (and our dead-simple numbering system), this isn't gonna work.
10. You show disrespect to the hot dog
This includes, but is not limited to: putting ketchup on it, turning your nose up at the "garden", or refusing to eat one because, "Nitrates, EWWW!"
11. You live in Chicago, but still obsess over your college town
If you hang Ohio State flags everywhere, wear Ohio State T-shirts, spend all of your time in Ohio State bars, with your Ohio State friends, watching Ohio State games... you should probably date someone at Ohio State. Same goes for Michigan, Iowa, Indiana, et al. You know who you are.
12. You don't understand our cultural references
If we refer to Comiskey, dibs, pop, gym shoes, or our "fronch room" and you give us a blank stare, we... we just... we can't.
13. You insist that taking the expressway will be the best option
And not just because you're stubborn. You legitimately think the Kennedy is the only way to get from Downtown to Wicker Park. The people we do wanna date? Always have a plan B, C, or even a plan D because sometimes even the side streets can get backed up.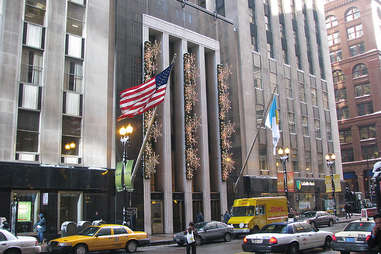 14. You think that you live "Downtown"
Really, what building? Oh you mean you live in Chicago proper? Yea... that's not Downtown.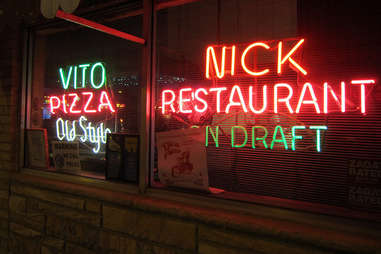 15. You think Al's beef, Giordano's pizza, and Portillo's hot dogs are the ONLY great options
Don't get us wrong, we love those places too, but they're not.
16. You cringe at the thought of taking Lower Wacker
Dude. Sometimes it's the only option.
Sign up here for our daily Chicago email and be the first to get all the food/drink/fun in town.
Lisa Chatroop and Gina Pedroni are the founders and editors of local lifestyle site DailyUrbanista. Say hi to them (or hate on their jokes) on Facebook or Twitter @DailyUrbanista.