8 Chicago Summer Music Festivals to Satisfy Every Type of Music Fan
Nick Tuinstra & Cobra Productions
Summertime in Chicago is truly a magical season: rooftop happy hours, picnics on the beach, and, of course, music festivals. Millennium Park especially is known for its seemingly endless lineup of warm-weather musical guests, but countless other spots around town offer open-air jams throughout the summer. And with entire festivals devoted to everything from blues, to country, to punk, to world music, you're bound to find a concert that suits your musical tastes. This guide will help you decide which one is right for you.
City of Chicago
May 24-25
Not many people know that Chicago is where house music first started (at a South Side club called The Warehouse), but the House Music Festival aims to change that. This is the fourth annual edition of the free event, which features two days of DJs performing at Jay Pritzker Pavilion, Wrigley Square, and other locations. Headliners like Mr. Ali and neo-soul outfit Reel People are gracing the main stage, but be sure to also swing by the Deep House Stage at Chase Promenade North to catch Moodymann. If you need to sweat off two nights of DJ debauchery, there's a special house music edition of the Millennium Park workout series on Saturday at 8am on the Great Lawn.
City of Chicago
June 7-9
What would blues music be without Chicago? Luckily for Muddy Waters and Buddy Guy, we'll never know. The annual Chicago Blues Festival is a free celebration of the musical tradition and like the genre, it's massive. Concerts take place on six stages and showcase blues' influence on styles like soul, Southern rock, and gospel, so you're sure to find tunes to your liking. The headliners this year at Millennium Park's Jay Pritzker Pavilion include Grammy-nominated legends like Bettye Lavette and Ruthie Foster. Don't forget to stop by the smaller stages for a more intimate experience; historic blues hangout Rosa's Lounge has its own daily showcase as part of the fest.
Jeff Marini
July 12-14
Few things say "summer" like barbecue and country music. The Windy City Smokeout brings 20 award-winning pitmasters -- including Myron Mixon and Sam Jones -- to Chicago to pump you full of ribs, brisket, and pulled pork while a full lineup of country stars play. (Headliners include Chris Young and Cole Swindell, who've got 22 No. 1 singles between them.) The event takes place outside the United Center, making the entire thing feel a bit like the best tailgate you've ever been to. One-day tickets start at $40, but prices start jumping after May 31, so grab your spot now. Your stomach will thank you.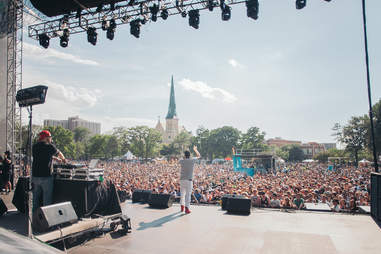 Matt Lief Anderson
July 19-21
Kurt Vile! Soccer Mommy! Belle & Sebastian! All of the indie darlings show up for this annual fest in Union Park, plus plenty of big names, too (Robyn!? The Isley Brothers?!?). Everyone knows that Pitchfork still has the final say on what's cool in music, and their festival is an extension of that. Each day's lineup is well-curated to highlight up-and-coming stars, plus festival organizers make the tickets reasonably priced to accommodate all music fans. (Right now it's just $175 for a three-day pass, but that goes up on June 1.)
Man Bartlett/Flickr
August 1-4
Lollapalooza: It's like Coachella, but people actually listen to the music. Chances are, you've heard about Lolla, as it's one of the largest music festivals in the country, and one where music history gets made -- so being there when it happens is a big deal. Will Ariana whip out a bunch of costume changes to try and compete with Bey's historic Coachella set? Will Tame Impala perform their rumored new album live? How many people will text their ex during Kacey Musgraves' show? These questions and more will be answered at the four-day Grant Park marathon. With 170 bands across eight stages, make sure to pack for survival: reusable water bottles, (sealed) sunscreen, and some cash to pay for food (all from Chicago-area vendors, by the way). One-day tickets start at $130.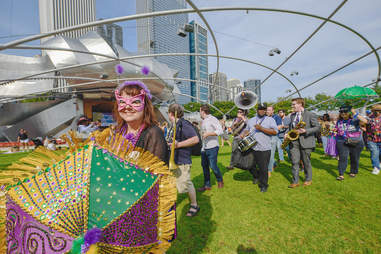 City of Chicago
August 23 to September 1
As you've probably noticed by now, Chicago has a thing for free, genre-themed music festivals. The most established of these is the Chicago Jazz Festival (now in its 41st year), a weeklong celebration of all "the notes you don't play," as Miles Davis would say. The first week of the fest is filled with neighborhood shows, leading up to four days of headliners at Millennium Park that kick off on August 29. (Stick around that evening for a tribute to Nat King Cole, led by his younger brother, Freddy Cole.) The final day is headlined by the Eddie Palmieri sextet, an award-winning group that will bring salsa and Latin jazz to the main stage.
September 13-15
Riot Fest is the culmination of Chicago's punk rock scene, bringing together 80+ bands for a long weekend during the last days of summer. Staying true to their punk roots, previous lineups have included lucha libre wrestling, carnival rides, and, of course, plenty of up-and-coming musicians from the local alternative scene. Per tradition, a handful of bands tend to play an entire album straight through, so if you're trying to hear a start-to-finish classic, this would be the place. And in honor of the fest's 15th anniversary this year, three-day passes start at just $115. The lineup hasn't been released yet, but have faith: Last year's bill wasn't finalized until a week in advance, and they still managed to snag Run the Jewels and Weezer.
City of Chicago
September 13-29
Every year in Chicago, an Indian orchestral group plays classical music all night, often for over 12 hours. This is the kind of thing you'll only see at the World Music Festival, an 11-day, multi-venue experience that encompasses genres from around the globe -- basically everything that's not at all the other fests on this list. Past acts have included traditional Irish bands, Arabic orchestras, and Congolese funk groups. After a few trips to these free concerts, you'll have the most well-versed musical tastes of all your Spotify friends.