It's been said that Chicago is a city of neighborhoods... that you usually don't visit unless they're, like, right next to your neighborhood... but probably totally would if someone would just list out the best reason to visit 32 of 'em. So, we did that. Because it's okay to leave your 'hood every now and then. Really, it is.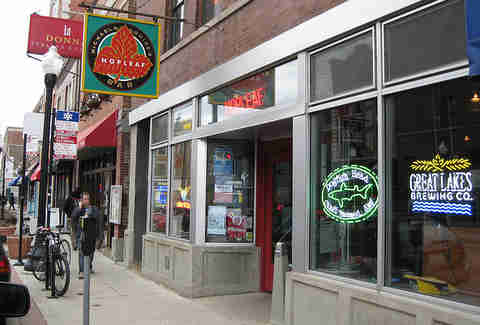 ANDERSONVILLE
Beer bars Go to Hopleaf and try not to love it. We dare you. Screw it, we DOUBLE dare you. Same goes for Simon's Tavern.
 
AVONDALE
Alice's Lounge Karaoke all night with a fun, diverse crowd at one of the very few non-terrible 4am bars in the whole city. Yes, please.
 
BEVERLY
Top Notch Beefburgers While The Bake may be slightly more entertaining in terms of late-night debauchery, for our money the best things in Beverly are the juicy cheeseburgers ground daily in-house and griddled in their own juices by this old-school neighborhood classic.
 
BRIDGEPORT
Maria's Packaged Goods From free Korean Polish BBQ cookouts in the summer months to some of the finest DJ nights in the city year round (plus, close to 500 beers and a f-ton of whiskey), Maria's is more than just an awesome bar/liquor store. It's a community.
 
BUCKTOWN
Whirlyball Did you hear there is a new Whirlyball in Bucktown? Of course you did.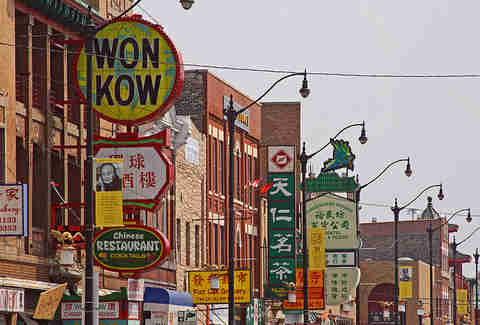 CHINATOWN
Dim sum/Phoenix Obviously, you're here to eat Chinese food. And, obviously, you're doing it at Phoenix, and it's dim sum.
 
EDGEWATER
Moody's Pub Grab a pitcher of sangria with a blue cheese burger on the verdant patio at Moody's Pub. Then grab another. And another. You get the idea. In winter, switch to the fireplace.
 
GARFIELD PARK
Garfield Park Conservatory It's one of the most beautiful places in all of Chicago. And it's free. Even Vince Vaughn is a fan.
 
GOLD COAST
Lakefront path Proof that money can't buy good taste, the Gold Coast is best observed from afar. And few views in the city are better than those enjoyed on the lakefront path from Ohio Street Beach to North Ave.
 
HUMBOLDT PARK
Humboldt Park (the actual park!) It doesn't hold true for every 'hood named for a park (Wicker Park is nothing to get too excited about), but in this case the choice has to be Humboldt Park. You could lose yourself for hours here on a nice day (there's even an inland beach!). Just don't actually get lost.
 
HYDE PARK
Valois Dine like POTUS with the NY steak and eggs at the old-school, cafeteria-style Valois diner. You can even order from a sign proudly proclaiming "President Obama's Favorites." So yeah.
IRVING PARK
BBQ With Smoque and Smalls Smoke Shack (ranked number one and number two BBQ on the North Side) occupying opposite ends of the neighborhood, you won't be without Texas BBQ in this 'hood. And that's a very, very good thing.
 
LAKEVIEW
Headquarters Beercade With old-school games from BurgerTime to Space Invaders, brews from Gumballhead drafts to Moose Drool cans, and Bloody Marys topped with WHITE CASTLE SLIDERS, Headquarters may not have invented the bar arcade trend, but they may well have perfected it.
 
LINCOLN PARK
North Pond This Tavern on the Green-style sanctuary is one of the more underrated attractions in Chicago. Where else can you eat foie gras in one of the city's oldest restaurants in the middle of a park? Hint: nowhere.
 
LINCOLN SQUARE
Turtle Racing at Big Joe's Yup.
 
LOGAN SQUARE
Cocktails Sure, cocktails are a good reason to go ANYWHERE, but Logan's cocktail game can hang with any neighborhood in the country, let alone the city. The Whistler, Billy Sunday, Scofflaw, Analogue, and now cocktail Godfather Paul McGee's Tiki hotspot Lost Lake. Oh, and the Scofflaw folks are ALSO opening a Tiki bar here. Decisions!
LOOP
Pritzker Pavilion Obviously, the reasons to visit Downtown Chicago are too vast to list. But if we had to pick one thing, we'd pick lying out on a blanket in the summer at Millennium Park and listening to free jams courtesy of the city's "Loops & Variations" experimental music series. The rest of the year? Just wander around and look at the buildings, okay?
 
NOBLE SQUARE
Porn and Chicken One of Chicago's craziest parties is reason enough to visit Evil Olive on Monday nights. Let's just hope you rescheduled that Tuesday conference call beforehand.
 
OLD TOWN
Second City/Old Town Ale House After the obligatory trip to Second City, head to one of the city's finest dive bars and ogle nudie paintings (including a naked Sarah Palin and a pre-cavity search Blago) at Old Town Ale House.
 
PILSEN
Dusek's, Punch House, and concerts at Thalia Hall You can't talk about the recent Pilsen revival without spending a night in this 'hood's hipster Holy Trinity with a lobster roll at Dusek's, Space Juice downstairs at Punch House, and a sweet indie rock show next door (like Ariel Pink later this month) at Thalia Hall.
 
PORTAGE PARK
Fischman Liquors  This old-school slashie is a beer bar worth seeking out no matter where you are (especially on tap takeover nights). Just be careful about drinking and shopping, the liquor store is dangerously well stocked.
 
RAVENSWOOD
Chicago Brauhaus Drink steins of beer and eat pretzels/sausages at Chicago Brauhaus. It's like a tour of Germany... where all they show you is the good stuff.
RIVER NORTH
Rooftop bars After a night at Howl at the Moon or House of Blues, it can be tough to remember why you're in River North. Oh yeah, the views! And not of the desperate housewives and the men in suits who chase them. We're talking about rooftop views, available at any of these fine neighborhood establishments.
 
ROGERS PARK
Heartland Cafe The only thing better than sitting outside on a quiet, tree-lined side street at this peace-and-love neighborhood institution? Catching a local band at the adjacent Red Line Tap with a cold Raspberry Queef (yes, that's the name of a drink) in hand.
 
ROSCOE VILLAGE
Beat Kitchen With the recent closing of two of the best bars in the city, if not THE WORLD, this 'hood took a big hit when Underbar and Hungry Brain shuttered their doors late last year. This, however, is good news for local music venue/restaurant Beat Kitchen, which quietly continues to coast under-the-radar as one of the city's most reliable nightspots.
 
SOUTH LOOP
Reggies This kick-ass music venue/record store/restaurant is easily one of the coolest places in the city, if not the country. And offbeat events like the Pancakes & Booze art shows, trips to Hawks games in the party bus, and balls-out live band karaoke only add to its reach.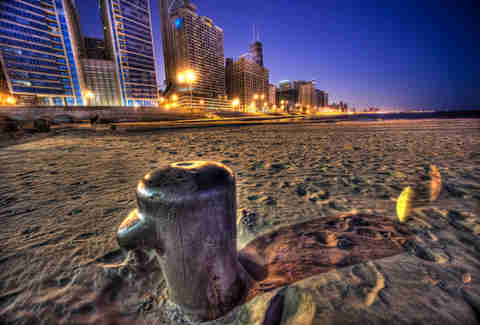 STREETERVILLE
Ohio Street Beach Much like the Gold Coast, this is an area best enjoyed from the outside looking in. And the under-crowded Ohio Street Beach and the overlooked adjacent Milton Lee Olive Park may pack the best one-two punch for views in the city.
 
UKRAINIAN VILLAGE
Mister Brown's Lounge You can thank this popular Jamaican lounge for that sweet smell of smoke as you drive down Chicago Ave, where jerk chicken is smoked and grilled in the back. Need proof that it's more popular than Fall Out Boy? They're opening a new location in the Hard Rock Hotel, replacing Pete Wentz's soon-to-be-shuttered Angels & Kings.
 
UPTOWN
Green Mill Tough to top a landmark jazz joint that used to be a Capone favorite, but it isn't just about nostalgia here: The Paper Machete on Saturday afternoons is a vibrant showcase of Chicago's deep bench of thoughtful, hilarious comedic and literary talent.
 
WEST LOOP
Restaurants! There's a reason we ranked the West Loop Chicago's NUMBER ONE hood for food and drink. If you visit this neighborhood and don't leave buzzing, you're doing it wrong.
 
WICKER PARK
Dive bars While the recent closing of Club Foot left a foot-sized hole in our hearts, Wicker Park has kept its dive bar bona fides intact with Innertown Pub, Happy Village, Gold Star, Phyllis', Rainbo, and Zakopane still going strong and all within stumbling distance. A more fun night out in Chicago is hard to come by.
 
WRIGLEYVILLE
Metro/Smart Bar/Gingerman In a sea of idiocy sits an island of excellent, with one of the city's best music venues, best dance clubs, and best dive bars all right next to each other -- proving Wrigleyville is more than just the sum of Cubby Bear and Weiners Circle. Barely, but still.
Sign up here for our daily Chicago email and be the first to get all the food/drink/fun in town.
Jay Gentile is Thrillist's Chicago Editor and he has nothing but love for you and your neighborhood. Follow him @ThrillistCHI.
Raf Miastkowski, Sean Cooley, and Matt Lynch contributed to this article.