A glossary, also known as a vocabulary, or clavis (duh), is a list of terms in a particular domain of knowledge along with the definitions for those terms. It comes in extra handy if you live in a place like Chicago, where we like to throw around words like "bags" and "wet" and you're expected to know what they all mean. So yeah, we made one.
Malort
Swedish liquor with undeniable flavors of wormwood, hand soap, and burnt zombie skin; will freely kick your mouth in the balls. Also: it somehow beat Prohibition.

LSD
The expressway path through the concrete jungle; you won't find a finer view in a 6am cab ride home.
"Waiting for signal clearance"
"L" warning signal said in a tone that doesn't properly match the despair you will feel when trapped underground for 30 minutes.

"Is there a Cubs game today?"
Instinctual question asked when the streets of Lakeview are overrun with traffic, arguments, and public streams of urine.

Pop
Only sensible catch-all name for soft drinks; overriding soda (tolerable) and Coke (makes absolutely no sense).
Chicago Mix
Practice of blending Garrett's cheddar cheese and caramel-flavored popcorn into one glorious bag, the two going together much like chicken and waffles.

Ventra
Bus and train fare payment system and grand experiment in privatizing public transportation that functions about as smoothly as a laptop running Windows 98.

Dibs
Honor code of saving a parking spot (generally with a household object) that's been carved from foot-high snow, the violation of which will result in great harm/passive-aggressive notes.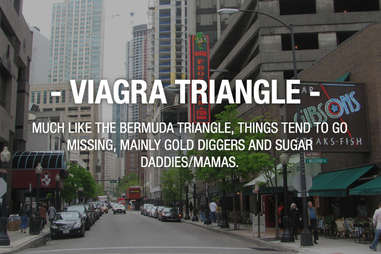 Giardiniera
Pickled blend of sport peppers, bell peppers, carrots, cauliflower, and celery that's an essential condiment and often the closest Chicagoans come to eating vegetables.

Bungalow
Century-old house with stone trim and a fancy offset entrance; guaranteed to give architecture groupies at least a quarter chub.

Spring
The three nice days in a row during April.
Tips and links
Holy trinity of rib tips, hot links, and fries; part of a well-balanced BBQ-only diet.

4am bar
An alternate drinking dimension where late-night becomes early morning and tacos become a viable alternative to hooking up.
Sign up here for our daily Chicago email and be the first to get all the food/drink/fun in town.
Sean Cooley is Thrillist's Chicago Editor, and he lives his life by Anthony Kiedis lyrics. Follow him @SeanCooley.