After surviving the worst Winter in Chicago maybe ever, it only seems fair that you have the most not-worst Summer in Chicago... maybe ever. Here to help, we've sifted through the warm-weather calendar to bring you 12 things totally worth adding to your Summer dude-tinerary.
What: Make no attempt to clean the BBQ sauce off your face at Ribfest
When: June 6th-8th
Where: North Center
Beer, live music, and three days of perfectly cooked 'cue will draw 50,000 people to this neighborhood ribs cook-off, which's still waiting to see if hot dog-eating champion Joey Chestnut will return to avenge his loss in the Ribmania competition.
What: Go to church (specifically the one hosting the World's Largest Block Party)
When: June 27th-28th
Where: Old St. Patrick's Church
Heading into its 30th year, this street festival will have 20,000 people gathered around Old St. Pat's -- a historic landmark that dates back to the 1850s -- to drink and listen to the likes of G. Love, Guster, and Third Eye Blind... which date back to when you had a Nokia phone.
What: Go to your first-ever bike and beer festival
When: July 12th
Where: Palmer Square
Colorado-based brewery New Belgium's Tour de Fat is a veritable circus on wheels with bikes, beer, food, and costumes. The event will have live music, sideshow entertainment, and a car-for-bike trade off.
What: Do Burgerfest
When: July 12th-13th
Where: Roscoe Village
This Roscoe food fest will feature 15 of the city's top burg slingers, including Butcher & The Burger, DMK, Rockit, The Slide Ride, and Cortland's Garage (last year's Critic's Choice).
What: Get sauced at a massive tomato fight at Soldier Field
When: July 13
Where: Soldier Field
50,000lbs of overripe tomatoes will be trucked into the Bears spaceship playing field for Tomato Blast -- a part-tomato fight, part-tomato fest extravaganza. Toss on goggles and start raining marinara death on your friends, or save money with a spectator ticket and relax in the stands with a beer.
What: Choose from 100+ microbrews at the Chicago Craft Beer Festival
When: July 19th-20th
Where: Lincoln Park
You'll have four hours to taste some of the best beers from Midwest breweries, like Chicago's Revolution and Half Acre, Wisconsin's Hinterland, Michigan's Arcadia Ales and Founders Brewing, and Two Brothers in Warrenville, IL.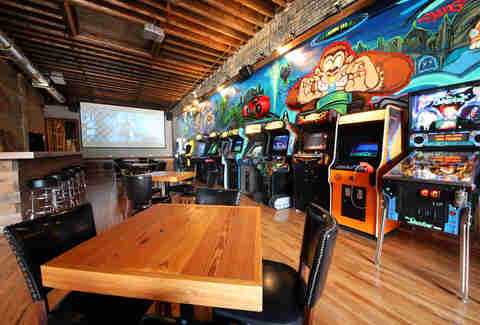 What: Test drive the games in Chicago's latest barcades
When: July/August
Where: Headquarters Beercade & Emporium Arcade Bar
The two top-trending arcade bars with amazing craft beer lists are each expanding to second locations this Summer. Headquarters will move into River North (where it will expand its craft beer and cocktail selection), while Emporium heads up to Logan.
What: Dig into fried chicken and donuts in the same restaurant
When: August
Where: Do-Rite Donuts
One of Chicago's best old-fashioned donuts is going to taste even sweeter when paired with a new, savory fried chicken sandwich at Do-Rite's second location, which's slated to open in Streeterville. In addition to the buttermilk-loaded food menu, there'll be Dark Matter coffee and patio seating.
What: Reenact the cool parts of 8 Mile at Hip Hop Day
When: August 2nd-3rd
Where: Garfield Park
Bust out your mic-dropping (and probably holding and using) skills at the first Chicago Hip Hop Day, a free West Side music fest with emcees, DJs, and producers battling to win over crowds.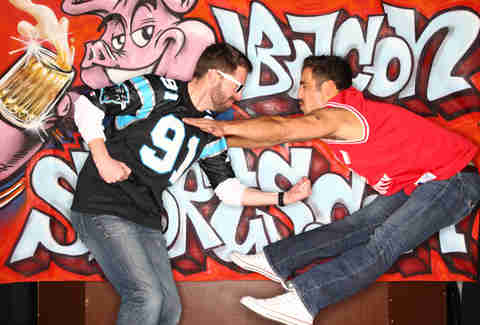 What: Break out your randomest throwback jersey at the Bacon, Sports & Beer Celebration
When: August 23rd
Where: Union Station
The three most essential ingredients for life on Earth collide at the Bacon, Sports & Beer Celebration 2.0. Sample baconated dishes from 20 local restaurants, and beer from 30 craft breweries, while competing over Pop-A-Shot, beer pong, and "best Fireball pose" in the action photo booth.
What: Find out how many Polish people it takes to the throw an awesome food festival
When: August 29th-September 1st
Where: Copernicus Center
Harboring one of the largest Polish populations outside Warsaw, Chicago delves into its Pole roots of pierogi and polka bands at the Taste of Polonia festival.
What: Punk out before Summer's up at Riot Fest
When: September 12th-14th
Where: Humboldt Park
For its 10th anniversary, hometown rock festival Riot Fest is offering a band lineup that's every bit as formidable as festivals like Lollapalooza and Pitchfork, with full-album sets from Weezer, Slayer, and Jane's Addiction. Also: the fest's Twitter account @RiotFest is a must-follow.
Sean Cooley is Thrillist's Chicago Editor, and he can't wait to hate the upcoming song of the Summer. Follow him @SeanCooley.