A comprehensive guide to Chicago transit for the holidays
With the holidays beckoning, you can look forward to family, pie, and lots and lots of commuting (worth it for the pie, though). To help you maintain your sanity across planes, trains, and automobiles, here are a handful of pro tip transit guides.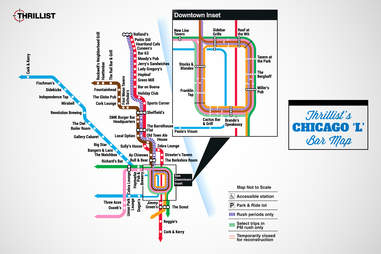 Chicago's first "L" bar map
Until drinking on the train is legalized (seriously, what is the hold up here???), you're going to have to continue to do it at, ugh, bars. So why not at least make sure those bars are 1) awesome, and 2) as close to your Christmas dinner stop as possible? To that end, we decided to whip out our bar rolodex to plot out the best & closest bar to every one of the most popular "L" stops (sorry Skokie). The only rule: all of the bars had to be under a 10min walk away from their respective stop. READ MORE
Oh, what's that? You want an "L" restaurant map, too?
Just like we did with our L bar map, we're making eating stuff mid-holiday-travel way easier, too, by mapping out one restaurant for every single "L" stop that's both 1) awesome, and 2) less than a 10min walk away. READ MORE
AND a Chicago "L" coffee map?? Seriously????
Yep, every holiday commuter's dream guide to the best coffee shop (not ending in "-bucks" or "-kin' Donuts") within a 10min walk of basically every "L" stop in the city. May your holiday travels forever be fueled by sweet, sweet caffeine. READ MORE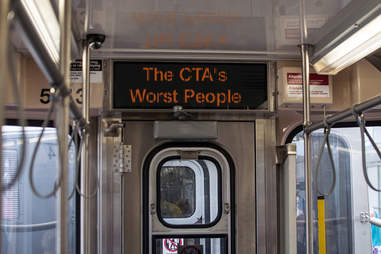 Thrillist
Don't be one of the worst people on the CTA
On an average weekday, 1.6 million rides are taken on the CTA by 1.5 million totally normal people, and 100,000 completely and utterly terrible ones. During the holidays, when everyone has 13 bags and somewhere to be, those numbers quintuple. Whatever you do, watch out for (and please God don't act like) these: the most brutal commuters you'll encounter on Chicago "L" trains. READ MORE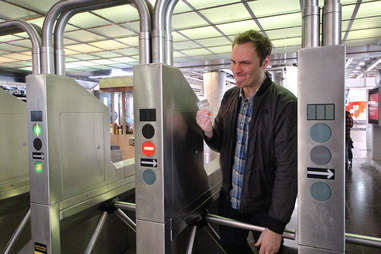 Kailley Lindman
And finally, the one holiday travel constant: Ventra will ruin everything
Ah, our tried and true measure of civic futility, Ventra. Since we last checked in on the transit fare payment system that nobody asked for, it has continued to bilk everyone from students to non-profits on its way to performance benchmark failure. And luckily, just in time for the holidays, it's gotten worse. READ MORE
Sign up here for our daily Chicago email and be the first to get all the food/drink/fun in town.
Sean Cooley is Thrillist's Chicago Editor, and he knows to never get involved in a land war in Asia. Follow him @SeanCooley.