Our grown-up Chi Christmas list
Insane Christmas lists that get annotated and put on Deadspin aren't just for kids anymore. We've been pretty damn good this year too, so here're the 10 things we want in our stocking. Feel free to annotate (and put it on Deadspin).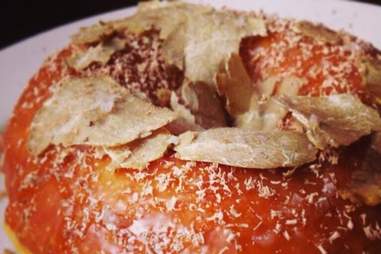 1. This $20 truffle donut from Do-Rite. So... $20.
2. Free cereal in Wrigleyville, regardless of whether it's TBOX. But not Golden Crisp. We'll eat the non-marshmallows out of Lucky Charms before we're touching Golden Crisp.
3. New knees for Derrick Rose. We don't even want a pair for ourselves. Selfless!
4. Clairvoyance when it comes to any and all street cleanings and other looming parking bans. It's the gift that keeps giving, $50 at a time.
5. The receipt for those leather jogging pants we bought at the Yeezus store. Not that we're expecting any regrets, but you know, just in case.
6. TBS rethinking nixing our Just For Laughs festival. Haven't they done enough to suppress laughter with all those Big Bang Theory reruns?
7. A key to Lagunitas' taproom before they even open in February. No wait, actually, a skeleton key to ALL the Chicago breweries.
8. A self-heating car that automatically melts away any snow or ice buildup without needing any supplemental gasoline or energy. Related wish: the ability to manipulate the laws of physics.
9. An insane landlord who accepts takeout menus that have been stuffed into our building's entryway as a form of payment. Free edamame with an order of $25 or more?! You can't put a price on that (unless you look at how much edamame costs).
10. We want our Ventra cards to function properly. Hahahaha, J/K. We know even you can't pull that off.