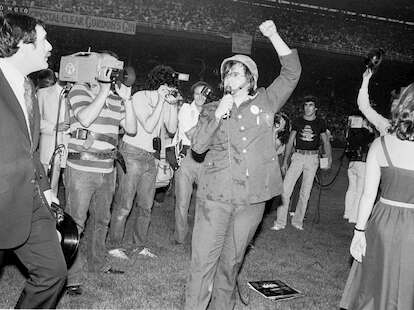 Disco Demolition and Its Long, Loud Aftershock
"It was a hot, steamy night, kinda like today." I'm on the patio of a Ukrainian Village coffee shop on a humid summer afternoon, seated across from author Dave Hoekstra. His upcoming book, DiscoDemolition: The Night Disco Died takes a long-overdue, comprehensive look at the one of the most infamous nights in Chicago sports and music lore, compiling interviews ranging from Nile Rodgers of Chic to groundskeeper Roger Bossard, Styx frontman Dennis DeYoung to White Sox organist Nancy Faust, plus the orchestrators of the stunt themselves.
On July 12th, 1979, a crowd of some 50,000 shaggy-haired rock kids crammed Old Comiskey for a twi-night doubleheader. Admission was 98 cents plus a disco record -- all of which would be collected in a crate and blown to bits in the outfield between games.
In a bid to boost attendance, promotions manager Mike Veeck had decided to follow the lead of his father, team owner Bill Veeck, a man famed for publicity stunts like signing dwarf Eddie Gaedel and once putting in-game managerial decisions up to a crowd vote. For his own gimmick, Mike turned to local novelty DJ Steve Dahl of 97.9 The Loop. Dahl, who had been fired from his previous radio gig the year prior and replaced by a disco format, built an army of listeners mocking what he saw as an insidious musical virus (symptoms include blown-out hair, tight pants, and terminal narcissism).
"Stories of oral sex on the base paths and kegs in the stand appear to be apocryphal, but it's easy to see why they arose."
After the detonation, fans rushed the field, and mayhem erupted. Much of it was innocuous (a guy sliding down the foul pole, people illegally climbing into the stadium, lots of airborne toilet paper), some of it was violent (fires in the stands, the batting cage being dragged out and torn apart), and some of it was plain hilarious (announcer Harry Caray referencing all the weed smoke, Jimmy Piersall and Bill Gleason blithely turning discussion toward the Tigers' running game). Stories of oral sex on the base paths and kegs in the stand appear to be apocryphal, but it's easy to see why they arose.
Oh, and game two was forfeited.
"It was knuckleheads letting their freak flag fly. A lot of suburban kids getting drunk," says Hoekstra, who was in attendance. "You gotta remember what the Loop listener was like, a really hard Midwestern Rock 'n' Roll audience: Molly Hatchet, maybe Judas Priest. I liked the Faces, which they considered mainstream. That's who the crowd was."
Given that disco originated as music by the black and gay underclass, the night has since come to be viewed with undertones of racism and homophobia. The opinion is in the minority of Hoekstra's interview subjects, but it certainly surfaces. "I thought, 'Didn't you all read [Ray] Bradbury? Burning books? Burning records? This has the feeling of a really bad cloud," says Joe Shanahan, owner of Metro and Smart Bar, in the book. "And why is it coming out of Chicago? And why is music of any kind, whether I like it or not, being destroyed for some radio promotion or some baseball promotion? It gave license for people to not be in the modern world." Shanahan would go on to heavily promote the Chicago house-music scene and its greatest talent, the late Frankie Knuckles (Knuckles: "House music is disco's revenge").
Class and regionalism cast similarly complicated shadows over Disco Demolition. Duck Inn chef Kevin Hickey, a Dahl fan who attended the promotion at the age of 10, recalls a teacher of his in Bridgeport directing frequent homophobic slurs at him simply because Hickey spent time living with his mother in the Gold Coast. But he too was drawn Dahl's anti-elitism.
"I was getting into punk, so I had a lot of Police and The Clash," Hickey tells Hoekstra. "My friends and I hated disco. It may have started out Latin-American based, but by 1979 everybody was listening to it. You felt you weren't pretty enough or skinny enough to fit into it. I was a chubby kid. I remember Steve saying the reason he hated disco was because he couldn't buy a three-piece white suit off the rack. That stuck with me because I couldn't either."
Over the past two decades, scores of visionary disco compilations and required-reading histories have admirably reclaimed the genre's reputation -- perhaps so effectively that, in a funny irony, contemporary, connoisseur-minded audiences may not grasp how saturated the mainstream was with codified dreck, eons away from, say, Larry Levan. Either way, the disco-vs.-rock battle lines now feel as antiquated as a clamdigger baseball uniform.
But the hostility question persists. Perhaps the most convincing interpretation is the one proffered in Disco Demolition by folks like Joe Bryl, longtime Chicago DJ. "The gay scene was underground at the time. Boystown is not what we're used to now. I don't know if it was a homophobic reaction, because gay culture was hidden from the mainstream," says Bryl. " I just think it was a reaction to what they didn't like musically. In retrospect I think it was homophobic and racist. At the time I didn't."
That kind of anti-hot take -- extending nuance to Dahl, bearing no apparent malice -- is echoed by house music mainstay DJ Lady D. "Looking back, the emotional arc of Disco Demolition is that you had this outward moment of hate, highly focused onto a specific thing: disco music. After closer examination, it revealed itself to have racist and homophobic aspects."
Steve Dahl nevertheless cuts a fairly sympathetic figure in the book, suspicious of pretension and a changed man since kicking alcoholism. He believes himself the victim of revisionist history. But it's a very contemporary impulse that may restore him among those ambivalent about Disco Demolition -- an empathetic distaste for public shaming. Needless to say, it's the opposite of Dahl's own guiding instinct back in 1979.
Sign up here for our daily Chicago email and be the first to get all the food/drink/fun in town.
Stephen Gossett is a Thrillist contributor with a newfound love for Dennis DeYoung. Follow him @gossettrag.