Des Plaines
Des Plaines is where Ray Kroc opened the first McDonald's chain location. People in Des Plaines are weirdly proud of this bit of historical trivia. If you've been there, you understand why.

Arlington Heights
Why did they film the Nightmare on Elm Street remake at Hersey? Because location scouts concluded that this is the most nightmare-inducing suburb in America.

Mount Prospect
P-Town is the kind of uneventful, coma-inducing place where pretty much the only thing to do is to brag about how the Bluesmobile was picked up at a Mount Prospect police auction -- even though the movie came out 35 years ago. But what else can they do, brag about Lee DeWyze?

Wheeling
Did you know Wheeling was once home to Le Francais, which in its day was one of the most important restaurants in not just the area, but the world? Did you know that typing that sentence felt incredibly strange?

River Grove
One of these days, the Des Plaines River will just completely swallow up Gene & Jude's. And THEN WHAT WILL YOU HAVE? Huh? HUH? Not much. Besides a flooded basement.
Fort Sheridan
Fort Sheridan residents are the only people in Illinois gullible enough to buy "luxury homes" in buildings that used to be... MILITARY BARRACKS.

Lincolnwood
When your claim to fame is that once you had a Purple Hotel that was the site of a mob shooting and then it got closed down because it was covered in mold, you probably don't have all that much to claim.

Rosemont
Come for whatever terrible convention you're being compelled to attend. Stay for the FREAKING HORRIFYING BODY PARTS BLACK MARKET.

Crystal Lake
The camp from Friday the 13th was famously called Camp Crystal Lake. This has nothing to do with Crystal Lake, Illinois, which is a shame, because then there would be something halfway interesting to say about Crystal Lake.

Woodstock
Not really geographically close enough to be considered a suburb (though it IS on the Metra), but has to be mentioned for the laughably misleading name.

Harvard
See Woodstock, except somehow even farther away.
Gurnee
Do people actually live here, or does it become a weird ghost town after Great America and the outlet malls close? Does anyone care enough to find out?

Grayslake
When inevitably asked "where's Grayslake?", local residents just kind of shrug and say "kind of near Great America" -- which is, like, kind of the saddest thing ever.

Inverness
It's like a group of people said, "we want to distinguish ourselves as better than Palatine, but Barrington's TOO far. Let's just build some fences!"

Northbrook
For a long time Glenbrook kind of flew under the radar as far as Chicago's well-to-do Northern suburbs went, until a massive high school hazing scandal in 2003 PUT THEM ON THE MAP.

Deerfield
Many of Chicago's more affluent Northern suburbs do quite a job of stifling diversity, but not all of them have had books written about their efforts and been referred to as "The Little Rock of the North." Deerfield, you're an overachiever.
Elgin
"So Saturday, I spent a few hours at the tables at Grand Victoria and ended the night at Blackjack's. And I regret nothing," said nobody. Ever.

Elmwood Park
Ever eaten at Johnnie's Beef? Congratulations, you don't ever need to visit Elmwood Park again.

Norridge
A weird little suburban oasis basically surrounded by the city where you have a 100% chance of encountering someone in an Affliction T-shirt who is pissed off about something.

Morton Grove
Home to Burt's Place, birthplace of Harrison Ford, and cruising grounds for cops who are just a little more asshole-ish than your average nothing-to-do suburban cop.

Bensenville
Eventually, Bensenville will be completely consumed by O'Hare and... no one will really remember it.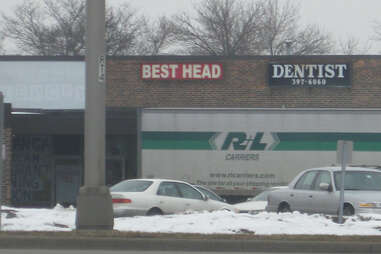 Rolling Meadows
In many cases there is an inverse relationship between the natural beauty indicated by a town's name and the actual charms of that town. Nowhere is this truer than Rolling Meadows.

Glencoe
Most famous for being the home of Joel Goodson in Risky Business, come to the Chicago Botanic Garden for a wedding and curse the institution of marriage because your dumb friends HAD to have their photos there and your bow tie feels like a noose and the sweat is beading up on your forehead as the summer sun threatens to burn a hole in your skull. Also, people from Glencoe were REALLY upset about not being roasted last time, which says... something.

Roselle
FACT: you'll never hear someone just come right out and say, "I live in Roselle." They'll avoid eye contact and mutter something about living "kind of near Schaumburg." So yeah, there's a lot of local pride.

Carol Stream
To quote a comment made after Carol Stream was overlooked in our earlier article: "Everyone always forgets about Carol Stream." Yes, yes they do.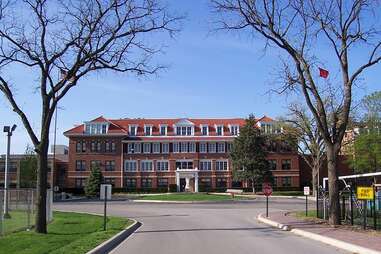 Lisle
Kind of just lurking there between Downers Grove and Naperville, hoping no one's paying attention -- though it is the proud home of Benet, one of the most self-important of Chicagoland's Catholic high schools... which is also saying something.

Countryside
Conjures up images of idyllic open fields that recall a simpler, more pastoral time. It has no such fields. It does have The Highland Queen, which is to Dairy Queen as McDowell's from Coming to America is to McDonald's.

Burr Ridge
All the elitism of Hinsdale without the sense of history or attractive Downtown.

Clarendon Hills
The unemployed little brother that Hinsdale talks about in hushed tones and hopes won't show up to holiday dinners.
Western Springs
Still somehow tries to carry itself as a humble little blue-collar enclave despite the fact that it's quite nearly keeping pace with Hinsdale in the teardown arms race.

Hodgkins
Named for Hodgkins disease? Possibly! No one cares enough to find out.

La Grange Park
Forgettable enough that everyone pretty much just lumps it in with La Grange, and no one seems to mind.

Lombard
Enchanted Castle: somehow simultaneously better AND worse than your run-of-the-mill Chuck E. Cheese's. There's also a roller rink! Basically, Lombard is Chicagoland's creepy uncle trying to lure you into his van.
Oak Brook
Don't simply refer to it as a "mall", damn you. It's a "carefully curated outdoor shopping experience!" Because the only thing that can make the dehumanizing experience of holiday mall shopping better is a steady blast of arctic Chicago winter air.

Worth
Anyone else get just a little creeped out every time they're driving on 294 and see the "Worth: The Friendly Village" water tower? It's like the water tower equivalent of someone trying to get you to join a cult.

Lemont
If you don't think Lemont is awesome, then you OBVIOUSLY haven't seen the first five minutes of the Julia Stiles' teen classic Save the Last Dance. Linguistic note: Lemont is French for "The Mountain", so we also lie about our cities' geography in other languages. How is it that there are like a million Chicago suburbs with "hills" or "mount" or "heights" but not a single one with "flats"?

Plainfield
Now THAT'S some honesty!

Romeoville
Not the smooth operator the name would imply. More like the weird lurker that follows Bolingbrook around.
Joliet
Joliet really prefers to carry itself as its own independent city rather than a suburb and... that's just fine by pretty much everyone.

North Chicago
Nope.

West Chicago
NOPE!

East Chicago
Nooooooooope!
Bridgeview
Fire game. Jury duty. We have now exhausted the list of acceptable reasons for visiting Bridgeview. If Grandma lives there, she should probably come to you.

Evergreen Park
Thanks for ratting out Jackie Robinson West. That was a really cool thing you did.

Hazel Crest
There is a sizable chance your house is easily movable and not safe in a tornado.

Harvey
Come for the corrupt mayor and police department. Stay for the strip clubs! On second thought... maybe don't.

Markham
Kind of like Harvey, but slightly better. But not too much. Don't get any ideas, Markham.

Dolton
Do you smell something? (Hint: it's neglect.)

Crete
Crete is a resplendent island in the Mediterranean that was the cradle of the Minoan civilization. It's also a town where you ask, "Are you sure this isn't Indiana? Prove to me we aren't in Indiana."
Sign up here for our daily Chicago email and be the first to get all the food/drink/fun in town.
Matt Lynch is a Senior Editor at Thrillist who is wondering if he will ever again be welcome in the suburbs. Let him know @MLynchChi.

Raf is a long-tenured Baratheon loyalist and Point Break apologist. You can check out his weird-smelling blog Alley Connoisseur, and follow him at @RafFoSho.
Evan F. Moore also contributed to this compendium of constructive criticism.