15 famous Chicago movie locations you might have missed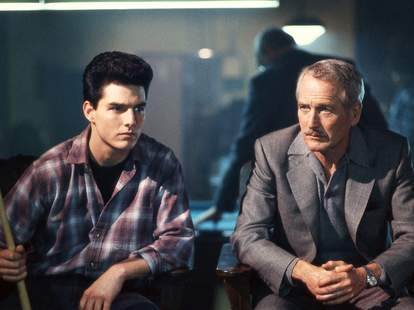 While Chicago doesn't produce nearly as many movies (or smog clouds!) as LA, it still boasts a rich film history with plenty of iconic characters and blockbuster backdrops. From Emmit's Pub in Backdraft to Lower Wacker Drive in The Dark Knight, here are 15 famous Chicago movie locations you might have missed.
Universal Pictures
East 95th Street Bridge
The Blues BrothersThe Blues Brothers
is basically a love letter to the city of Chicago, its culture, and jaw-dropping automobile destruction. Seriously, this movie has more crashes than a game of WhirlyBall played on an ice rink. Besides visiting the Daley Center and the Pilgrim Baptist Church on 91st St, Jake and Elwood took the Bluesmobile for a
spin across the parting East 95th Street Bridge
, which has basically remained unchanged over the years.
Paramount Pictures
Our Lady of Sorrows Basilica
The Untouchables
People usually mention Union Station when talking about
The Untouchables
, but perhaps an even more breathtaking setting of this film is the Our Lady of Sorrows Basilica, which is one of only three churches in Illinois that was granted the tile of "basilica". Boasting a dome that rises 80ft from the floor and a nave that features more than 1,100 ornate panels, it's a truly grand setting for the scene where
Jim Malone explains to Eliot Ness what "The Chicago Way" is
.
Touchstone Pictures
Chris's Billiards
The Color of Money
Hustling isn't just about pool -- it's a performance. In The Color of Money, director Martin Scorsese showed us a side of Chicago that was permeated by swirling smoke and deception, where cash was always king. In the scene where Vince can't bring himself to "dump" to Grady Seasons, the front room of Chris's Billiards serves as a perfect setting that oozes authenticity. To this day, you can still visit the hall in Portage Park, which looks, well, exactly the same.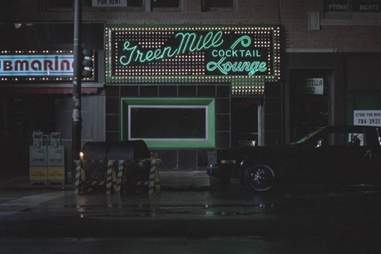 United Artists
Green Mill
Thief
Unlike
Adventures in Babysitting
,
Thief
didn't superimpose buildings into the background or shoot filler scenes in Canada. It's a gritty portrayal of Chicago, a place where Frank (James Caan) escapes to a dim alley near Wabash Ave and Lower Wacker Drive after pulling off a jewelry heist. Between gigs, Frank visits the bar he owns, which happens to be the Green Mill. While the bar has appeared in other movies, only
Thief
had enough of a trigger-finger to blow it up (
as seen in the trailer
).
Marina Towers
The Hunter
The Marina Towers are two of the city's most well known landmarks, but in
The Hunter
, they took center stage for one of the craziest stunts that's been pulled off in Chicago -- and we don't mean Nik Wallenda's high-wire act. A car chase featuring bounty hunter Papa Thorson (played by the always-cool Steve McQueen) and a very confused fugitive (why escape UP a parking garage?) ends disastrously when the latter's car
flies out of the tower and into the nearby river
. Would anyone even notice if the city just left it in there?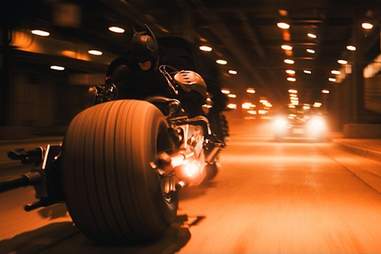 Warner Bros. Pictures
Lower Wacker Drive
The Dark Knight
We get that Lower Wacker Drive isn't exactly a prime sightseeing spot to take the in-laws on their next visit, but one can't deny the feeling of excitement and general Batman-ness experienced during a nighttime drive beneath the city. The street has actually appeared in a few films, including
Henry: Portrait of a Serial Killer
and
Transformers: Dark of the Moon
, but the
caravan attack in The Dark Knight
still makes us wonder how they pulled off the scene without creating a decade's worth of pot holes.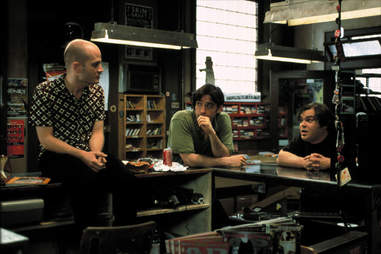 Buena Vista Pictures
Columbia Pictures
Wrigley Field
A League of Their Own
While Wrigley Field was also prominently featured in
Rookie of the Year
, its screen time in
A League of Their Own
offers a turn-back-the-clock peek into 1943, when men were men and Geena Davis could do
THIS
.
Magnolia Pictures
Revolution Brewery
Drinking Buddies
While some films go for grand skyline-views when shooting our fine city,
Drinking Buddies
takes a local approach to showing off Chicago. The movie flashes miles of Windy City style, and perhaps its most-important setting is the Revolution Brewing brewery and tap room in Avondale (not to be confused with the Revolution Brewing brewpub in Logan Square). It's where best friends Kate (Olivia Wilde) and Luke (Jake Johnson) work, drink, mess with each others' lunches, and party.
Universal Pictures
Emmit's Pub
Backdraft
Backdraft did a great job of showcasing the South Side of Chicago, since that's where the main fire station was located and several fires were shot. Yet, one of the most memorable scenes of the movie occurred when a crowd of firemen hit the North Side for a graduation party at Emmit's Irish Pub. The bar also appeared in Ocean's Eleven, but it's a lot cooler to see it in Backdraft, because it also happens to be a real-life fireman bar where you'll find firefighting-related pictures posted on the walls. That's pictures, not calendars.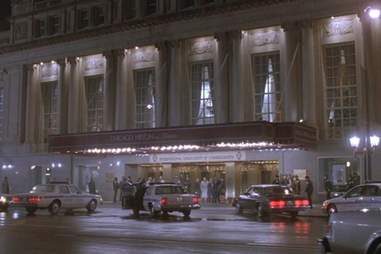 Warner Bros. Pictures
The Hilton Chicago
The Fugitive
The Fugitive was shot all over the city, and we do mean all over. From the Loop to the South Side to the West Side, different faces of Chicago appeared throughout the film. When the time for the final showdown finally came about, The Hilton Chicago served as a luxuriously jarring setting that contrasted with the on-the-run locales that filled most of the movie. How fancy is this thing? It has the largest event space of any Chicago hotel, the largest and most expensive suite in town, and has hosted every single POTUS since its opening in 1927. So... sorta fancy?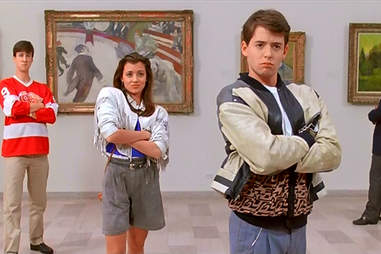 Paramount Pictures
Art Institute of Chicago
Ferris Bueller's Day Off
Yes, everyone loves this movie. Yes, the
Art Institute scene
was amazing, especially when Cameron does his best Magic Eye impression as he gets spaced out by staring at George Seurat's "A Sunday on La Grande Jatte". What's really impressive is how they condensed the visit down to less than two minutes, considering that the museum actually consists of one million square feet. One more fun fact: based on the play-by-play of the Cubs vs. Braves game, sports nerds have determined that the day Ferris and crew took off was June 5th, 1985.
Universal Pictures
The Fireside Bowl
The Break-UpThe Break-Up
starts off with scenes at Wrigley Field and Pilsen's Skylark bar, but
shooting at The Fireside Bowl
definitely gave it serious local cred. The retro-styled bowling alley has not only hosted serious bowlers for ages, it was also the nexus of Chicago's punk scene for many years. Nowadays, you're about as likely to see a Fireside Bowl concert as an explosion-free Michael Bay movie, but it was still cool to spot the alley in this lighthearted rom-com.
Dreamworks Pictures & 20th Century Fox 
South LaSalle St
Road to Perdition
South LaSalle St has popped up in a few movies, but the thorough transformation it underwent in Road to Perdition created one of the most stunning depictions of times-past Chicago ever brought to film. Dozens of dapper, hat-wearing extras walk the sidewalks and a surprising number of classic Model Ts rumble up and down the street.
Universal Pictures
Union Station
Public Enemies
The timeless Union Station was the setting of the big shootout in
The Untouchables
, but it was also featured in Michael Mann's
Public Enemies
, which also did an excellent job of turning back the clock on the 110ft-high atrium and massive marble-floor.
Sign up here for our daily Chicago email and be the first to get all the food/drink/fun in town.
Raf is a long-tenured Baratheon loyalist and Point Break apologist. You can check out his weird-smelling blog Alley Connoisseur, and follow him at @RafFoSho.