In many ways, Chicago is one of the most beautiful cities on earth. In other ways, it's really not. It all depends on the way you look at it. And, since we've already looked at it the first way (see: why Chicago is better than every other city ever), today we're looking at it the second way. Here are the 37 grossest things about Chicago.
1. The oil accumulating on your face after five minutes of being outside in August
It's like you're 16 all over again.

2. Mystery subway seat stains
Could be donut glaze. Could be NOT AT ALL donut glaze.

3. The bathrooms at any bar on Clark St
Aim is not great here.

4. Frozen condoms on the sidewalk
Not that we're not intrigued as to how it got there.

5. Caked-on sidewalk vomit
Made equally gross by repeated foot traffic.

6. Those centipede bugs in your basement
You can kill them, but they'll be back.
7. Cicadas
Once every 17 years is more than enough.

8. Pigeon excrement, everywhere
Seriously, pigeons?

9. Navy Pier
10. The weather
Duh.

11. Coal smokestack air
Can't be good for the environment.

12. Ketchup on hot dogs
It's a Chicago thing.
13. Exposure to Chicago River water
Forever unclean.

14. Weird sex shops on Hubbard...
... and the gentlemen who frequent them.

15. Naperville
16. The underside of your blanket after lying in a park
Those stains are for life.

17. The urinals at Wrigley Field
Dividers would be nice.

18. Yellow snow
That's not a lemonade snow cone.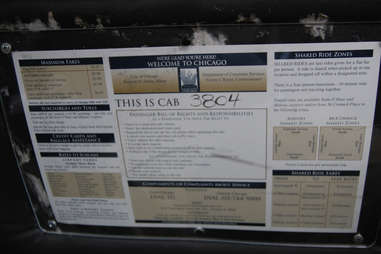 19. Cab smells
Not to mention cabbie smells.

20. St. Paddy's Day
And how you feel after St. Paddy's Day.

21. Retrieving your car from a city tow lot
Is this where Ebola began?

22. Sitting behind a garbage truck in traffic
On the bright side: free smells.

23. The dog poo that appears everywhere once the snow melts
Hidden no more. Like magic!

24. Chicago River garbage...
... especially after it rains.

25. The smell of chocolate and sewage mixing in the air near Kinzie and Canal
Not a great combo.

27. Beach closings because of seagull crap
Yes, it happens.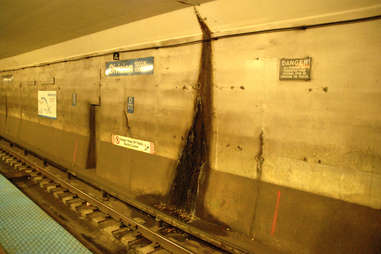 28. The scum that builds up in the "L" tunnels
Anyone have extra rubber gloves?

29. The entirety of Lower Wacker Dr
So many dumpsters, so little ventilation.

30. Anything wet that drips on you from above
No, that's not a rain shower.

32. White Castle food, before 1am
After 1am? A thing of beauty.

33. This Bears team
A joke, kinda.

34. Masturbating bums
Can't be a good thing.

35. Humboldt Park after Riot Fest
Good thing you didn't wear your new white shoes. Or did you?

36. Dirty snow
Once it hits the ground, all claims to beauty are off.

37. Lollapalooza Porta-Pottys
We've all been there.
Sign up here for our daily Chicago email and be the first to get all the food/drink/fun in town.
Jay Gentile is Thrillist's Chicago Editor and remains optimistic that the good outweighs the gross... most of the time. Follow him @ThrillistCHI.