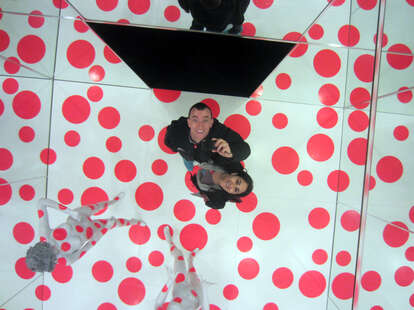 Like Hart to Hart before them, Chicago architects Brian Strawn and Karla Sierralta are partners in life and business who often find themselves joining forces to kick butt…resses. Hailed in the New York Times, the Wall Street Journal, and Dwell, they were tapped as finalists for the 9/11 Memorial just three months after finishing graduate school, and their boundless imagination has dreamed up projects from History Channel's "City of the Future" to something called "Supertall Superfarm". We asked them what about their hometown inspired them most. Here's what they got back with.
Friends with Benefits: Friends of the Chicago River
Ensuring the protection of Chicago's waterways since 1979, FCR provides an impressive number of ways to go out and explore all 156 miles of it. Want to get under the McCormick Bridge without becoming a troll? Visit the Chicago River Museum. Want to get up close and personal? Take an Urban Canoe Adventure. Want to scuba dive? Don't scuba dive, that's nuts.
Crown Jewel: S.R. Crown Hall
The masterpiece of master architect Mies van der Rohe, the S.R. sits in the middle of IIT's College of Architecture, which is bad for the morale of aspiring architecture students, but good for the morale of you, since it's a 10 minute train ride away and offers guided tours.
Water World: Marina City
Erected in 1963, this "city within a city" is a paragon of "groundbreaking design that re-imagined living in urban centers". That's a nice bit of erudition to drop when wolfing down a Smith & Wollensky steak or catching Hanson (yes, Hanson) at the House of Blues.
Actual Size: The Matchbox
It might be small, and it might get packed, but these mojitos and margaritas have been drawing Brian and Karla's praise for over a decade. So go light The Matchbox up like you're Taio Cruz, and buy everybody a round because you're kind of rich.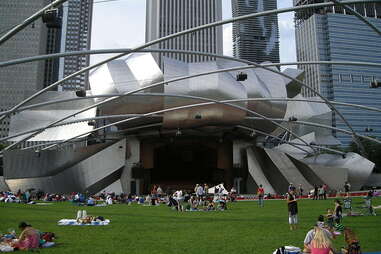 It's More Than Houses: Open House Chicago
OHC will take you inside over 150 marvels of design that aren't normally open to the public, like the stage of Frank Gehry's Jay Pritzker Pavillion. Bring a mouth harp so you can say you played a gig there.
Building Relationships: The Chicago Architectural Club
Chicago birthed Frank Lloyd Wright and the skyscraper, so it's no wonder that Architectural Club's informal lecture series draws some of the biggest names in buildings and puts you face to face with them in intimate conversation.
Fired Up: 1871
Named for the year of the Great Chicago Fire, 1871 "is metaphorically the city's attempt to remake itself after the global economic turmoil". Giving support to a whole community of digital entrepreneurs since 2012, they're just getting started, but they're already hot. Check out the Founders Series, which features great minds informally talking shop in what -- given the presence of the beverage in this video -- could only be called an informal setting.
Star Power: GT Fish & Oyster
With Michelin-starred chef Giuseppe Tentori behind the menu, GT challenges everything you know about American seafood. Snag an expertly prepared lobster roll, a peach jam and apricot filled sip of the Rose Colored Glasses, and, of course, bivalves -- if they're good enough for oyster maniac Julie Qiu, they're good enough for the oyster general public.