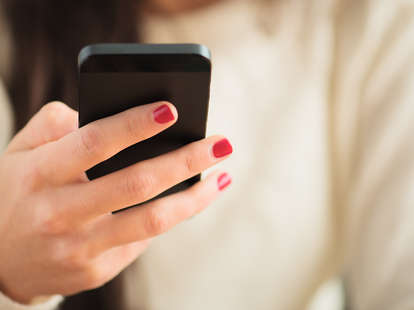 There's a near-limitless number of ways a guy could pick up a girl in Chicago -- go to a spin class, a farmers' market, or... a pumpkin patch (?). We took to everyone's favorite social experiment/sex pool, Tinder, to find out 100 Chicago guys' strategies for meeting women in real life, for the times when texting an informal invite to the bone zone doesn't work (which is pretty much every time). These are the trends we discovered.
18 guys approach girls at bars
After asking 100 Chicago guys on Tinder how they meet women outside of the app, the #1 response was bars. Crazy, huh? Nope. Some mentioned that their encounters at the bars rarely turned into anything, others will never be sorry they party.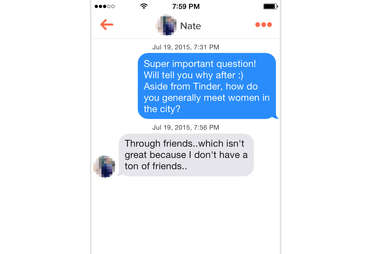 17 guys go through friends
Another pretty obvious choice, combining crews of friends, going out together, and making introductions is a reliable way to filter out weirdos (unless you're looking for weirdos). For people like Nate, however, this can be quite challenging. Somebody help Nate out and hook him up!

One guy just wants to avoid getting catfished again
Didn't he learn from watching Catfish? Hopefully he didn't send too many sensual photos.

Nine guys had solid outside-the-box answers
From picking up girls while boating to one guy admitting he's on Tinder 'cause he just got out of an eight-year relationship and was cheated on, we had some interesting conversations. Anthony deserves a pat on the back for ingenuity.
Puppies are chick magnets and a great way to get girls to flock to you. If you don't have a cute, sweet, slobbery partner in crime, then take your friend's dog for a walk. Guarantee your wingman will get you some digits.

Eight guys said sports or the gym
Pilates and yoga were thrown out there several times, which was a bit surprising. Dog down? Really... ? The gym and playing sports, however, were the more common and appropriate responses.

Eight guys made a joke
Cheesy pickup lines can go two ways. One, they can embarrass you and make you want to curl up in a ball and hide forever. Or two, they can get the girl's attention, lead to a conversation, and make for a happy ending if you're really lucky. It's all about the delivery. Brian, your joke has potential. But a woman would rather hear that you're hungry, if you get my gist.

One guy communicates solely through emojis
This guy's response to meeting women? Well, he's a unique case. Manny starts the night off with beer, wine, and sangria, while feasting on a large chicken breast. Then, he hits the town. After some partying, he goes for a quick jog, changes into a red dress, and goes salsa dancing. What a pro.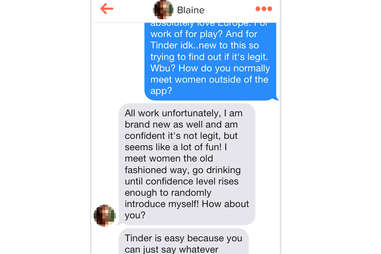 Five guys work it at work
Some of the guys said it didn't end pretty, while others refrained from going into detail. To sum it up, breakups at work are sloppy, awkward, and they don't go away. So as fun as it is to have your hookup buddy across the hall, just be careful who you smooch next happy hour.

Four guys said they meet girls while grocery shopping
Grocery stores are packed with eye candy. So naturally, this is a good spot to pick up both food and a chick. Take Andrew Avocado for example. He went to the store to get groceries (possibly a chips and guac dish?) and before he knew it he was spittin' game and trading numbers with a hot mamacita who was also eyeing him and the avocados.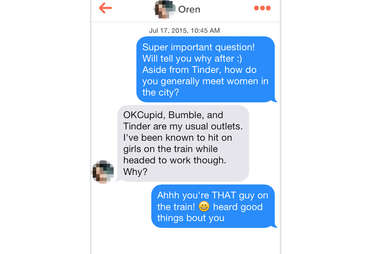 Two guys said other dating apps
OkCupid, eHarmony, and Bumble if you're interested. But, if other dating apps aren't your thing, then hop on Oren's train to pleasureville. He offered to "go downtown" less than three comments later.
Sign up here for our daily Chicago email and be the first to get all the food/drink/fun in town.