How Draw Something creator Charles Forman does Chicago
Charles Forman started his last company, the "Draw Something" platform OMGPOP, for the simple reason that he absolutely loved gaming. It worked out pretty well when Zynga bought it for more money than a certain baseball team overpaid a certain shortstop/third baseman. His new company, the hyper-organized cloud storage service Picturelife, helps you hold onto the things you love forever, or at least until you realize their surfacing will keep you from becoming president. We asked Charles to tell us who in Chicago impressed him the most with their own fearless innovation. Here's what he came back with.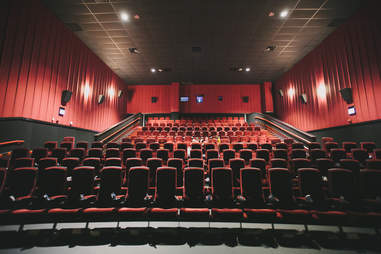 Innovative Moviegoing:ShowPlace ICON
Beyond the food and drink, what Charles truly appreciates is the assigned seating, a theater policy he also ran into when he lived in Korea. "Fifty percent of your moviegoing experience is making sure you're in the theater at the right time -- if you get there late, you and your friends aren't sitting together. With the Icon, if my movie is at 7pm, I leave the house at 7pm. I don't have to worry about anything." Except whether or not that evil Conjuring doll is going to kill you.
Innovative Public Institution:The Library
Yes, the same place known for those backwards relics known as "books" has also blown minds with its Maker Lab, where anyone can experiment with the MakerBot Replicator 2, the Full Spectrum Hobby Laser, the Silhouette CAMEO, and other machines that will definitely produce a Terminator within five years.
Innovative Dining:Alinea
Where else are you going to get this fish and a dessert of "freeze dried sugar things inside of a white chocolate sphere that cracks like a piñata before you eat it off the table"?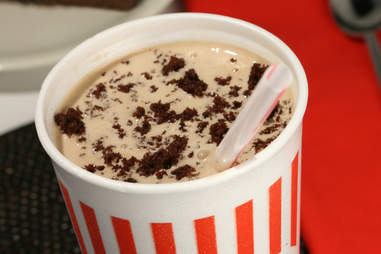 Innovative Dining After You've Already Dined:Portillo's Cake Shake
"I like cake, and I like shakes, so it's a thing I do."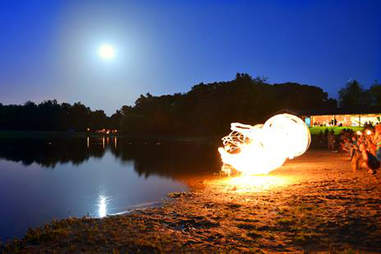 Innovative Retreat:Stonehouse Farm
You can't think of new stuff when there's a tornado of old stuff ripping through your brain, slapping your cerebrum with flying cows (and now sharks!). Just outside the city, Stonehouse (named for an actual stone house standing since 1863) offers everything from yoga to beach-side pyrotechnic whirling, all to take your mind off things so you can then put it on other, better things.
Innovative Civic Project:The 606
If you're really innovative, you can sneak in and capture one of the most extraordinary photographic subjects in the country, then put your work up on Picturelife.
Innovative Art-Seeing:Brave New Art World Collective
Concentrated in River North (the highest density of galleries in America outside Manhattan -- take that... Brooklyn), BNAW is a monthly "art crawl on steroids". As much a movement as an event, they're channeling their 'roid rage into smashing preconceptions as they seek to illuminate what they see as a Chicago Renaissance through public performance art, guerrilla installations by the likes of sculptor Viktoria Palacios, live music, and, especially for you, local food & drink.
Innovative Ice (because they have 35 kinds of it):The Aviary
Charles Joly -- the man behind The Aviary's ridiculously creative beverage program -- just won American Bartender of the Year at New Orleans' Tales of the Cocktail. Besides having Coughlin's Laws renamed in your honor, that's about the highest praise a drinksman can receive.