The Chicago bodega: the store you always pass by, but never notice... until it's midnight and you need toilet paper, booze, mixers, or condoms (or all of the above). Bodegas are like the ex you can't -- or won't -- quit. They're convenient, comfortable, and almost always there for you, except when they decide to close early or don't even open at all. Here are 15 reasons to celebrate the independent spirit of the bodega.
 
Time seems to slow down once you step into a bodega
It's a mini escape into a friendly little world, paced much differently from the day-to-day grind. A world where the "L" didn't make you a half-hour late to work. A world where you actually get a seat and it is not mysteriously wet. A world free of loud distractions and full of weirdly bruised produce, alcohol, and loud music.
They are always identifiable
You know a bodega when you see a bodega. Whether it's the bars in the windows, the neon signs advertising cheap beer, or windows completely covered in price advertisements, there is absolutely no mistaking a bodega for anything else.
 
They don't always smell the best, but they don't have to
Hey, I don't always smell the best either. Stepping inside of a bodega can take your breath away. Did you just step into a well-used gym bag with a floor covered in very stale beer? Once your eyes stop watering, you'll see that you haven't. Let's chalk this one up to the plumbing.
 
The entire neighborhood rejoiced when they began accepting debit cards...
One month ago.
 
The bodega liquor section appeases all phases of a Chicagoan's budget
Accommodating the "It's the day before payday" half-pint of Seagram's phase, the "My snooty friend is visiting so let's make them try Malort" phase, and everyone's personal favorite, the "I just got paid -- fancy tequila's on me" phase. 
As does the beer selection
Get down and dirty with Natty Ice or explore the store-length shelves of surprisingly good craft beers. It's the adult version of a Choose Your Own Adventure book, maybe Booze Your Own Adventure?
 
Animated conversations permeate the aisles
The butcher is yelling to the cashier. The cashier is trying to get the attention of the stocker in the cooler and customers are joining in. Everyone in the store is within shouting distance and it's a beautiful, chaotic mess of conversations and languages.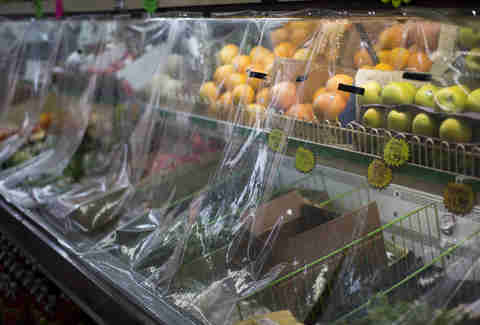 The semi-sad produce has saved a last-minute trip to the grocery store many times
Bodega, you have replaced going to the grocery store at all. And while I could walk down a few blocks to Humboldt Park and buy cheaper melons and cilantro from a man out of his truck, I will always choose you, my darling bodega. Convenience is king.
 
No sanitation code for grilling? No problem!
It won't stop you from ordering drool-inducing pinchos here every time the Puerto Rican Pride Festival comes along. 
The quarter-inch layer of dust on canned goods doesn't even matter
The door is always open and the city is dusty. The bodega gets busy. Dusting isn't everyone's forte. Choose your justification, wash that dust off, and carry on.
 
Merengue music blasting every Sunday morning
Good for the spirit, not so good for nursing a hangover. Charming either way. And when it isn't merengue, then it's the Bears, Hawks, or Sox.
 
The cooler of tamales that appears randomly throughout the week looks questionable at best
The taste? Phenomenal. The cooler is the bodega's hangover savior, much like the Tamale Man is many drinking Chicagoans' patron saint.
 
There's a meat department
Sure, the chorizo looks as if it has begun to cook through the glass in the cooler. Is that chicken grey? Doesn't matter -- you'll take a pound of each and somehow dodge food poisoning.  
Every summer the store turns into a sauna
Which makes purchasing a lot of things much more dicey, like grey chicken.
 
Frequent customers are pretty much familia
And with such an amazing owner and staff that treat each other like family, what could be better? No, seriously, sometimes I like them more than my own. (Sorry, mom.)
Sign up here for our daily Chicago email and be the first to get all the food/drink/fun in town.