Chicago dudes on Tinder can be grouped into three categories -- the good, the bad, and the horny. Here's what happened when I asked 100 of them where we should go on our first date. Disclaimer: ladies, this may make you consider celibacy.

13 did not respond
Probably because my Tinder smoothness left them speechless. Yep, DEFINITELY that. BUT, three guys were very impressed with my audacity.
One guy proposed the strip club, then reversed course
Because he's already "been there the past couple dates." I don't... but the... I mean... and then... *sigh*.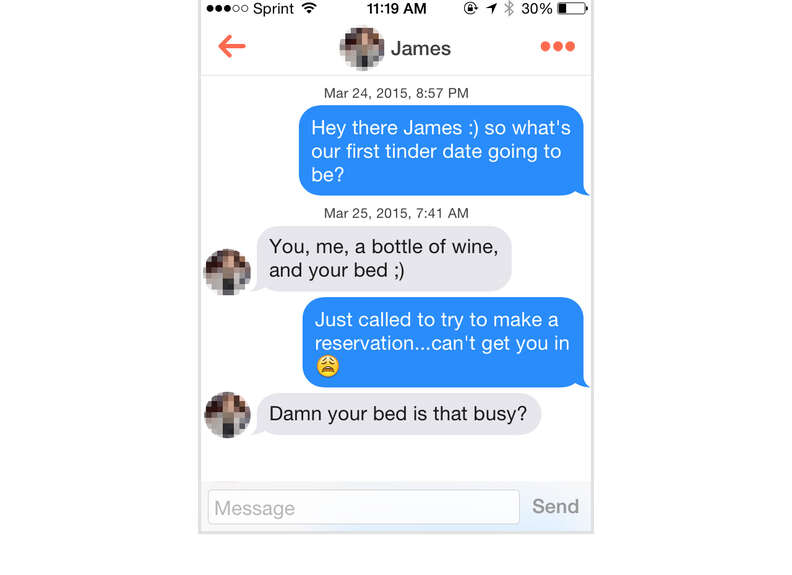 1 in 10 were in it for the booty
At least, I think they were? Unless... the guy suggested "wine in bed" because his mattress temperature is around 63 degrees, which we all know would ensure that the tannins in a powerful cabernet would be more supple and taste less bitter? Yeah, he probably meant that.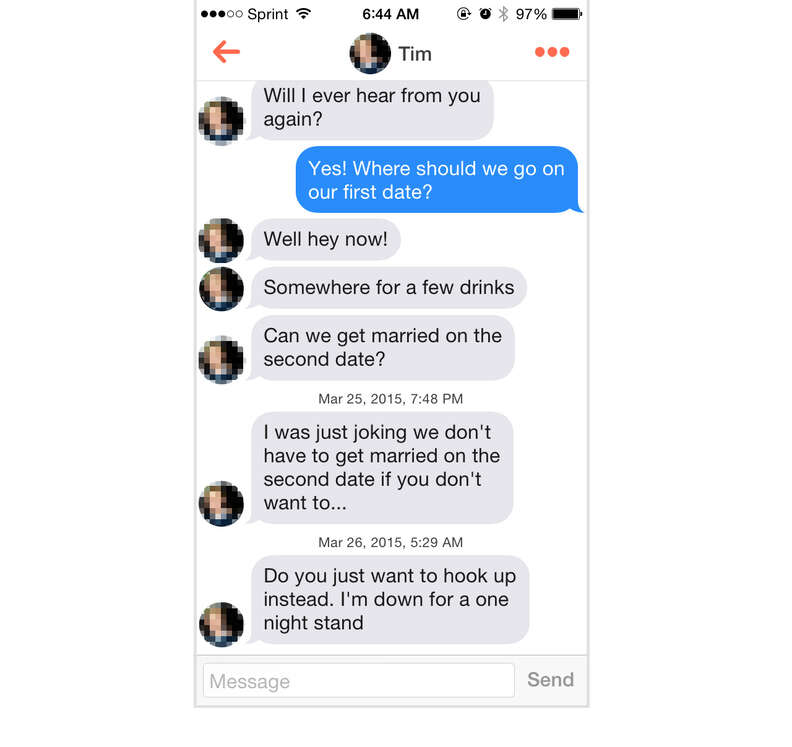 One guy tried to plan a one-night stand
One-night stands are supposed to be spontaneous, bro. Not like I would know or anything, but, uh, I've heard that they are. Or something.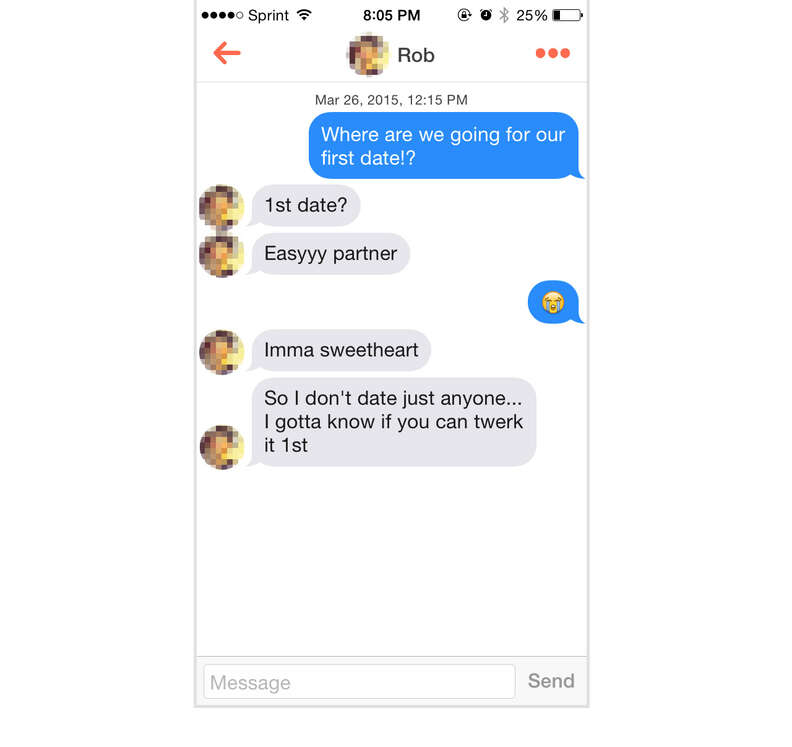 One guy was in it for the booty twerkin'
Which is a thing people are in it for nowadays, apparently.
One was looking for a bad, bad girl
Tinda Tip: Don't start Tinder conversations off with emojis.
25% suggested we go to dinner! Including... Olive Garden!
Apparently Chicago Tinder men like to eat. Favorite cuisine? About a third of Team Dinner recommended Italian. A little over half wanted to dine in downtown Chicago with River North, Gold Coast, and the Loop being the most popular. And yes, one guy suggested Olive Garden.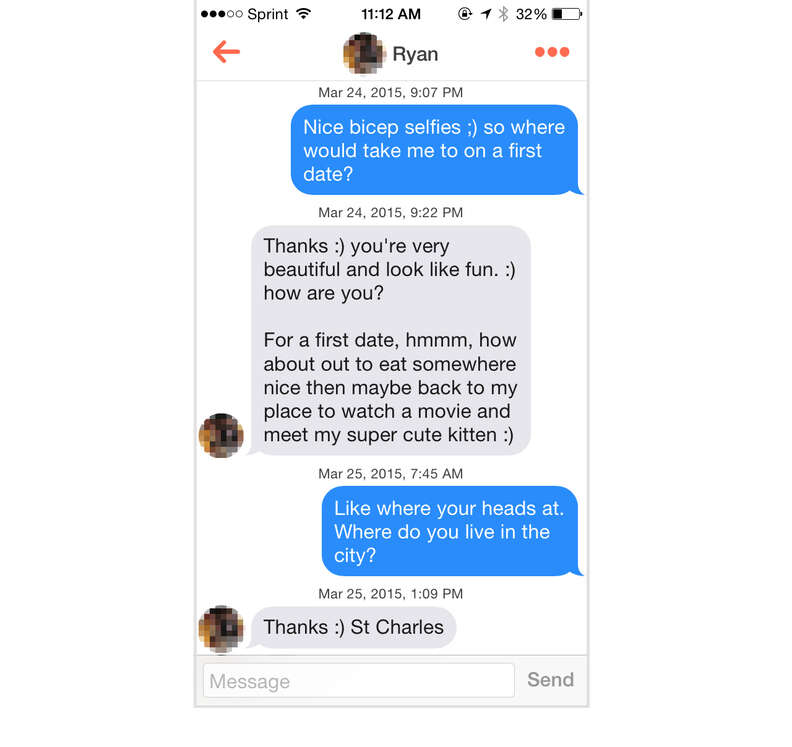 One guy invited me to meet his "super cute" kitten...
Oh, awesome! Does your cat sleep on a 63-degree, temperature-controlled mattress like "wine in bed" guy? Hope so!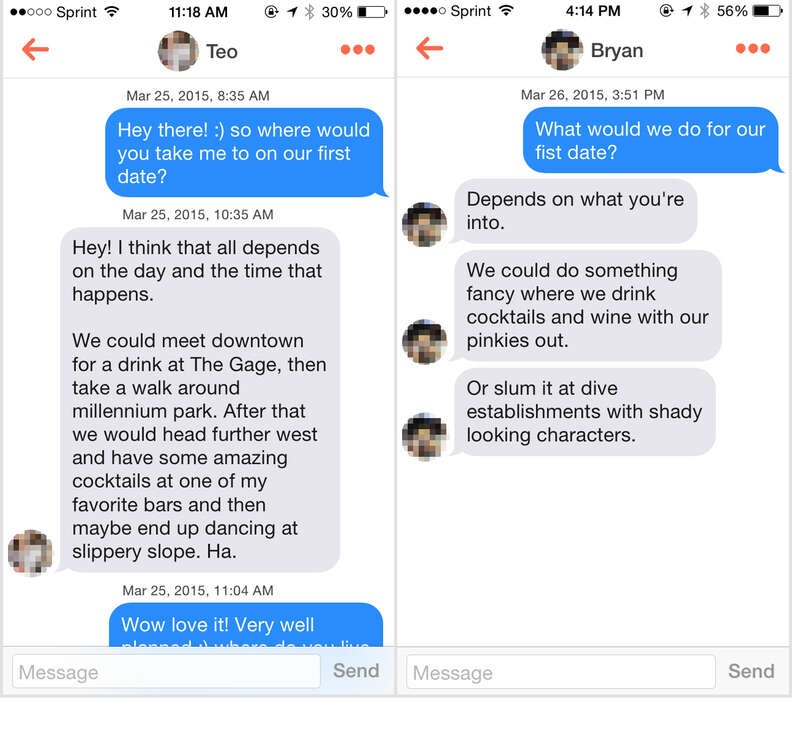 25 suggested drinks
Duh. From margaritas at Mercadito, to boozing at The Gage, The Drifter, Slippery Slope, and The Aviary, to Signature Lounge and Japonais. Double bonus points for "slum it at dive establishments with shady looking characters" guy.
One guy suggested turtle racing at Big Joe's
If you're good at picking last-place turtles, I'm in.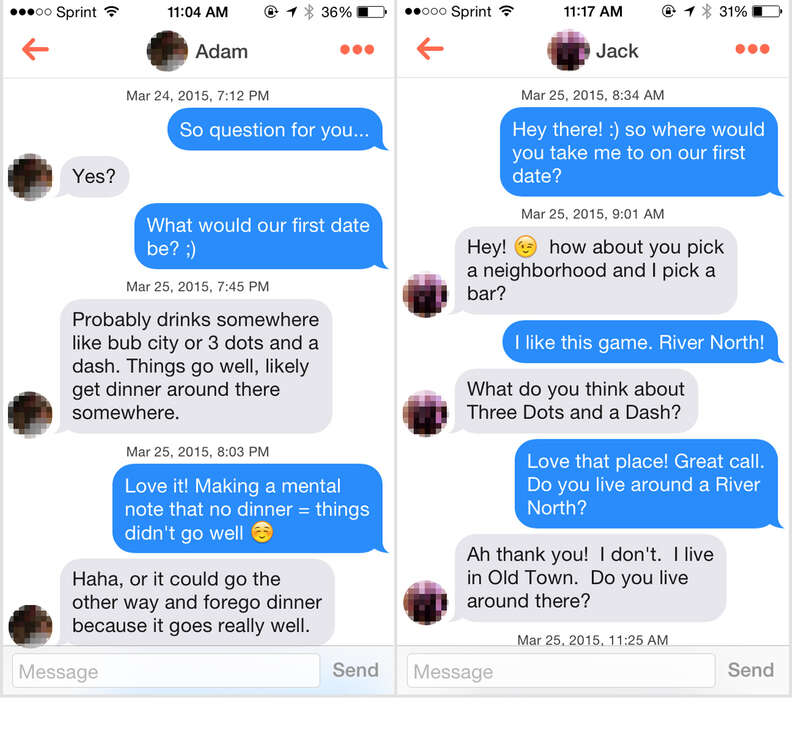 2 out of the 25 said Three Dots and a Dash
Apparently, Chicago Tinder dudes are way into this place. Hey, beats Olive Garden.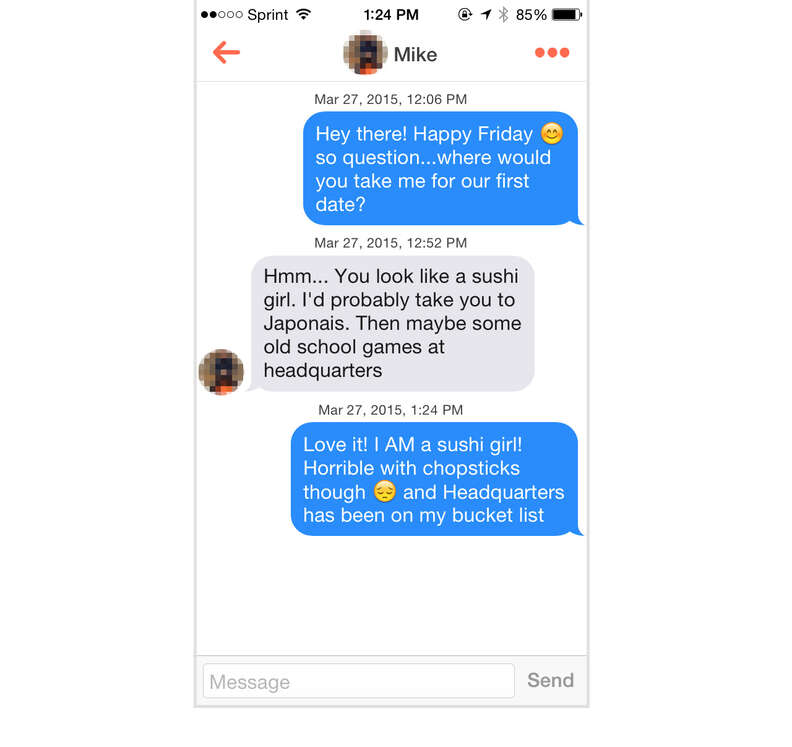 Headquarters Beercade was also a hit
Playing games + drinking = game on.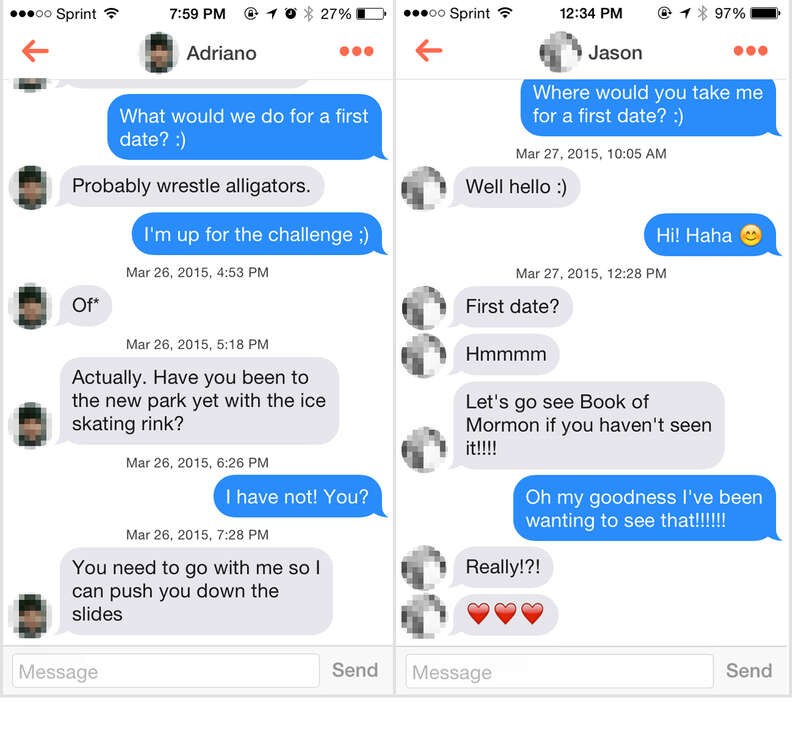 About 1/10 thought of an activity (and one of those 1/10 thought of wrestling alligators)
Including seeing a show, grabbing coffee, walking along Lake Michigan, bowling, Book of Mormon, Cubs games, concerts at Metro, ice skating, and comedy shows.
One guy wanted to watch reruns of Cops
I really just don't get how this guy is still single.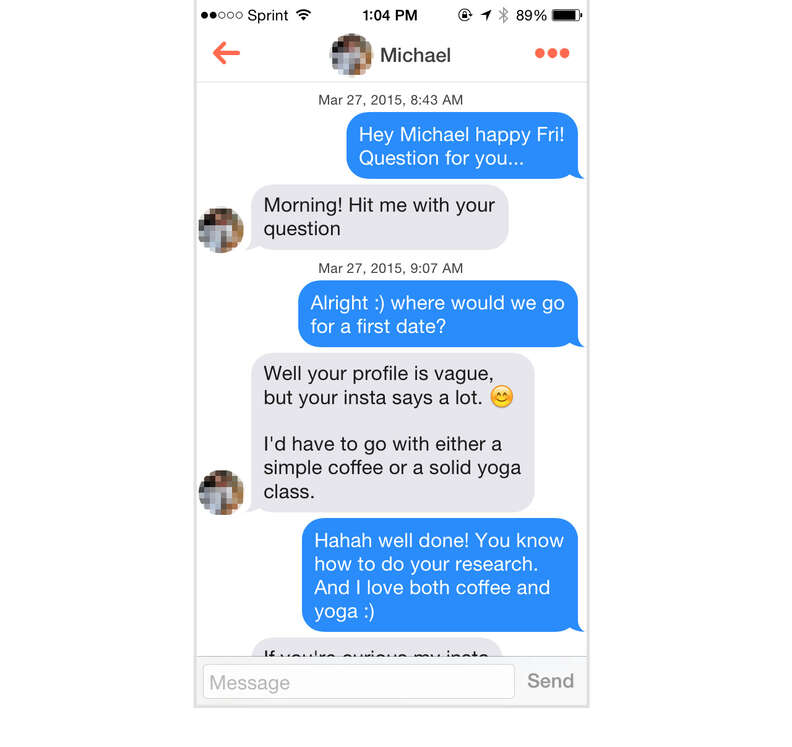 One guy even said yoga (after "researching" me on Instagram)
Because doing downward dog in front of a Tinder guy on our first date sounds like a fantastic time.
.09% were not serious with their response (I hope)
Spell wordZ correctlEy.
One said IHOP
Kind of funny! Just not funny enough to continue the conversation! Enjoy the waffles.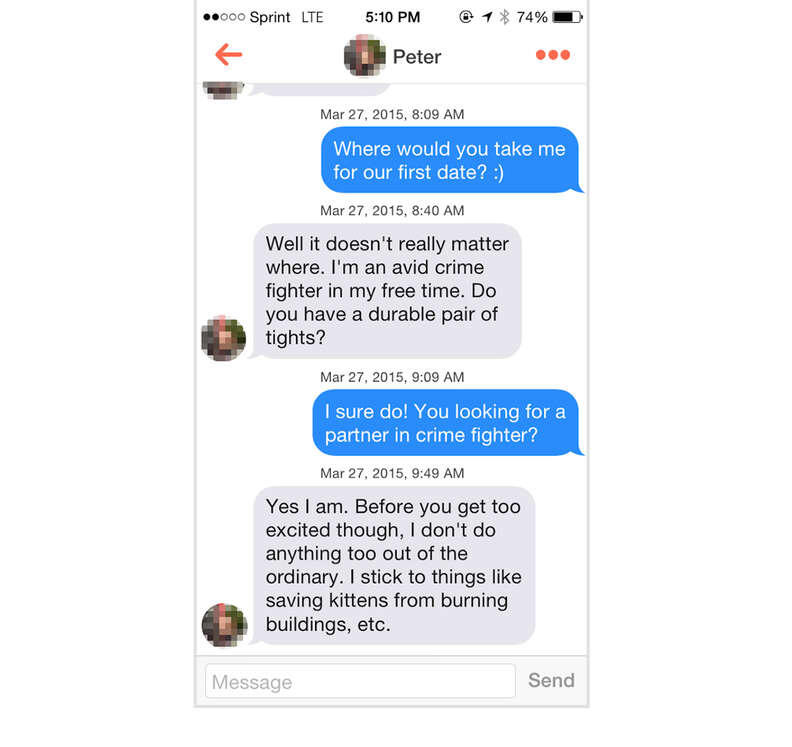 One wanted to fight crime (and wondered if I had a durable pair of tights)
At least it got my attention?
And one guy wanted me to make him a sandwich in the Jewel parking lot (using his coupon)
Right.
Three guys were ready to take a vacation together
Oh, with me -- not, like, each other.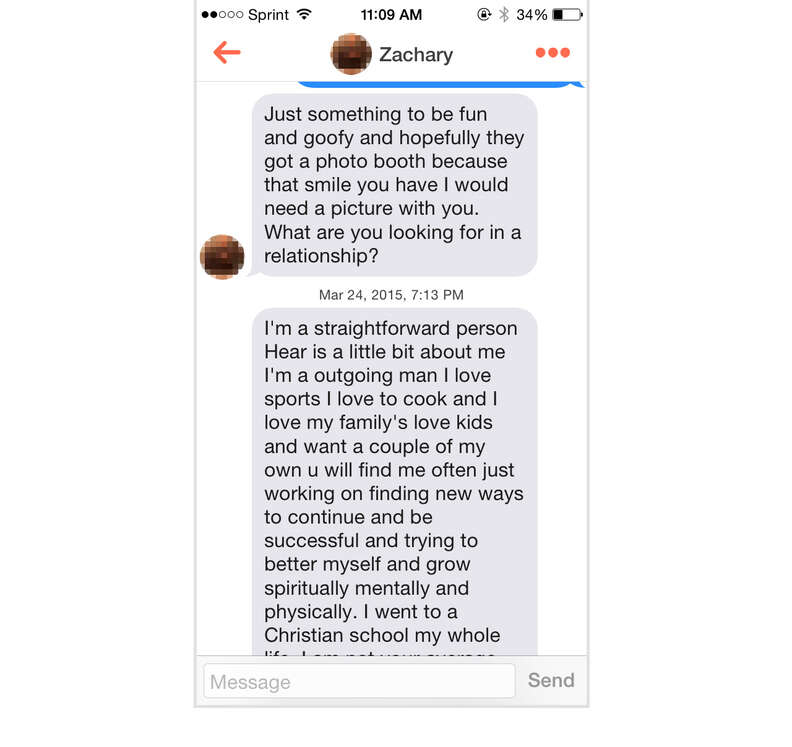 And this guy? Just don't be him.
I don't need your life story, bro.
Sign up here for our daily Chicago email and be the first to get all the food/drink/fun in town.
Amanda is the Marketing Manager for Homescout Realty, a real estate company in Downtown Chicago. She's also a huge fan of peanut butter, caramel apple suckers, thunderstorms, comfortable silence, and horoscope analyzing (she's a Capricorn). Follow her Instagram @apandakiss or check out her blog.