How to tell which Midwest transplant you're talking to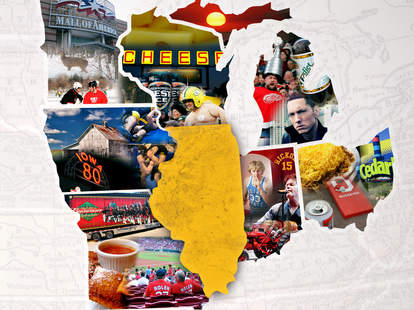 Chicago is full of Midwest transplants, all attempting to assimilate to our way of life. Whether they're from Indiana, Michigan, or Minnesota, they all have certified "tells" that let you know they're not from around here, but instead, one of seven nearby states. Here's how to tell Indiana Guy from Ohio Dude from Iowa Bro from... well, you get the idea.
WISCONSIN
He smells of: Beer, cheese, and... beer-cheese.
He's wearing: An Aaron Rodgers jersey; orange camo undershirt.
Confusing question he's asking: "Where is the closest Tyme machine? No, not a DeLorean, an ATM."
Word he's pronouncing funny: "Roof" as "ruff"; also something about a bubbler and stop 'n go lights?
He's talking about: Sturgeon spearing, the high score on Big Buck Hunter, how great Wisconsin is.
He'll immediately argue: That Wisconsin has more lakes that Minnesota ("10,000 lakes my ass, try 15,000 lakes.").
In a nutshell: This guy's from the only only surrounding state whose NFL fans like to brag about being pretend-owners of their team, insists on boiling bratwursts at tailgates, and gives off the slight aroma of cheese curds.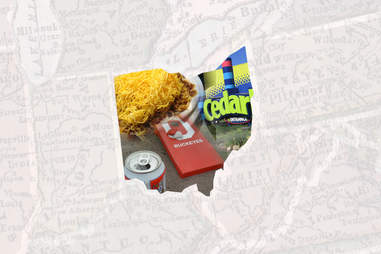 OHIO
He's drinking: A sixer of Great Lakes Christmas Ale he snuck in himself.
He shudders at the mention of: Michigan; the Cavs begging LeBron to return; the hopeless pit of endless despair known as Ohio's professional sports.
Word he's pronouncing funny: "Wash" as "warsh"; also, his Manchurian Candidate-style programming will kick in should anyone yell "O-H".
He'll immediately argue: That the bag tossing-centric drinking game -- which was invented in Ohio -- is called "cornhole", not "bags".
In a nutshell: It's almost as if this guy was bred in a lab and conditioned to live in a Wrigleyville sports bar, representing a homeland that claims "the other Miami", spaghetti-based chili, and Cleveland, which is thankfully not Detroit.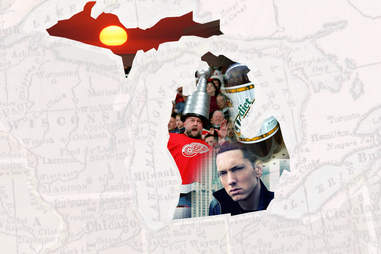 MICHIGAN
He's eating: Pizza from the one Jet's Pizza in Chicago.
He's drinking: Bell's beer (only because they don't have Stroh's); Vernors Ginger Ale if he's under the weather.
He'll immediately argue: Hockey loyalty, citing pre-2009 attendance every time Blackhawks fans chant "Detroit Sucks". Also prone to defending Kid Rock.
He's talking about: How sunsets on Lake Michigan are far superior to sunrises, and how much better Coney dogs are than Chicago-style.
In a nutshell: You weren't sure if you misheard him when he greeted you with "what up doe?", but it's become alarmingly clear this guy's a Michigander drinking at Duffy's on a non-game day who holds out his hand like a mitt to show you just how close his hometown of West Bloomfield is to Detroit.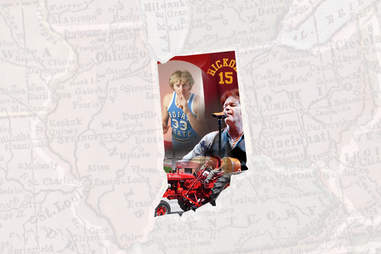 INDIANA
He's wearing: A well-worn "IU" or "IU Sucks" (Purdue) t-shirt, unless he went to Notre Dame, in which case he's likely just hanging out with other Notre Dame grads being generally obnoxious.
He smells of: Light beer, mud, and some sort of crop.
Word he's pronouncing funny: Rahm Emanuel's name as "Ram Amen-yoo-ul"; also has a surprisingly liberal use of "y'all", depending how far South he grew up.
He's talking about: How "Carb Day" is the best part of the Indy 500; a high school basketball game he recalls shot-for-shot from 1992; how the Broncos HAVE to get Peyton one more Super Bowl.
In a nutshell: This guy's all about the Hoosier heartland -- barring that, Joe's on Weed St -- which explains why he can make 100 straight baskets in Pop-A-Shot while muttering the lyrics to "Jack and Diane".
IOWA
He's drinking: Some kind of corn whiskey, or ... moonshine? Is that moonshine?
He's talking about: Collegiate wrestling; the Hawkeyes/Cyclones rivalry; the presidential primaries every four years or so.
He smells of: Buck pee and farm animals.
Awesome anecdote he'll share: He drove by that Field of Dreams baseball diamond one time. He didn't stop or get out of the car, but he thought about it.
He gets confused when: He joins into a "Go Hawks" chant thinking he's found a pack of Hawkeye fans, when they're actually cheering the Blackhawks playoff run.
In a nutshell: Moving to Chicago was his second biggest pilgrimage, next to his first visit to the Iowa 80 truck stop. He's the only guy in the bar who'll politely correct you on the pronunciation of "Des Moines", and, much like a dog whistle, can somehow hear the melody in a Slipknot album.
MINNESOTA
He's eating: Something under a sheet of ketchup; venison jerky sent by his Uncle back home.
He's drinking: Michelob Golden Draft.
He's talking about: Hockey, regardless of season.
He's wearing: Hockey gear, regardless of season.
He's showing you: His peewee hockey photo he keeps in the back of his wallet.
He sounds: Not nearly as much like a Fargo extra as you were hoping, but every once in a while he'll unleash a "yah" or a drawn out "o", or a reference to lutefisk.
In a nutshell: When he's not going through pull-tab withdrawal, he's happy to brag about how big the Mall of America is, or vent about pretty much every Vikings quarterback since Fran Tarkenton.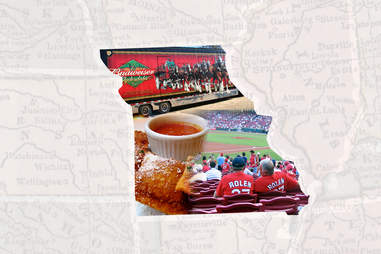 MISSOURI
He's wearing: Cardinals gear, because it's the Cardinal way.
He'll immediately argue: That St. Louis-style pizza with its Provel "cheese" is tastier than Chicago pizza.
He's drinking: Budweiser -- the only beer his palate will accept.
He's not talking about: His cousin from the Ozarks who dabbles in meth, and by "dabbles" he means "cooks and sells", but not in a dramatic Walter White way.
In a nutshell: It's easy to pick him out during baseball season when he's lording over hapless Cubs fans, but in colder months look for a hint of toasted ravioli on his breath and an unusually excited reaction when he hears Nelly. 
How can you tell that someone's a Midwest transplant? Let us know in the comments.
Matt Lynch is a Senior Editor at Thrillist, and has thoroughly enjoyed his travels to all of his fine Midwestern neighbors. He promises. Follow him @MLynchChi.
Sean Cooley is Thrillist's Chicago Editor, and he's noticed that a pie tin is a handy pie chart for how much pie you've eaten. Follow him @SeanCooley.