We all know Illinois as both "The Land of Lincoln" and "The Land Where Four of the Past Nine Governors Have Ended Up In Prison". There's "HOPE", and then there's "HOPE... no one traces these campaign funds!" It's been a veritable debauchery pageant trying to narrow down the 10 most corrupt Illinois politicians who were sloppy enough to get caught (as much as we love rumor mongering) -- but here they are, ranked by their overall brazenness and total prison term, because, as former Secretary of State Paul Powell once said, "There's only one thing worse than a defeated politician, and that's a broke politician".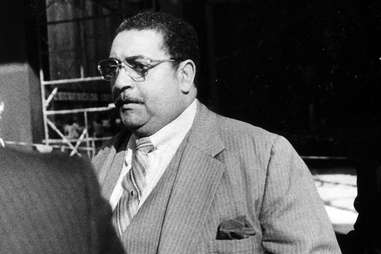 10. William Carothers
Chicago Alderman (1976-1983)
When a $14.5 million Bethany Hospital expansion was being planned, then-Alderman William Carothers twiddled his fingers, channeled his inner Mr. Burns, threatened to halt development, and extorted $15,000 from the builders in the form of remodeling work to his ward office (a hospital -- he held up development on A HOSPITAL). While behind bars for conspiracy and extortion, Carothers planned a campaign of intimidation against his political rivals on the outside, receiving help from his son Isaac -- a sheriff's deputy. Carothers was fined an additional $152,000, and set a really great example for his kid.
Sentence: 3 years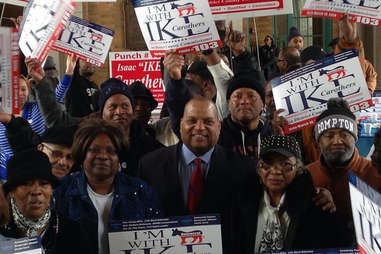 9. Isaac Carothers
Chicago Alderman (1999-2010)
And to absolutely no one's surprise, William Carothers' son Ike left behind his sheriff's deputy gig and became Alderman. Unfortunately the apple fell in the exact same spot as the tree, as Isaac Carothers got nabbed for committing nearly the same exact extortion crimes as his pops. After threatening to block a zoning change that was integral to a construction project, Isaac Carothers extorted $40,000 in the form of home improvements (why can't the Carothers family have nice things?!). Dad must've been proud.
Sentence: 28 months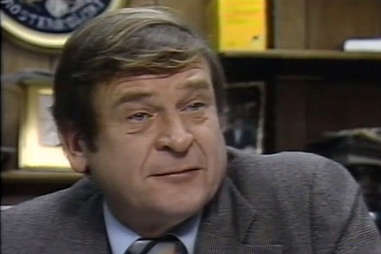 8. Daniel Rostenkowski
Member of the US House of Representatives from Illinois (1959-1995)
The son of a Chicago Alderman, Dan Rostenkowski grew up in Noble Square and rose all the way to the rank of Chairman of the House Ways and Means Committee during the Reagan administration. For a guy who had amassed so much power, it was odd that he was finally convicted for dishing out postage stamps. In addition to trading stamps for cash, he added imaginary employees to his taxpayer-funded payroll and bought gifts with the account he had at the House stationary shop. You have to admit, Rostenkowski kept it classy... for a felon.
Sentence: 17 months
7. Dan Walker
Illinois Governor (1973-1977)
Walker may have been a crook, but at least he wasn't busted on the job. Instead, the former World War II and Korean War veteran was convicted for fraud after he had left office. After his term, Walker entered the private sector and bought up oil-change franchises and savings-and-loan associations. His position allowed him to make $1.4 million in fraudulent loans and use his businesses as a personal piggy bank. At least he spent it with gusto, making sure to keep his 80ft yacht, the Governor's Lady, in tip-top shape.
Sentence: 7 years (served only 17.5 months)
6. Otto Kerner
Illinois Governor (1963-1968)
Kerner was an educated lawyer, medal-awarded war vet, and a handsome fella who also managed to marry the daughter of former Chicago Mayor Anton Cermak. He had a smooth road to the governorship, and even became a US Court of Appeals judge after his term. Unfortunately, he also had no issues with under-the-table deals, and illegally obtained $356,000 worth of below-market-value stock from a horse racetrack operator. In exchange, he rigged choice racing dates and expressway exits that funneled crowds to the track. Kerner was busted while later serving as a judge because of the racetrack manager's tax filing -- she deducted the value of the gifted stock after determining it was a valid business expense. This is the only exciting thing that's ever happened in the world of accounting.
Sentence: 3 years
5. Fred Roti
Illinois State Senator (1951-1956), Chicago Alderman (1970-1993)
Fred Roti was a longtime politician who had served as a State Senator and later as an Alderman for 23 years. His term was halted in 1993 when he was convicted of 11 counts of bribery, extortion, racketeering, and racketeering conspiracy. The real kicker was that Roti had been living his own version of The Departed, serving as a member of the La Cosa Nostra mafia throughout his time in office. He was no small fry either -- a 1999 Justice Department report pegged him as a "made member" of the mob. Must've been pretty awkward when his social circles mingled at backyard barbecues, amirite??
Sentence: 4 years (served only 3 years)
4. George Ryan
Illinois Secretary of State (1991-1999), Illinois Governor (1999-2003)
A fatal truck accident in 1994 got the ball rolling on an investigation cracking down on illegally acquired truck operators' licenses in Illinois. More than a decade later, Operation Safe Road had followed a trail of money and favors that led all the way to Governor George Ryan's doorstep. 79 others were criminally charged, and Ryan was found guilty of a whopping 18 felony counts, including racketeering conspiracy, tax fraud, lying to the FBI, and mail fraud. Before Ryan's conviction in 2006, he did get a nomination for a Nobel Peace Prize for commuting the death sentences of more than 160 inmates, so he's got that to hang his hat on.
Sentence: 6.5 years
3. Rod Blagojevich
Illinois Governor (2002-2009)
Running (at times, jogging) a gubernatorial campaign that focused on "ending business as usual" in government, Rod Blagojevich defeated opponent Jim Ryan and quickly got down to business as usual. Presumably needing to support his budget for haircuts and tracksuits, Rod Blagojevich conspired to commit pay-to-play schemes. The shadiest of these was attempting to fill the vacant US Senate seat of then-President-elect Barack Obama, and the FBI busted him on tape as he ranted, "I'm just not giving it up for f***ing nothing". After removal from office, Blagojevich maintained his innocence throughout appearances on Late Show with David Letterman and The Celebrity Apprentice before heading to federal prison in Littleton, Colorado.
Sentence: 14 years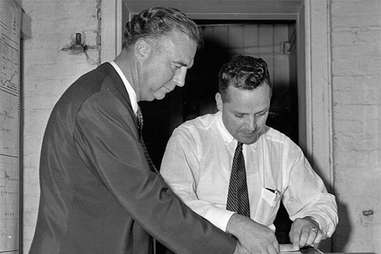 2. Orville Hodge
Illinois Auditor of Public Accounts (1953-1956)
The Michael Jordan of embezzlement, Orville Hodge performed political corruption with a dazzling disregard for morality. As the state's accountant, Hodge was actually entrusted with preventing fraud and embezzlement. It turns out that the position was also perfect for someone who really enjoyed forging checks, and Hodge ended up embezzling $6.15 million worth of state funds during his term in office. Thankfully, he spent the cash modestly on two private jets, several properties in Illinois and Florida, and a stockpile of cars that included a Rolls-Royce.
Sentence: 12-15 years (served only 6.5 years)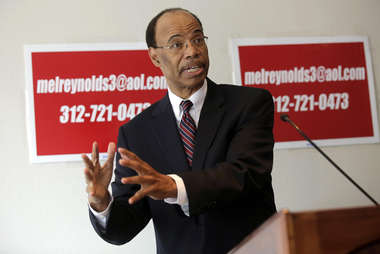 1. Mel Reynolds
Member of the US House of Representatives from Illinois (1993-1995)
Reynolds was indicted for sexual assault and criminal sexual abuse after he engaged in a sexual relationship with a 16-year-old girl who was also volunteering for his 1992 campaign. However, Mr. Reynolds harnessed his inner sleaziness and continued on with his campaign, winning the election after running unopposed. He was finally convicted in 1995, and resigned a month and a half later. Yet, the R. Kelly-caliber controversy was just the half of it. While already taking a five-year iron vacation, he was also convicted of 16 counts of bank fraud, lying to investigators from the Federal Election Commission, and misusing campaign funds.
Sentence: 5 years for the first sentence, 6.5 years for the second (President Clinton commuted his second sentence after 4 years)
Sign up here for our daily Chicago email and be the first to get all the food/drink/fun in town.
Raf is a long-tenured Baratheon loyalist and Point Break apologist. You can check out his weird-smelling blog Alley Connoisseur, and follow him at @RafFoSho.