You already know where to find all of the important underrated stuff in Chicago (so... burgers, hot dogs, pizza, and chicken wings). Well, now it's time to tell you where to find all the OTHER underrated stuff, from beaches and local beers, to parks and comedy showcases.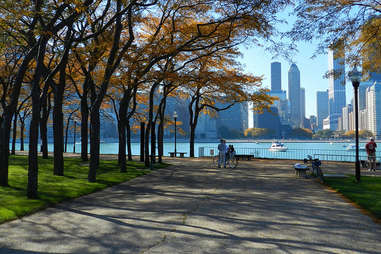 Streeterville
This secluded Downtown oasis, located across from the equally unsung Ohio Street Beach, offers some of the best views of the skyline you'll find in the city sans boat. You can also watch those quietly (or not so quietly) float by from this little-known, tree-lined perch, named after the first African American to win the Medal of Honor in the Vietnam War (and way more chill than that "other" Downtown park with that bean thing).
Runners-up: Osaka Garden, Promontory Point, Indian Boundary Park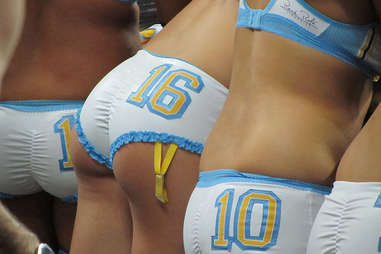 Bridgeview
If you're looking to see championship football in Chicago, don't go to Soldier Field (I mean, obviously), but instead head to Bridgeview's Toyota Park, where the drinks are cheaper and the women play football in lingerie. Yes, it's the new home of the Chicago Bliss, back-to-back winners of lingerie football's Legends Cup. (Star player Heather "Rockstar" Furr once grabbed and chugged a fan's beer after scoring a game-winning TD, so you know it's fun.) Oh, and they also play soccer there. Or something.
Runner-up: Fifth Third Bank Ballpark (Kane County Cougars)

Bridgeport
In a city overflowing with craft beer that's NOT Goose Island, this is not an easy call. But we give the nod to the crew from Maria's Packaged Goods and the beer nerds of CHAOS Brew Club, who have launched Marz Brewing in homage to the city with brews like The Bubbly Creek and The Bridgeporter porter. Be sure to check out the Smoke Wheat Everyday, reportedly inspired by pint-in-a-paper-bag-drinking winos on Morgan St.
Runners-up: Slapshot, Ale Syndicate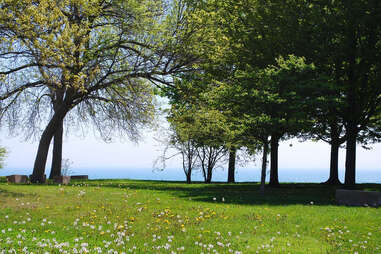 Most underrated 'hood: Edgewater
While nearby Andersonville (recently named the 7th hottest 'hood in America) gets all the attention, Edgewater quietly maintains its lakefront location, offering easy access to some of the city's best beaches, affordable rents, great Ethiopian food, and cool local spots like Ollie's Lounge and Moody's Pub. Bonus: unlike Logan Square, you don't need a handlebar mustache to be admitted.
Runners-up: Bronzeville, Edison Park

Logan Square
Michelin-starred Longman & Eagle is well known as one of the city's finest outposts of wild boar sloppy Joes and 300+ whiskeys. But it's less known as a place to crash after indulging in too much of the above, with six beautifully appointed B&B-style rooms featuring modern touches like Apple TV and throwback features like cassette tape consoles complete with their own mixtapes.
Runners-up: The Blackstone, Wicker Park Inn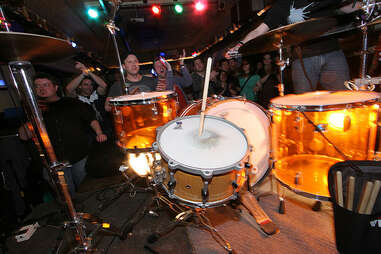 Logan Square
If you're looking to see unpretentious bands in an unpretentious bar with one of the most extensive beer menus in the city, you could do worse than seeing a show at Quenchers. Also, three words: tater. Tot. Pizza. Need we say more? No, we need not say more.
Runners-up: The Burlington, The Whistler, Rosa's Lounge

Avondale
Most known for past shows like Hizzoner and Point Break Live!, you never know what to expect at this nondescript little theatre off Elston. Instead of crowds and tourists a la Second City, you'll feel like you're in on a neighborhood secret as you check out left-field acts from one of the city's finest spots for fringe theater.
Runners-up: The Cornservatory, Victory Gardens Theater, Chopin Theatre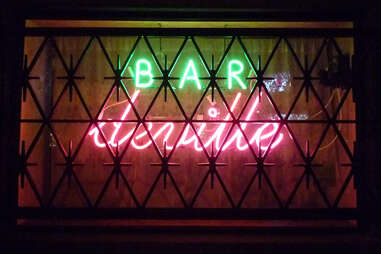 Ukrainian Village
Weekly local standup comedy showcase Parlour Car, taking place in the ever-so-cool back room of ever-so-cool Ukrainian Village cocktail hub Bar DeVille, is the best place in the city to see up-and-coming acts as well as more established local funnymen, like Blackout Diaries star Sean Flannery. And, unlike at Zanies, you can pair your comedy with some of the finest cocktails in the city.
Runners-up: Lincoln Lodge, The Hideout
Edgewater
Beachside dining doesn't ALWAYS have to mean a zillion beers at Castaways. It can also mean quietly enjoying jumbo shrimp and Cuba Libres as live bands set up beachside at The Waterfront Café at Berger Park, one of the lesser-visited of Chicago's beach parks. The park also houses a historic mansion on site and plenty of open space for you to ponder life/more jumbo shrimp.
Runners-up: Ohio Street Beach, Kathy Osterman/Hollywood Beach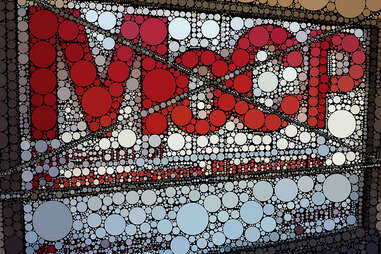 Loop
Located at Columbia College, the Museum of Contemporary Photography (the MoCP, not to be confused with the MCA) is the only museum in the Midwest dedicated exclusively to photography. In other words, the perfect place for photo nerds to geek out over thought-provoking print and digital exhibitions in between video screenings and photography lectures.
Runners-up: Smart Museum of Art, Money Museum
Humboldt Park
Finally, a place in the city where you can drink Unicorn Blood lattes and Wake & Bake espressos (with maple syrup) in peace. Really though, you won't find a cooler unheralded coffee shop in a city overflowing with cool coffee shops (New Wave, Wormhole, etc).
Runner-up: Caffe Streets
Logan Square
Formerly known as the Milwaukee Avenue Arts Festival, Logan Square Arts Fest returns this June with cocktails from The Whistler and food from one of the finest food 'hoods in the city. You'll also be helping Logan Square Preservation in its ongoing efforts to restore the Illinois Centennial Monument -- which, unlike your attendance at most festivals, basically makes you a humanitarian.
Runners-up: West Fest, Do Division, The Boulevard
South Loop
Once the site of 50+ opulent mansions in the late 1800s (one of which was owned by Marshall Field himself), today around a dozen such mansions remain, including the city's oldest house and a historic home museum open for tours. Basically it probably beats strolling the Mag Mile during Christmas season.
Runner-up: Beer Baron Row (Hoyne Ave in Wicker Park)
Sign up here for our daily Chicago email and be the first to get all the food/drink/fun in town.
Jay Gentile is Thrillist's Chicago Editor and he totally saw Point Break Live! but, to his great shame, wasn't picked to play Keanu. Follow him @ThrillistChi.