Chicago Trebek: "Power sanders. Body paint. Cinder blocks". You: "What are... party accessories you'll find at the five craziest parties in Chicago this Summer"? Trebek: "Damn right, son". Thrillist: "Here's a closer look at all five..."
Recommended Video
Wine Workouts Are Just What We Need in our Fitness Routines
Blacklight Blackout at Exit
When: Third Friday of the month (3-year anniversary party July 18th)
Mix free UV-reactive body paint, a chain-link, fenced-in dancing cage, and an absurd amount of PBR tallboys into a blender. Pour every third Friday of the month at Exit, and you have Blacklight Blackout, where you can either chug from skull beer bongs or try your hand painting the exposed body next to you while thrashing to manic dance beats until 4am. Either way, you win. Continue Reading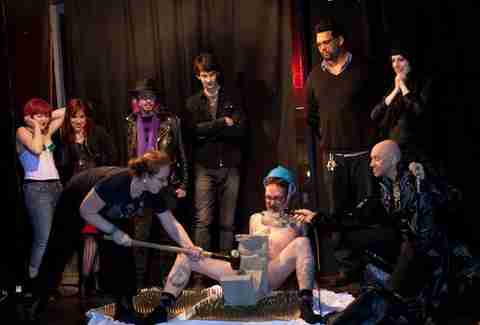 Festival of Flesh at Underground Lounge
When: First Saturday of the month
You want kinky? We got kinky. As in snake charmers, flesh hooks, and all manner of freaky sideshow fetish acts, including tattooed performers lying on a bed of nails as a cinder block is sledgehammered between their legs (hard hat and goggles required). Win prizes from local sex shops while gathering new material for the bedroom, which may or may not involve that cinder block.


Porn and Chicken at Evil Olive
When: Monday nights
What started as a joke has evolved into one of Chicago's craziest underground ragers, where fog machine guns and shots that're aggressively poured into open mouths are mere appetizers for a main course that includes scantily clad chicks (and chickens) dancing on bars, with crazy new themes every week ranging from Indiana Jones to the World Cup. And their motto? Born to Bang, naturally.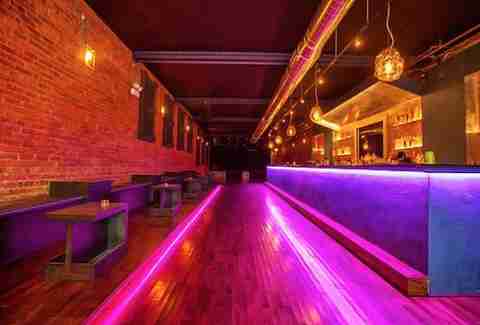 Riff After Afters at Riff Music Lounge
When: Saturday mornings
Waking up the long-neglected nightlife scene of the South Loop, this weekly dance party starts (we repeat, starts) at 7am. Because you need somewhere to go after the after-party besides Clarke's Diner, right? Check out a deep supply of on-the-rise local DJs at this sleek new club space located below Pressure Point Studios, as you watch the sun rise with a few new friends. Namely, Red Bull and vodka.


No Tell Motel at Debonair Social Club
When: Wednesday nights
Wednesday nights will never be the same. Not after experiencing this hump day extravaganza heating up the Chicago Summer, as burlesque dancers with names like Dizzy Lizzy find inventive new ways to work power sanders while slowly disrobing in the dark basement den of Debonair Social Club. It's sort of like that movie Showgirls. Only… you know… entertaining.