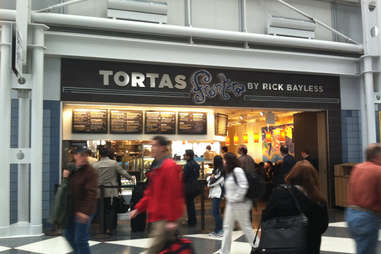 1. Use this phone charger
You're gonna need to charge your phone at some point, and rather than use one of the super-boring plug stations, hit Rick Bayless' Tortas Frontera in Terminals 1, 3, or 5, where all of the bar seats have outlets and all of the people in them have tortas.

2. Two words: open bar
If you want to combine working and drinking, and throw in a shower for good measure, the newly opened Terminal 2 United Club is where you want to be. Snag a day-pass for $50 -- or get guested in by a member -- and get access to free Wi-Fi and an open bar.
3. Grab a beer, to-go
If the bar is packed (or if you've got a tight connection), grab a to-go cup and take your beer or margarita with you to your gate. Just be sure to finish before it's time to get on your flight -- you sadly can't carry it on-board with you.

4. Don't spend $20 a day on parking
If you're going to be gone for less than a week, park on the street FOR FREE near the Renaissance Chicago O'Hare, and hop on the free shuttle to the airport. Oh, and drop the shuttle driver a fat tip -- dude just saved you $20 a day on parking!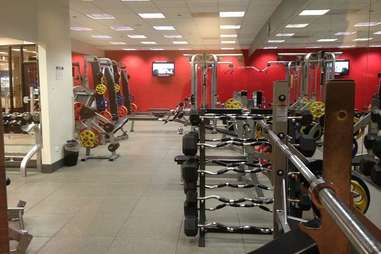 5. Hit the gym and/or the showers during a long layover
The only hotel located INSIDE the airport, the O'Hare Hilton will let you use their gym, sauna, and steam room for $20 (or less than that if you've got elite status).
6. Get lounge access with a card you already have
Sometimes you've got lounge access, and you don't even know it. If you're carrying around an AmEx Platinum Card, the Priority Pass Select Membership comes with the card and gets you into the Air France-KLM lounge in the International Terminal FOR FREE.

7. Don't waste time waiting for a cab
Terminal 2 is, again, where you want to be. Terminals 1 and 3 can be packed with United and American flyers, but T2 is a much more subdued affair. Head over to the cabstand there, and be halfway to your destination before anyone else is even in a cab.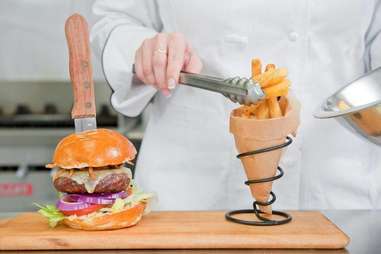 8. Get food delivered to you in the airport
Found a seat with power and strong Wi-Fi, and don't want to give it up to get a sandwich? Download the B4 You Board app, and have food delivered right to you from restaurants in the terminal.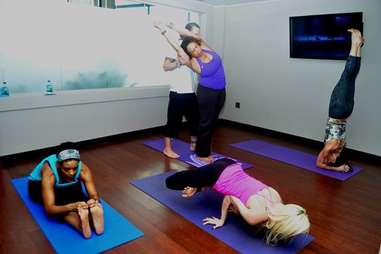 9. Relax before your flight
Head to the mezzanine level in the Terminal 3 Rotunda, and use O'Hare's yoga room to stretch out before being crammed into your seat. It's free, they provide the yoga mats, and there are women in yoga pants in there. No. Brainer.
10. Don't pay $6.95 for Wi-Fi
If you're a Time Warner Cable subscriber, you get unlimited, free access to O'Hare Wi-Fi provider Boingo (I know, right?). If you're not, sit on the floor near an airline lounge, and mooch off their Wi-Fi too.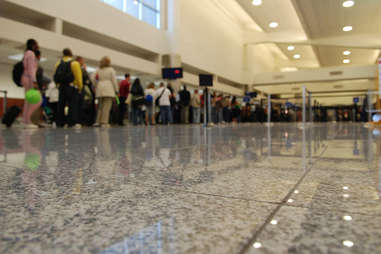 11. And the best security line is at...
During busy times, head to Terminal 2, where you're least likely to encounter a crowd. To skip it all, enroll in PreCheck for $85 for five years.
Sign up here for our daily Chicago email and be the first to get all the food/drink/fun in town.
Ian Petchenik is a Chicago-based aviation writer. You can follow him on Twitter @petchmo, and read what he writes at petchmo.com.