Chicago Paul Kahan, the man behind Blackbird, Avec, Publican Quality Meats, and those inexplicably addictive tacos at Big Star, is giving us (and you!!) the scoop on five of his current local faves, along with what to order at every single one. Weekend plans: booked.
Sumi Robata Bar
Kahan: "[Their] pristine product is prepared on a charcoal grill, and served without manipulation."
What To Get: The Wagyu Ribeye with wasabi ponzu, the chicken wings, and allll the vegetables, because unless they're on an "everything" pizza or lathered up in butter, we know you probably don't get enough of those.
Continue Reading
Lula Café
Kahan: "[This] is the greatest neighborhood restaurant in Chicago. They offer world-class food without world-class attitude, and Jason Hammel is a really good guy."
What To Get: The brioche French toast for breakfast, the pork shoulder braised in milk for dinner, and a Gold Dust Woman with Scotch and grapefruit to sip. Their weekly three-course Monday Farm Dinner is always different, and always incredible, too.



Smalls Smoke Shack and More
Kahan: "It's a really small, six-seat, Asian-Latino, barbecue-fusion restaurant. My go-to dish would be BBQ brisket bibimbap."
What To Get: Um... the BBQ brisket bibimbap? And a half-slab of St. Louis ribs if you like sweet, smoky, fall-off-the-bone meat sticks.

Urban Belly
Kahan: "[It's] a great Asian noodle shop attached to sister restaurant BellyQ -- an upscale Korean BBQ concept. I love anything that Bill Kim does."
What To Get: The marinated eggplant with Thai basil and crispy shallots, and a Phat Rice bowl with ground chicken, pork belly, and Wagyu beef short ribs.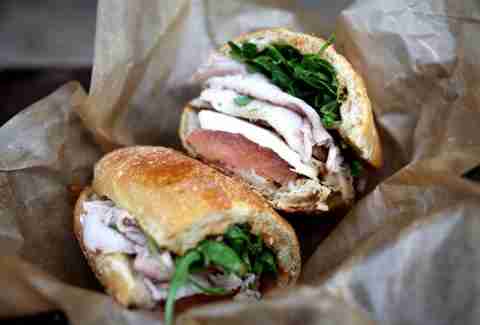 XOCO
Kahan: "I mean, it's Rick Bayless. I used to work for him. The food is super bold and delicious."
What To Get: The Cochinita Pibil Torta with achiote, black beans, pickled onion, and habanero, any and all caldos, and churros any way you want 'em.