Expertly entertain any Chi visitor who comes your way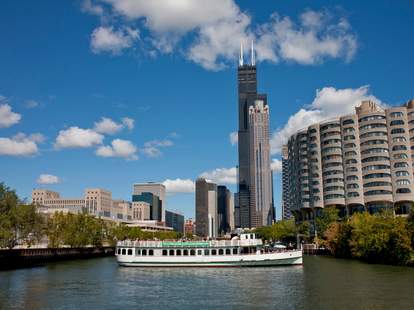 Hosting visitors can be a tricky proposition; not every one of your friends and family wants to spend a weekend closing down 4a bars and sleeping until 1p, which is a damn shame. For just such occasions, we've created a visitors' guide of activities for when non-party folks are in town, so you don't wind up taking them to an arboretum (Latin for "boring tree museum").THE GUEST: YOUR FRAT BUDDY WHO CAN'T DRINK ANYMORE FOR VARIOUS REASONSThe bloom is off of this flip cup-playing, flip-flop-wearing rose. Your bud is looking to dry out in one of the booziest cities in the country, so here's where to occupy his idle hands so they don't have to wrap forlornly around an O'Douls. SpaceTime Tanks, 2526 N Lincoln Ave; 773.472.2700Let your mind slip into an Inception-like dream state as you float in the pitch darkness of a sensory deprivation chamber filled with heavily epsom-salted water that lets you rest above the water far more easily than your natural fatness.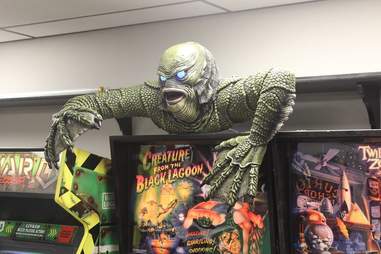 Galloping Ghost Arcade, 9415 Ogden Ave; Brookfield; 708.485.4700
Keep his mind off the hooch at this wholesome Brookfield arcade, which has 120 classic games to mash on until 2a. Just pay a flat cover rate and fatality to your heart's content.

Rooftop Sessions, Multiple Locations
This rotating concert series provides a chill atmosphere mercifully bereft of light beer tents and teenagers with sharp elbows.
Smoque, 2900 N Broadway; 773.904.8885
Give him a smoking experience he likely never had in college with a few puffs of flavored vapor, like Mountain Dew and custard cream pie, which also sounds like a post-smoking activity one might try in college.

Calumet Fisheries, 3259 E 95th St; 773.933.9855
Take a trip down to the historic waterfront seafood shack for smoking of the seafood variety, and down some oak-smoked salmon and shrimp right on the hood of your car. Oh, you'll probably want some fried shrimp too. Pro tip: head out back to check out the smoker and they might throw you a freebie.


THE GUEST: YOUR GRANDPARENTS
You love Grammy and Grampy. You just don't love that they walk as if gravity is dragging them down; you're going to need a list of stops that have a nearby bench and easy access to bathrooms.

Architecture Boat Tour, 112 E Wacker Dr; 312.922.3432
Nana and Pop-Pop will be fascinated for hours, even if they retain little information other than "that one building's shaped like water" and "The Dave Matthews Man's tour bus once pooped on one of these tours".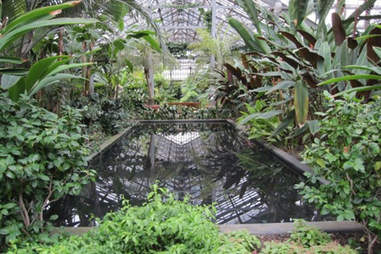 Garfield Conservatory, 300 N Central Park Ave; 312.746.5100
Old people love gardening nearly as much as buffets and naps, so get some fresh air and prepare to sit on many benches. There's also a farmer's market on Sundays where you can scarf down homemade treats while they bemoan rising produce prices.

Untouchable Tours, 600 block of N Clark St; 773.881.1195
Get a bus-aided tour through Chicago's roaring '20s gangster history (of which it has just a bit, in case you hadn't heard), on they off chance they missed it the first time (when they lived through it).
Margie's Candies, 1960 N Western Ave; 773.384.1035
An old-timey ice cream parlor that's right near the Gorilla Tango, so grab sweets here first, and then catch a burlesque show matinee. Actually that might be awkward. Just stick to the nostalgic candies and sundaes.

Palm Court at the Drake, 140 E Walton Pl; 312.787.2200
Take tea and finger sandwiches as you listen to soothing sounds of live harp music, interrupted only by the sounds of you scarfing way too many finger sandwiches. If your grandparents happen to be British this becomes an even stronger move.


THE GUEST: YOUR SISTER AND HER THREE-YEAR-OLD KID
It's rough dealing with toddlers who are too young to be good at video games and too old to be entertained by a mobile. Do your sister a solid and keep the kid occupied, proving that you're the cool uncle and not the creepy uncle.

Candyality, 3425 N Southport Ave; 773.472.7800
Let 'em ride that sugar high as you indulge in candies you didn't even think they made anymore (Zots?!), because you don't have to take care of them later when things come crashing down (note: does not work for diabetics).
Storytown Improv at Stage 773, 1225 W Belmont Ave; 773.245.3443
Her kid who plays make-believe should fit in nicely with these adults who also play make-believe. It definitely beats having to sit through a Wiggles video.

Kid City, 1837 W Grand Ave; 312.829.6775
Play king (or queen) maker with your niece or nephew running for kid mayor of Kid City, a self-contained mini-metropolis where the little ones can tire themselves out with an exhaustive array of activities. Hopefully they work their way up to Kid President!
Xtreme Trampolines, 950 Busch Parkway; Buffalo Grove; 224.676.0660
Fulfill your own dream of dunking like Chocolate Thunder while the kid just jumps himself into a state of utter exhaustion (again, the name of the game is run 'em hard, sleep 'em long).

Play, 3109 W Logan Blvd; 773.227.6504
This independent toy store will probably have you wanting to get in on the action a bit yourself, from an extensive selection of wind-up toys to sock puppets, because who doesn't love a good sock puppet?