Jim Vondruska/Thrillist
Jim Vondruska/Thrillist
In the past, we here at Thrillist have told you about some cool hidden stuff around Chicago -- speakeasies, supper clubs, that secret Potbelly menu that made sandwich lovers love us and sandwich makers not love us. What if we told you that Chicago is also home to, not one, but two exclusive sex dungeons? It's true, we ventured to these two secret spots -- one in Logan Square and the other in the West Loop -- to show you where you can make your sexual fantasies into realities (yes, even that kinky one that you've never said out loud).
Logan Square location
Chicago Dungeon Rentals' owner, Sophia Chase, guided us into a discreet building located in the Logan Square neighborhood -- the location is not made public and there is a vetting process to gain admission to the space. She first gave us the finer points of BDSM -- that's bondage, dominance, submission, and masochism for the layperson. Then, we toured two rooms where all the dark magic happens.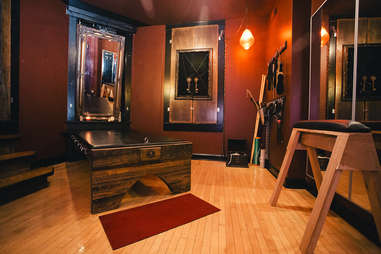 The red room
"Slightly less intimidating than the other playrooms," says Chase. "When folks are brand new to kink, this is the room I recommend." Upon entering, you'll come across oversized mirrors and a bondage table, which is a nice cushioned space used to restrain your partner horizontally, stretch them out, and do whatever your heart (and libido) desires. Here are some other goodies you'll find:
Saint Andrew's cross
Originally created to worship Andrew -- the patron saint of freakiness (?) -- this cross aims to get you in the mood. Bolted to the wall, Saint Andrew's Cross is great for stand-up bondage. "If someone needs an extra little encouragement to stay in one place, this is good for intense sensation or being whipped," says Chase.
Impact playthings
The toy selection includes floggers, whips, paddles, canes, crops, rulers, spoons, and hair brushes, all of which can be used for striking the body. Try these bad boys out on the Saint Andrew's cross.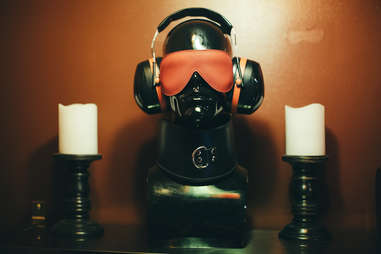 Earmuffs
Used for sensory deprivation, allowing you to focus on touch, smell, and taste.
Clamps
As well as clothespins to apply some pressure.
Handcuffs
Not those weak-ass frilly ones either.
Belts and buckles
None of which will be holding up your pants. You won't be wearing pants (you know how sex works, right?).
Other metallic objects
Displayed on that magnet strip most regular boring people use for kitchen knives.
Medical play supplies
Just in case you get a little too aroused, your room is equipped with safety repercussions like glucose pills and blood-clotting spray, as well as first-aid equipment. "There are some calculative risks with kink activity," says Chase.
The kitchen
You don't have to eat out, just whip up a good meal here.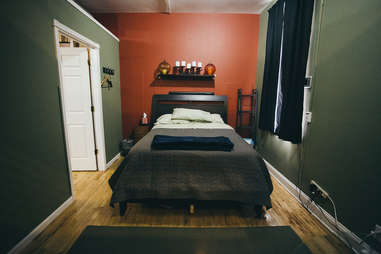 The bedroom
For those craving some semblance of familiarity. Note: if you come to a sex dungeon to have missionary sex on a bed, this may not be the place for you.
The chamber
This room is used "for scenes that are a bit darker, heavier psychological play," says Chase. "It's a more intense and imposing room." If you're ready to take it to the next level, the chamber awaits. It includes all the same pleasure toys as the red room plus more, like:
Metal spreader bar
Used for suspension, tie your partner's hands up to each end and have some fun.
Leather love swing
"Designed similar to a short hammock that someone could rest comfortably on their back for penetrative sex with their standing partner," explains Chase. "It's great for couples looking for an exciting new way to have sex, and it's great for anyone with a bad back or limited range of movement since the sling can be used to do the thrusting for you."
… and gags
For you to reenact that scene you love from Eyes Wide Shut (hopefully not 8MM).
Oh, and you can dangle from the ceiling too
If the red room or chamber tickles your fantasy, then you can rent one playroom or the entire dungeon -- two playrooms, domestic space, kitchen, and bathroom.

West Loop location
The other location of Chicago Dungeon Rentals is in the West Loop at an equally non-disclosed location.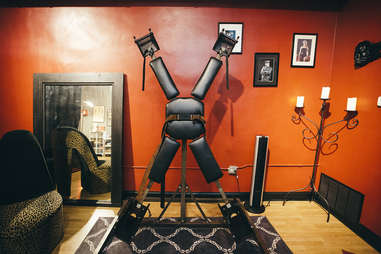 Catherine's wheel
Pick your favorite position. It rotates...
Spanking bench
If you're a butt man or woman this may be right up your alley.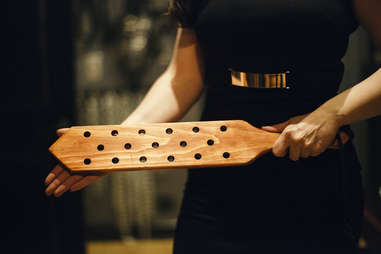 You'll also have a fun selection of equipment
Like paddles...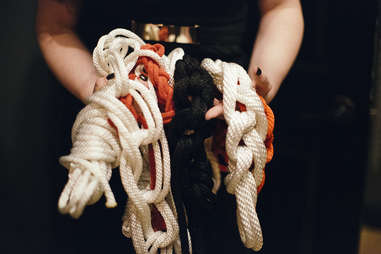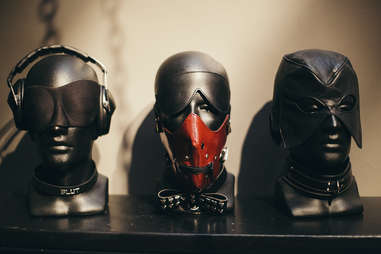 ... and this tackle box full of, um, stuff.
Medical role-play area
This doctor might be a little more invasive than your last visit, but if you're feeling hot, come get a full examination in your doctor-patient role-play scenario.
The dirty details:
Max number of people that can rent one room is six
Logan Square has individual play rooms that can be rented separately, a kitchen, bathroom, and an overnight room
West Loop is a giant studio space
Private instructions are available by the hour, also the owner is a sexuality educator with over 12 years of group and private instruction experience (she's also a professional dominatrix)
Equipment is purchasable
Rental information is available here
Sign up here for our daily Chicago email and be the first to get all the food/drink/fun in town.
Amanda Cohen is the marketing manager for Homescout Realty and is a huge fan of peanut butter, caramel apple suckers, thunderstorms, comfortable silence, and horoscope analyzing (she's a Capricorn). Follow her on Instagram at @apandakiss or check out her blog.