9 Secret Things You Had No Idea You Could Do in Chicago
Chicago is a city full of secrets. Like, FULL of secrets. So full, in fact, that those two links aren't even enough to contain them all. We had to go and write this, too: nine secret things you can actually DO in and around the city, from playing naked bocce to praying at the world's highest worship space.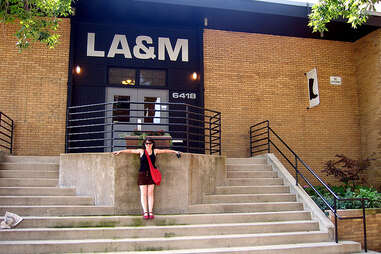 Leather fetishes are no longer something to be hidden. They're to be celebrated at this 10,000sqft, two-story palace of kink, which comes complete with more than 25,000 books and magazines, a climate-controlled archival storage space housing art and records of notable BDSM activists, and its own 164-seat auditorium. Not to mention its own dungeon, screening room, and Leather Bar. Someone better alert the Gimp.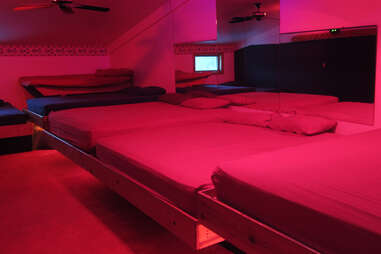 You and the partner feel like spicing things up in the sack? You could do worse than this 8,000sqft BYOB swingers club with its own orgy room, suspended swinging bed, and bondage room with cage and spanking bench -- not to mention a dance floor with stripper pole surrounded by full-length mirrors. If that's not enough, they host regular events ranging from foam parties to Jell-O wrestling. Don't worry, dinner is included.
Instead of staring blankly at the Picasso sculpture, look up and across the street from Daley Plaza and you'll find the world's highest worship space hidden in plain sight. Located under the spire at the top of the 23-floor church building, 400ft over the city (accessible via two elevators and a flight of stairs), the chapel even has an altar depicting Jesus weeping over the city of Chicago. Must be a Cubs fan.
Volleyball. Dancing. Bingo. Bocce. Horseshoes. Darts. Pool. Bean bag toss. Add these to the list of things you can now do naked, thanks to this nudist resort located near Big Bend State Fish and Wildlife Area about 2.5 hours West of the city (okay, so it's not technically in the city, but it is technically naked so we think you'll deal). There's a nice blue-watered lake that you can also visit, naked of course, in addition to nude dinner theatre and naked Bible study. And no, we did not make that last one up.
To the untrained eye, Brimfield is just another home décor shop in Andersonville. But to those in the know, it's also home to an anything-goes party parlor located above the store that's now available for rentals. Past events have included Mad Men parties, poker nights, and costumed throw-downs, all of which go down in a fully equipped BYOB man cave.

Ever wonder what it would be like to float atop 10in of water inside a massive tank with 800 pounds of Epsom salts dissolved inside? No? Well now that's a thing you can wonder about. At Chicago's "premier flotation and relaxation center," you'll reportedly feel so relaxed after spending an hour of isolation in the tanks that it'll feel like the equivalent of four hours of sleep. So basically, you could probably just take a nap, but it wouldn't be nearly as cool...
Fitting somewhere between the manic absurdity of WrestleMania and that KY wrestling scene from Old School, these mud-covered local brawlers can be found getting dirty all over town at places like Reggies, Double Door, and Three Aces. Often paired with live bands and likeminded acts including roller girls and lady arm wrestlers, watch grapplers like Harlot O'Scara and Sh-Evil Kn-Evil stop the heart of every 80-year-old frat bother in attendance.
Every spring, as the city begins to thaw, costumed teams emerge from the shadows to race shopping carts through the streets Iditarod-style. This means urban mushers dressed in everything from banana costumes to Wilfred outfits tearing through town in utter pandemonium while attempting to collect canned food hidden at locations around the course.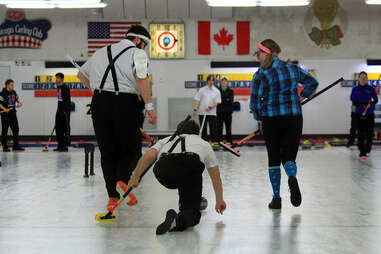 Yes, hurling stone slabs down sheets of painted ice is an Olympic sport. And yes, you can learn the art of curling without booking a flight to South Korea. Chicago Curling Club will teach you the ins and outs of the game with regular "bonspiels" (multi-game festive tournaments similar to a bowling league) followed by plenty of boozing and socializing with fellow sportsman. The ice is open October-March, so get those broomsticks ready.
Sign up here for our daily Chicago email and be the first to get all the food/drink/fun in town.
Jay Gentile is Thrillist's Chicago Editor and the last person you should trust with your secrets. Follow him @ThrillistChi.