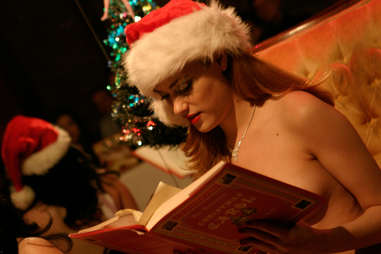 Watch naked girls reading... at Naked Girls Reading
Studio L'amour (address and info)
Ravenswood
Yes, this is exactly what it sounds like. There are regular events at international burlesque superstar Michelle L'amour's lounge-like BYOB Studio L'amour; stop by April 17 to see Naked Girls Reading Presents Aphrodite: Sex and Religion From Ancient Mythology to Modern Fiction. Hear intellectual "tales of debauchery, mayhem, and maybe a little morality" for the price of cover at most strip clubs. Maybe even... learn something?

Take a burlesque class
Studio L'amour (address and info)
Ravenswood
Want to get more involved in the action? While the always-interesting Everleigh Social Club has sadly been closed, you can still sign up for classes at L'amour's studio, including "Make & Shake" (where you make your own pasties, then twirl tassels) and a May 9 "Mother/Daughter Burlesque Workshop." Yes, this is real. And yes, this is promoted on their site as a "great Mother's Day gift!" We can't make this stuff up.
Take a date to a swingers' club
The Club Release (address and info)
Somewhere near the IL/IN border
With parties every month featuring "Humpin' Bunnies," foam, and Jell-O wrestling, you could do worse than a date at full-service sex club The Club Release, located 20 minutes South of Downtown. Its got orgy rooms, bondage rooms, spanking rooms, a suspended swing bed, and eight bathrooms with three showers. Which you're probably gonna need either way.
Bare all at Chicago Fun Club
Multiple locations
If you're into nude painting, nude dinner events, and nude spa days, nudist resort Chicago Fun Club is the place for you. There are a few rules -- including no staring and BYOT (bring your own towel) -- and you can also take trips to "The Farm" (a private home rented out West of St. Charles) for nude swimming and hot-tubbing.

Book a private Chicago sex tour
Multiple locations
Billed as "America's only sex tour," Weird Chicago's Red Light District Sex Tour takes you by bus on a three-hour exploration of Chicago's sex industry that involves stops at drag clubs, porn shoot locations, secret sex clubs, and dominatrix dungeons -- plus "dildo and vibrator demonstrations." You can even learn the history of the Dirty Sanchez on these private tours for 14 or more.
Check out burlesque and comedy
High Hat Club (address and info)
North Center
There are plenty of places to see burlesque in the burlesque-heavy town that is Chicago, but only one Wiggle Room at The High Hat Club. The regular burlesque-and-live-comedy mashup features the World Famous Chicago Starlets, local comics, craft cocktails, and, uh, Creole-Italian fare.

Watch a live fetish show at Festival of Flesh
Uptown Underground Theatre (address and info)
Uptown
The long-running monthly Festival of Flesh may have a new location at the Uptown Underground Theater, but it's still offering the same bizarre stage antics -- which may or may not include cinder blocks, sledgehammers, aerialists, chainsaws, and flesh hooks, but will definitely include plenty of leather. Win prizes from a local sex shop while learning dangerous new material for the bedroom/sex dungeon.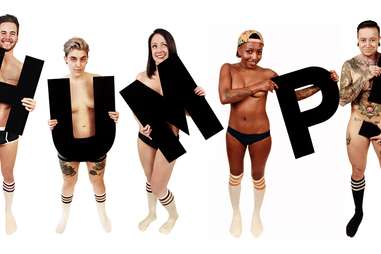 Take in the HUMP! Film Festival
Music Box Theatre (address and info)
Lakeview
Taking place at the Music Box April 17-18, this amateur porn film festival curated by Dan Savage screens 18 of the hottest five-minute selections submitted by ordinary people. Check out films with names like Beethoven's Stiff and Humparaoke designed to "make you laugh, squeal, and marvel at the broad (and creative) range of human sexuality."
Go X-rated shopping
The Pleasure Chest (address and info)
Lakeview
At this sprawling sex emporium, not only can you find all manner of sex toys that look like props from some weird sci-fi film, you can also take classes on things like "Electro Sex" (sex involving electric shock), "[Backdoor] Sex for Beginners" (pretty self-explanatory) and "Flogging 101." Who says sex can't be educational?
Dance like a maniac (while watching p*rn)
P*rn & Chicken (address and info)
Wicker Park
Still going strong on Monday nights at Evil Olive, this weekly spring-break-meets-EDM-show involves fog machine guns and shots aggressively poured into open mouths. With scantily-clad chicks (and chickens) dancing on the bar while p*rn is played on TVs alongside chaotic dancing in an anything-goes environment, P*rn & Chicken DJs can now be seen at a festival near you, too.
Ride in the buff at the World Naked Bike Ride
Downtown
If you like your nudity with a bit more of a political message, mark your calendars for the World Naked Bike Ride. Happening every year across the globe (and this year in Chicago on June 13), this international clothing-optional bike ride seeks to raise awareness for "people-powered transport" while "promoting positive body image" under the slogan "less gas, more ass." The event typically takes place in Chicago in the late evening, and anything goes: from underwear to crazy costumes to full-frontal. They even have body-painting available pre-ride.
Stop by College Night
The Admiral (address and info)
Albany Park
As the only Chicago strip club offering full nudity while banning liquor, the endless dilemma that is The Admiral Theatre is definitely the place to come after the bars, not before. Get $10 nude table dances in their all-nude "showroom" (as they call it) until 6am in a cool old theatre, where you can also put your old college ID to good use by getting 1/2 price admission on Wednesday nights.
Ride the L (and hope she shows up)
Multiple locations
You never know when the barely-dressed ladies of CT&A might show up on your train for some provocative live "performance art" that'll have you seeing your commute in a whole new light. In the meantime, the Facebook page will have to suffice.

Smut & Eggs
Twisted Spoke (address and info)
West Town
Stop by your friendly neighborhood biker bar every Saturday night for Smut & Eggs, when you can order anything from the brunch menu while watching hardcore p*rn filmed sometime between now and 1970, from midnight to 2:30am.

Sign up here for our daily Chicago email and be the first to get all the food/drink/fun in town.
Jay Gentile is Thrillist's Chicago Editor and he has apparently been riding the wrong train all these years. Follow him @ThrillistChi.