From hockey stars with mullets to mayors with sawed-off middle fingers, Chicago is known for many things. Nature is not one of them. But the next time you find yourself in a fit of rage on the Kennedy about to flip off some jabroni in a Jeep, channel that energy and find inner peace instead at one of these 10 places for a nature escape.
Lisle, IL
As Chicago's closest thing to a national park, this sprawling 1,700-acre tree oasis is your go-to for communing in nature amongst trees from all over the globe as you explore calm wooded trails or just unfurl a blanket and watch the leaves blow in the wind over your head. Pro tip: bring a date, a bottle of wine, and hit up the more chill West side of the park, then take the alternative route off the main road to discover a hidden oasis over Lake Marmo.
North Park
You could do worse than strolling through this 46-acre nature preserve with trails that wind through woodland, wetland, prairie, and savannah. You could also do worse than just chilling at the birding area and spotting rare specimens with your well-practiced/made-up bird calls.
Lincoln Park
It's like your own zen meditation garden in a quiet enclave of Lincoln Park (the actual park, not the fraternity masquerading as a neighborhood), where a stone walkway encircles a serene lily pool. Listen to the sounds of the gentle waterfall, sit on the smooth rocks, and ponder life. The best part? Its close proximity to both North Pond (the restaurant) and North Pond Nature Sanctuary.
Hyde Park
This stunning little peninsula in Burnham Park is made of limestone blocks, is accessible by the Lakefront Trail, and is one of the best places in the city to mutter to yourself something like "hot damn" as you admire jaw-dropping views of the lake and skyline. You can also get married here, if that's your thing.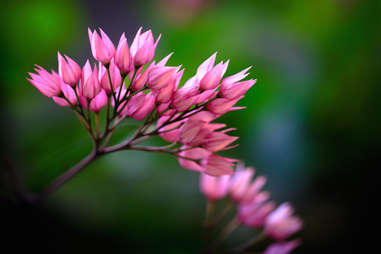 Garfield Park
This is more than just the place to drink beer during Chicago Craft Beer Week or reenact the scene from The Dilemma where Vince Vaughn catches Winona Rider making out with Channing Tatum (WINONA!!!). It's also the place to check out all manner of lush tropical things that have no business being in Chicago, from palms and cacti to weird jungle plants and koi fish. If things get too hot inside -- and it's almost always hot -- stroll amidst the sunflowers in the breezy outdoor gardens and paths.
Uptown
This more laid-back section of Montrose Beach is both a dune habitat and a bird sanctuary, as well as one of the best spots for trail hiking in the city with killer skyline views. If that's not enough, there's also a beach bar. And a damn fine beach bar at that.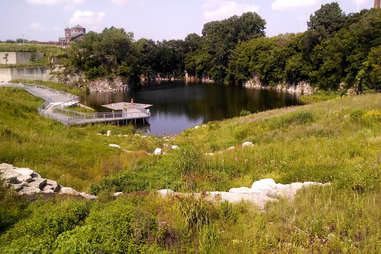 Bridgeport
When you think of Bridgeport, the first thing that comes to mind usually isn't nature. And this park (nicknamed "Mount Bridgeport" and formerly known as Stone Quarry) fits right in with a 27-acre site that has transformed itself from quarry to landfill to park. Cruise the crushed stone running path and peep the fishing pond and wetlands as you stroll the grass amidst preserved quarry walls at this neighborhood hidden gem.
Glencoe
There are 26 gardens on 385 acres. There are nine islands, six miles of lakeshore, and a 45ft waterfall cascading into a series of small pools. But the best part about this immaculately manicured green space might just be the less-famous open fields where you can simply sprawl out on a blanket and read a book in the sun.
Wicker Park/Bucktown/Humboldt Park/Logan Square
While not technically a "nature escape," this new 2.7-mile recreation path does provide a beautiful way to see the city in a whole new (and more chilled-out) light. And don't forget the endless array of fine establishments for food and booze just off the trail. Because hiking is hard work, dammit.
Emerald Necklace
Citywide
Chicago is full of great parks like Millennium Park and Grant Park, that much everyone knows. But what not everyone knows is that it's also home to the first-of-its-kind chain of eight parks connected by a tree-lined 26-mile boulevard system. Start in Logan Square and head South through some of the city's finest green spaces including Humboldt, Douglas, Garfield, Jackson, and Washington Park. Then promptly slap down anyone who tells you Chicago isn't a beautiful place.

Sign up here for our daily Chicago email and be the first to get all the food/drink/fun in town.
Jay Gentile is a Thrillist contributor and he would much rather be in nature right now than at a computer writing this. Follow him: @innerviewmag.