So you've had a great summer and are feeling totally refreshed. Just kidding. We know that all your weekends were blurry, pain-numbing benders and now the prospect of the sun disappearing for nine months has you on the verge of experiencing a meltdown in a Taco Bell bathroom. That's why we've compiled 10 great ways for you to spend a free day in Chicago -- so you can take a day off and catch up on life a little bit.
Located on the Wooded Island in the scenic Jackson Park, Osaka Garden is perhaps the most-scenic section of the site that once hosted the World's Columbian Exposition in 1893. Besides the Museum of Science and Industry, it's the only relic that remains from the exposition. It's an excellent spot to visit even during colder months, during which you can also stroll to Plein Air Café to warm up and check out the adjacent Robie House.
A historic South Side neighborhood that was once the site of a railroad tycoon's bong-brained version of a workers' utopia, the Pullman district was named a National Monument in 2015. There's no other Chicago neighborhood quite like it, and you can check out the scenic row houses and factory complex by taking a self-guided walking tour. You can pick up a tour pamphlet at the visitor center, where admission is only $5.
About 15 years before food photos took over 60% of your Instagram feed, Paul Kahan opened Blackbird. The sleek, Michelin-starred restaurant has amassed more awards than Paul's parents can fit in their attic, and remains a must-try for any Chicago resident (or visitor, for that matter). One of the best ways to experience Blackbird is to enjoy the prix fixe lunch, which offers an appetizer, entrée, and dessert for a cool $25. But you'll have to do it on a weekday, when it's offered from 11:30am to 2pm.
A great way to relax is to sit in a room that's so hot it'll make you feel lightheaded, then to splash a bucket of cold water on your head, and maybe even beat yourself with some dried branches. No really, it is. Red Square is a Russian spa that lets you do all these things, but we recommend stopping in during the week for a quieter visit.
The Newberry Library is one of those gems that people often walk by and wonder about but never seem to visit. What's inside? Free gold.(Maybe?) Also, because it's actually a research library, there are a few visitor restrictions, so we recommend checking out a free tour. There's a Saturday tour at 10:30am, but the one on Thursday at 3pm is less crowded.
Did you know that pinback buttons were patented in 1896? Did you know that you can use ground-up buttons to fertilize your lawn? OK, so that second fun fact is unconfirmed, but you can check out loads of buttons and learn about them too when you visit the Busy Beaver Button Museum on weekdays between 10am and 4pm.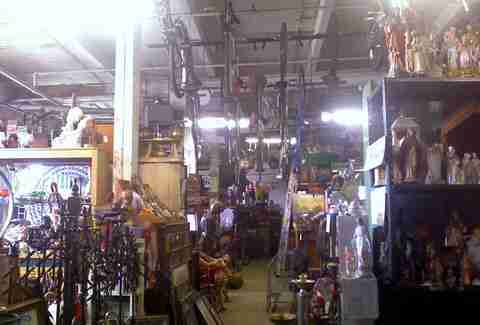 This prop-rental warehouse is filled with the kind of stuff that can turn every day into a rattling acid-flashback. It's closed on weekends, and you'll have to make an appointment ahead of time -- we recommend posing as an eccentric millionaire -- but once inside you'll be able to peruse items such as gramophones, torpedoes, and terrifying turn-of-the-century surgical tools.
Sure, any bar will let you throw back shots until you're sauced enough to think the L train is a great place to practice gymnastics. So why go out of your way to visit Ceres Café? Well, it's got solid food, interesting people, and one of the strongest drinks in Chicago. Also, it's closed on weekends, making it the perfect booze stop on your day off.
Yes, this is a thing that you can -- and totally should -- do.
Chicago has several great, small-sized film theatres where one can go to see classic films, independent flicks, and even student-made projects. However, the Century Centre Cinema in Lakeview not only plays several films daily because of its multiple screens, it does so as early as 1:30pm on weekdays (and noon on Friday), making it the perfect theater to visit after skipping out of work.
Sign up here for our daily Chicago email and be the first to get all the food/drink/fun in town.  
Raf has definitely never called out of work to do any of the things on this list. Hit him up @RafFoSho.