The 11 Women You Will Date in Chicago
Dating is kind of like traveling abroad: at first it's exciting but then you start waking up in weird-smelling places, run out of money, and realize that you don't know what the hell you're doing. Specifically, when you're dating women in Chicago, you're liable to notice some common threads running through the local dating pool (same goes for men too of course). From the highest of high maintenance to borderline trainwrecks, these are the 11 types of single women you'll come across.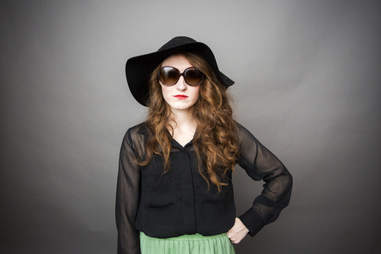 Jim Vondruska/Thrillist
The Scenester
Jess, age 25
Neighborhood: River North
Jess works as an event planner, lives in a new condo, and always looks Instagram-worthy. She constantly finds herself on RSVP lists and work is perpetually interesting. She saw a cool band at Soho House last weekend.  She's gets VIP to music festivals for some reason. She doesn't really like bottle service that much, but her friends get it all the time, so why not? Have you eaten at Momotaro yet? You haven't? You have to try it.
Your first date: Per her suggestion, you meet her at the bar at Nellcôte. You're attracted to her in a bird-sees-bright-plumage kind of way. You can't really tell if she's your type. She casually mentions her trust fund, twice. She disagrees with you a lot, but it seems exciting.
The inevitable breakup: You disagree, often. Spunky turns to abrasive. You get into a heated argument during dinner at a trendy restaurant and before the food arrives, ask for the check as discreetly as possible.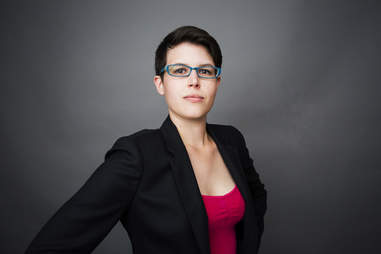 Jim Vondruska/Thrillist
The Startup Gal
Jo, age 32
Neighborhood: Wicker Park
Jo's outfits look like they're straight out of a magazine, probably because she's got the kind of salary that can afford such niceties. She works late, runs in the morning, and many times talks about ROI, but you do get to spend entire weekends at her amazing apartment. She's been at her company for 18 months and is thinking about jumping ship to another startup. The perks are better there, they have these cool chairs and there's a barista on site. Work is important after all, it keeps her eye on retirement. It's the right thing to be doing. She'll take a vacation next year... maybe.
Your first date: Jo meets you for a cocktail at Japonais right after she finishes up work at 8pm. You're super impressed by her smarts, she talks about work a lot, but you think her glasses are hot. Surprisingly, she likes her booze and you finish up the night drinking bourbon at Motel Bar. 
The inevitable breakup: Jo gets a promotion and shortly after she starts asking you about your career plans. Your credit score comes up. Maybe you're just in two different places right now.
Jim Vondruska/Thrillist
The North Shore Girl
Meredith, age 24
Neighborhood: Old Town
Originally from Winnetka, Meredith went to high school at New Trier and then got her communications degree from Georgetown. She's a publicist at a luxury-something company. Work is "fun" and there are a lot of lunches. She dreams of living in a home with a backyard swimming pool (it is her Jeffersonian right). Everything will be okay with a backyard swimming pool.
Your first date: Brunch at RL Restaurant. You watch nervously as she orders mimosas with entitled abandon. She tells you about her ex-boyfriend's art collection and that one time she met one of the Pritzkers at North Shore Country Club. Which one? She doesn't remember.
The inevitable breakup: At first she found dating someone from such a humble background exciting. Eventually, the fancy dinners take a toll on your bank account. You take her out for burgers and beers at a local dive and her excitement wears off, abruptly.
Jim Vondruska/Thrillist
The Night Owl
Andrea, age 27
Neighborhood: Pilsen
Do you know the kind of assholes she has to deal with on a daily basis while she's working at the bar? And don't even get her started on the late hours. On Tuesdays, all these chumps come in for Tinder dates (grape bombs are on special). She's tired, always tired. She went out for drinks after work and things got a bit crazy. Industry night. Pizza for breakfast at 1 pm. She needs a new job, but the money's good. Just a few more months, then she'll put that college degree to use. Definitely. 
Your first date: You go to Skylark on a Monday night and proceed to get wasted.
The inevitable breakup: You get tired of getting wasted on Monday night and hanging out at her bar on the weekends. You break up with her and she seems to take it a little too well.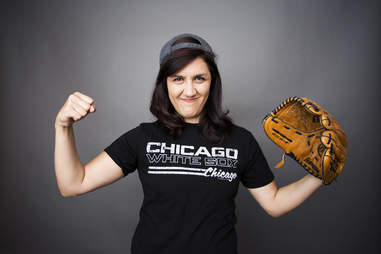 Jim Vondruska/Thrillist
The "One of the Guys" Chick
Jules, age 35
Neighborhood: South Shore
Jules constantly makes fun of you for your lack of knowledge about "the other side of town." She says stuff like "grachkis," "da mare," and "crazy 100s." She knows how to shotgun a beer flawlessly, because she grew up with five brothers. She listens to Bon Jovi and plays in a pretty competitive softball league. The Cubs are the devil.
Your first date: You meet her at Daley's Restaurant and she orders for you. Chops and pop, of course.
The inevitable breakup: One night, after an extra-innings softball loss, she gets too tipsy and calls you a sissy. Also, she lives too far.
Jim Vondruska/Thrillist
The Wannabe Muse
Courtney, age 26
Neighborhood: Logan Square
Courtney moved from Missoula, Montana to the big city to pursue a music career and take advantage of her stunning looks. She works as a waitress, and plays solo shows and open mics around town on her off nights. She has the rock 'n' roll chic look down pat, though she always says that she "just threw this on." She mostly dates guys in sorta-known bands. A friend introduces you, and after seeing her at the bar several more times, you finally get up the courage to ask her out.
Your first date: You go see a local band at Quenchers and share a tater-tot pizza. You can't follow along with which touring guitarist friend she is talking about, but nod along to everything because she's just so damn hot.
The inevitable breakup: She takes a lot of selfies and posts them on Instagram. Guys comment on them. You start to feel insecure, and she smells it like a shark catching a whiff of blood in the water. She dumps you for a drummer.
Jim Vondruska/Thrillist
The Foodie
Susan, age 33
Neighborhood: West Loop
Susan believes that a good meal is always worth the price because it nourishes the soul. She has a lot of Instagram followers (172!) and chronicles her meals like she's Louis Joliet charting Lake Erie. She works from home and has a long list of restaurants that she has to visit. You're not exactly sure what she does for a living, but supposedly it's marketing and she enjoys a lot of perks.
Your first date: You meet at a Cuban joint and eat oxtail stew. She asks you about your favorite restaurants and you struggle to keep up with the conversation. After dinner, you suggest beers at a nearby dive but she takes you to an upscale lounge instead.
The inevitable breakup: You're sick of her referring to chefs you don't know by name, and break things off NOT at dinner. Afterwards, you buy two packages of frozen White Castle cheeseburgers and eat them all.
Jim Vondruska/Thrillist
The Assimilator
Paulina, age 28
Neighborhood: Norwood Park
Paulina immigrated to the States when she was 11 and has lived on the Northwest Side since. Her pops works in construction and her brother owns an auto garage where her cousins hang out all day, even though it never actually looks like anyone is fixing anything. She's a dental assistant by day, but goes out to the club several times a week. You met her when your work friends dragged you to Spybar. She wears a lot of animal print.   
Your first date: Coffee at Café Prague in Dunning. She looks great in a short skirt but asks you a lot of questions about your family and religion. She's nice enough to drop you off afterwards at the Blue Line in her Honda Prelude. It has an aftermarket exhaust and spoiler.
The inevitable breakup: It's fun for a while, but you can't keep up with the late nights and her parents, who you've met, but who have never liked you. She ditches you for a guy with bigger muscles.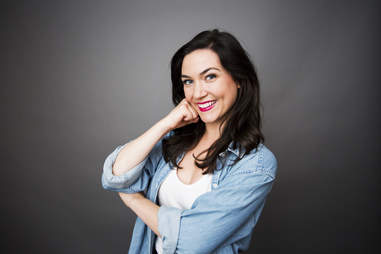 Jim Vondruska/Thrillist
The Fame Seeker  
Lizzie, age 30
Neighborhood: Lakeview
An overachiever even after she graduated Cornell, Lizzie decided to give her comedy/acting/writing career a go in Chicago. She does a standup set on Tuesdays and Thursdays, improv class on Wednesdays and Sundays, and performs in an all-female improv crew on Saturdays. She's also working on a spec script for New Girl.
Your first date: Her friend's improv show, which, thank God, is BYOB. You go out for frozen yogurt afterward and the erotic gestures she makes as the soft swirl comes out are priceless.
The inevitable breakup: Her jam-packed schedule takes a toll on your relationship, and it all boils over when you don't properly mix the audio while recording an episode of her new podcast.
Jim Vondruska/Thrillist
The Fauxhemian
Kelly, age 28
Neighborhood: Humboldt Park
Kelly doesn't listen to The Men anymore. They used to be cool, but now they sound like Wilco. She's listening to a band you've never heard of right now. She saw them at a basement show in a DIY venue last weekend. It was crazy, before the cops showed up. She used to hang out at East Room, but the bartenders there are assholes. Same with The Owl. Go Tavern is cool though.  
Your first date: You drink too many cheap beers and whiskey shots at Longman & Eagle, and make out after sharing a cigarette outside. She has to go home though, because it's late and she actually works at a law firm full-time.  
The inevitable breakup: Eventually, you ask her about her drug use. She makes fun of you for owning a U2 record. The flames of passion go out in a puff of smoke.
The Health Hippie
Allison, 36
Neighborhood: Andersonville
Allison is a project manager at an ad agency and loves telling people that she gets free lunches at work even though she brings her own lunch because she's a strict vegan. She goes foraging once a month and she's taking classes to become a doula (different from a midwife). In her free time, she takes an instructor-certification class at a yoga studio, because she wants to open her own instructor-certification yoga studio. She has a small dog that barks at you every time you see it.
Your first date: Coffee at Intelligentsia. The seats are uncomfortable and you're pining for a whiskey.
The inevitable breakup: One day, at a morning yoga class at Millennium Park, your hangover is too much to bear and you start wondering why you can't sleep in on the weekends like all your friends. You break up with her at a café after drinking your last-ever wheatgrass shot.  
 
Sign up here for our daily Chicago email and be the first to get all the food/drink/fun in town.
Raf loves hearing dating stories from his friends -- especially Bill. Share yours: @RafFoSho.