We're not perfect. We've got issues. Probably about 99 of them, actually. From city and social failures to bad weather and flabbiness, if you searched for a word cloud of Chicago problems, these would be the results:
1. These streets are ruining our pot holes
2. Lake Michigan, now with extra oil
3. That one nice day in March that gives you false hope
4. A Lollapalooza headlined by Skrillex
5. … and Kings of Leon
6. Midwest Accent Denial Syndrome
7. Indecipherable street parking signs
8. The coldest four months ever on record
9. "This baseball helmet sundae is only three pounds"
10. Chicagoland's Rahm propaganda
11. Trolley car screamers
12. Guy bringing his bike on the rush hour train
13. Shady Aldermen
14. Baseball owners playing don't-spend-moneyball
15. Our two seasons: Winter and construction
16. "Can't tell if it's a crime scene or Chicago PD filming"
17. Outsourcing of parking meters
18. "This Bloody Mary only has one slice of pizza in it"
19. Taxi cab TVs on repeat
20. Our river of sewage
21. Food deserts
22. Polar vortexes/vortices
23. Paczki day is but once a year
24. Dibs extremists
25. Frozen dog poop
26. Unfrozen dog poop
27. Out-of-control Divvy bikers
28. The city's segregated like a TV dinner
29. Suburbanites posing as Chicagoans
30. Sleepy train conductors
31. O'Hare serving and delaying the most passengers in the country
32. "This sandwich only has seven deli meats in it"
33. Yoga pants everywhere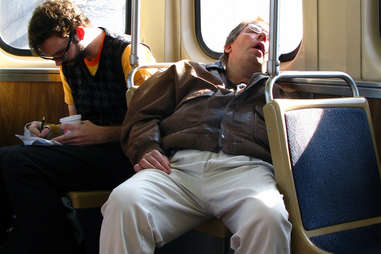 34. The people of the CTA (not the blog, the actual people)
35. Deep dish pizza is now trending in New York
36. "Was that gunshots or fireworks?"
37. The return of paid-parking Sundays
38. Local performers leaving to get famous
39. The city's flirting with a woman named Bankruptcy
40. … and Bankruptcy is really turned on by our unpaid pensions
41. Once a week looking up San Diego's weather reports
42. CTA platform heaters getting turned off two months too soon
43. Julius Peppers on the Packers
44. 300,000 apartments for rent and all their leases end June 1st
45. Once a week looking up plane tickets to the Caribbean
46. The Chicago Spire is on pace to open in 3014
47. Meggings, made in Chicago
48. Ventra
49. Derrick Rose's knees
50. "Chi-rish"
51. Never-ending commutes
52. 9.25% sales tax
53. Carp that will never swim back to Asia
54. Frozen beard hair
55. Clark, the Chicago Cubs first and final mascot
56. "Chi-raq"
57. Tourists
58. Jay Cutler's unvaccinated kids
59. People standing left on the escalator
60. "This cheesecake only has three slices of bacon on it"
61. We're the worst city for bedbugs
62. Our Google is Groupon
63. "Chi-beria"
64. We're a city of neighborhoods… many of which suck
65. How I Met Your Mother taking a needless shot at Chicago in its disaster of a finale
66. Brutal job market
67. Everyone picking the same weekend to mob the beach
68. CM Punk not wrestling
69. Notre Dame alumni
70. Profitable red light cameras
71. Justin Bieber having tarnished the Hawks cup
72. The war between taxis and bikers
73. Our killer crime rates
74. The tamale guy being too elusive
75. Unannounced express trains
76. Schools that are actually out for-ever
77. We have two separate train systems that never intertwine
78. TBOX
79. "This donut is only the size of a human head"
80. Malort face
81. "Visit Montana" ads
82. The trail of St. Patrick's Day destruction
83. Lakeshore rollerbladers
84. Whoever is selling rollerblades in 2014
85. Chief Keef
86. Big Ten sweatshirts everywhere
87. Clothes stained from street salt
88. Home of the formerly tallest building in the US
89. Aggressive joggers
90. Learning about Wiener Circle's chocolate shake the hard way
91. Ventra, still
92. Family in town: who want to go to Navy Pier, The Bean, and The Willis Tower?
93. The Aragon's acoustics
94. Entering month six of not washing your North Face jacket
95. Bucket drumming after about five minutes
96. Thundersnow
97. People complaining about the weather
98. People who complain about people complaining about the weather
99. MJ not even in consideration for the Space Jam sequel
Sean Cooley is Thrillist's Chicago Editor, and you can hear his dulcet tones in a recent WGN radio interview here. Follow him @SeanCooley.