Congratulations, you're throwing a bachelor party in Chicago. While the 312 may not be as famous a destination as Vegas or New Orleans, that doesn't mean you've made a bad decision (yet).
The city is filled with friendly people, a ridiculous number of bars and establishments to pack on some fine Midwestern girth, and, in the summer, is quite probably the greatest city in the history of civilization. So whether you're a seasoned local or a crew of dudes from Ohio who learned everything they know about Chicago from that one scene in American Wedding, you'd be foolish to plan a bachelor party in town without first consulting our ultimate Chicago bachelor party guide. (Not foolish enough to get married though, of course.)
Busy times
Summer: Summer is wedding season. Summer is baseball season. Summer is boating season. Summer is outdoor drinking season. Summer is wear-as-little-clothing-as-possible season. So yeah, summer is bachelor party season.

Bears season: Fall is another excellent option, and taking the crew to a Bears game is something of a local bachelor party tradition. Like throwing things at Jay Cutler.

St. Patrick's Day: If you'd rather lose yourself in a green frenzy of obnoxious people (besides you) who have been drunk since noon (besides you), St. Patrick's Day might be calling your name as well.
… if you don't stay anywhere that doesn't offer free Google Glass to its guests: Yes, The Acme Hotel will make you a Glasshole for no extra charge, but it's also a solid all-around bachelor party option complete with high-end cocktail lounge The Berkshire Room and "Hair of the Dog" hangover kits.

… if you don't stay anywhere that doesn't have an indoor bocce court lined with crushed oyster shells: The newly revamped Chicago Athletic Association's got that, plus rooftop lounge Cindy's, where you can pair martinis and "deceptively evil punches" with plates of meatballs and 2lb cote de boeuf steaks on picnic tables overlooking Millennium Park. Plus, you know, rooms and stuff.

… if you don't stay anywhere that doesn't offer hipster mixtapes with a whiskey lounge beneath it: Longman & Eagle, Chicago's number one hipster bar, offers PBR breakfast, 300+ whiskeys, and is also Chicago's most affordable Michelin-starred restaurant. It's also an excellent place to crash after indulging in too much of either, with chic rooms decked out with Apple TV, vintage cassette mixtapes, and Netflix for your pre-game bromance screening.

… if you want to see how much money you can spend: One of the fanciest rooms in town is the penthouse suite at the Thompson Chicago, which can be yours for only $1,500 a night. The huge bi-level, loft-style rooms feature pool tables and terraces with massive city views that will have you feeling like Gordon Gekko surveying your kingdom (or the dudes from The Hangover).

… if you want to save money while traveling like a European tourist: If you're only planning on using the room as a crash pad, you could do worse than local hostel Holiday Jones. It's cheap, clean, and in a cool local neighborhood within stumbling distance of plenty of quality watering holes.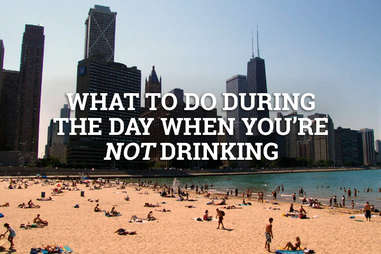 … and want to hit the beach: With towering buildings jutting right up against Downtown beaches, Chicago's beaches may not be America's most pristine but they might be its most fun. (Almost of all them, coincidentally, come with their own beach bar.)

… and want the full Ferris Bueller experience: A Cubs game is a must, a visit to the Art Institute is definitely worth your time, and hell, if you can get on a float during the Von Steuben Day parade, why not?

… and want to go all Tiger Woods (but not the crazy part): For some reason, golf seems to be a pretty popular bachelor party day outing around these parts. And no place is better suited for bachelor parties than Sydney Marovitz, an affordable public course on Lake Michigan where you can hack it up next to killer panoramic views.

… and want to explore the city: A walk around the local neighborhood or a Downtown architecture stroll is never a bad idea, but the best way to see the city might be the newly opened 606 Trail, a recently renovated section of abandoned rail line spanning four Chicago neighborhoods. (And yes, there are plenty of bars and restaurants along the way.)

… and want to shop for some reason: Chicago is famous for its Mag Mile Downtown shopping district, but skip the tourist hordes and head to man-centric neighborhood haunts like Isle of Man instead. You can also rent out party rooms above furniture stores and isolate yourself in flotation tanks, if that's how you chill.
… and want to get out on the water: There are plenty of tourist boats like Wendella and Seadog that will take you out on the water offering drinks and some Vince Vaughn-from-The Break Up-style tour guides. But you'd be better served renting a pontoon boat or a floating Tiki bar with a waterslide and throwing your own party.

… and want to stumble around the neighborhood heckling people: Bar crawls are another popular bachelor party experience, and planning one is easy. Just walk around any bar-heavy neighborhood like Wrigleyville, Wicker Park, Lincoln Park, or Logan Square, and see how many bars you can hit before losing count.

… and want some local flavor: If you're here on a weekend in summer, there's a festival going on. And there's always booze involved.

… and want to brunch like a man: Granted, brunch isn't the most manly of activities, but when you pair it with Chicago's endless selection of ridiculous Bloody Marys, things can escalate pretty quickly.
... if you're willing to wait in line for a great burger: The single burger at Au Cheval and the Neurosis at Kuma's are quite probably the best burgers you will ever taste in your life. Even if you probably have to wait in lines out the door to get them.

... if you want classic Chicago food: The Mother-in-Law at Johnny O's is a tamale on a hot dog bun covered in chili. Rainbow Cone is a local ice cream institution. Taylor Street is home of the original Al's Italian Beef. And deep-dish pizza can best be enjoyed at places like Pequod's. All of them are things you must eat before you die.

… if you want the classic dudes steak dinner: Few things are more traditional to the bachelor party experience than the dudes steak dinner, and few Chicago steakhouses are more traditional than Gene & Georgetti. Stiff drinks and big plates of red meat since 1941? What more do you want? A lap dance?

... if you only dine with celebrity chefs at top-ranked global restaurants: If you want to drop some coin eating green apple helium balloons and black truffle explosions, Grant Achatz's Alinea is the place for you. Or you could also hit up his restaurant Next with its downstairs speakeasy The Office, one of the most exclusive rooms in the city.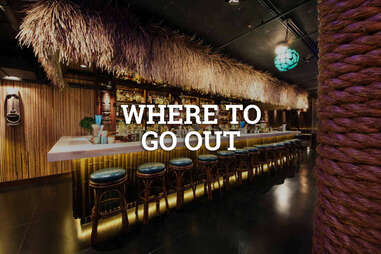 … if you're going to Wrigleyville: Immature, annoying, and way too loud, Wrigleyville is the bachelor party of Chicago neighborhoods. So you'll blend in quite nicely. But if you're looking for a less-obnoxious experience, it has some not-so-terrible bars as well.

… if you're looking for live music: Skip Downtown venues like House of Blues and head to the neighborhoods for some real Chicago music. There's indie rock at Wicker Park clubs like Empty Bottle, punk at South Loop institution Reggie's, late-night country at Carol's, and blues at Logan Square's more off-the-beaten-path Rosa's. And if you're into embarrassing the bachelor with karaoke, Alice's Lounge in Avondale is doing it 'till 4am.

… if you want fancy cocktails (and/or fancy cocktails at secret bars): From top-tier cocktail lounges like Scofflaw to fancy cocktail speakeasies like Violet Hour, Chicago has got the cocktail thing down cold. As well as the fish bowl thing and the drinking-rum-from-glass-skulls-and-treasure-chests-in-a-speakeasy thing too.
… if you want a rooftop bar: One of the best things about Chicago is the skyline view, so (duh) why not enjoy yours with drink in hand? Whether it's summer or the dead of winter, you'll always find a happening scene with jaw-dropping views (of both the skyline and the clientele) at places like ROOF on the Wit and Vertigo Sky Lounge.

… if you want to hang with locals: Yes, you are destined to encounter locals at your corner bar pretty much anywhere in the city. But for the true locals experience, hit up a slashie (part liquor store/part bar) and mingle with grizzled old-timers and a cast of colorful characters quite possibly more drunk than you.
... if you want to drink more: Chicago has no shortage of 4am bars (most of which are open until 5am on Saturdays). As long as you stay away from places like Beaumont and The Store and lean more towards places like Underbar and Old Town Ale House, you'll do just fine. Also, the party at Riff Music Lounge STARTS at 7am.

... if you want drunk food: Mac and cheese grilled cheese? Kit Kat pudding? 5lb burgers with a half-pound of fries? Chicago's got 'em all. And then some. On second thought, it's a bachelor party. Just go to Weiner Circle.

... if you want to go clubbing: If you're all about bottle service and hitting on skinny chain-smoking Eastern European chicks, the clubs are your home. Some of the best options include The Mid (top-tier DJs), Studio Paris (located above Paris Club restaurant) and, if you're still in town by the time Monday rolls around, be sure to cap off your weekend at Evil Olive's Monday night banger Porn & Chicken.

... if you want a 24-hour diner: Chicago is full of 'em, but you'd be wise to head straight to Diner Grill and order The Slinger if you know what's good for you. (Or what's not good for you.)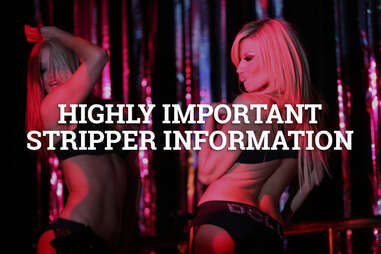 Best for full nudity: The Admiral is the most famous strip club in town and the only place to enjoy full nudity. The downside? No booze. Which, when you're talking strip clubs and bachelor parties, is quite an enormous downside.
Best all-around experience: Pink Monkey lets you bring in booze from outside (which, handily, you can buy next door), the girls are hot, the food (filet mignon and herb-roasted chicken Vesuvio) is good, and if you're really into it, you can become a lifetime member... for only 10k. Grab the bachelor's credit card and sign him up.
Best alternate option: If you want a break from meathead strip club bouncers and $11 drinks, burlesque is a fine and growing option to see some skin in Chicago. Debonair Social Club transforms into a French noir flophouse for the weekly No Tell Motel, and local burlesque acts like Vaudezilla and Kiss Kiss Cabaret perform regularly around the city.

Weirdest experience: If you're looking for something REALLY different and random that you DEFINITELY need to be drunk for, Crabby Kim's is the place to get weird. It's a bikini bar, which means the bartenders wear nothing but bikinis and high heels. It's also a dive bar in the middle of nowhere with questionable clientele, which makes the experience... well, memorable. Unless you black out.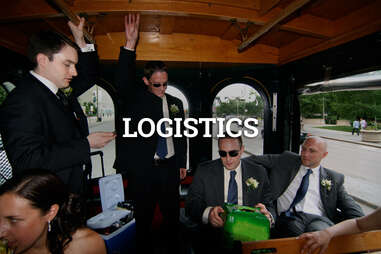 Getting around
Chicago is an easy place to get around. Uber is everywhere, while cabbies are plentiful Downtown and in most neighborhood bar areas. You can also hire drivers at several strip clubs that will pick you up (in the case of PoleKatz, in a Mercedes Sprinter party bus equipped with a stripper pole).

Another classic bachelor party way to get around the city is by trolley. Second City Trolley even maintains its own "bar-hopping fleet."
It's NOT legal to walk down the street with drink in hand
This might seem odd considering the party vibe that envelops much of the city during the weekend, but it's the law. If you encounter a cop and you're cool, he'll probably just ask you to get rid of it. But if you feel like being a douchebag and copping attitude, they can play that game too. And they win it every time.

Expected costs
Like any city, Chicago is what you make of it. You can go high roller and drop 5k a night on bottle service and luxury rooms, or spend $500 for the weekend partying at dives and eating at late-night joints. Bottom line: it's cheaper than the coasts but, if you're coming here from out of town, probably more expensive than whatever Midwest town you're used to acting like a jackass in.

Stop lights are next-to meaningless
Despite a recent effort to crack down on cars running red lights with the installation of red-light cameras throughout the city, Chicago drivers have been known to interpret red lights as optional, so you'd be wise to keep that in mind when stumbling around the city.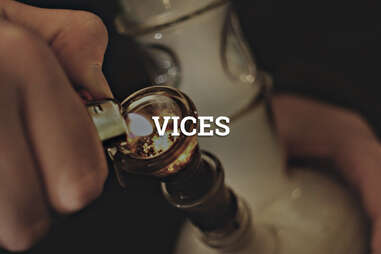 Drugs
Unless you were here during the recent Grateful Dead shows, scoring drugs isn't as easy as hitting up the shady-looking dude mumbling "weed-coke-molly" as he saunters past you. Instead, ask a well-placed VIP host, concierge, or better yet, make friends with locals and ask them. Someone is probably holding something, or knows someone who is.

Prostitution
Yes, there are prostitutes in Chicago. But unless you're willing to travel to some sketchy areas, you won't see them (don't worry, none of them look like Julia Roberts anyways). An alternative to the dirty and dangerous practice of picking up a street walker is an escort service, which is how most business is done these days anyways (Google it). Or you could always ask your stripper for "extras." She might oblige. She also might slap you in the face. And you would be deserving of it.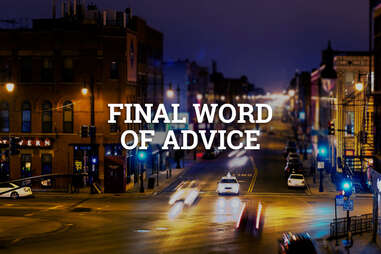 Get out of Downtown and into the neighborhoods and take the time to actually get to know people while you're here. It's one of the best things about Chicago -- you might even end up with a lifelong visitor crash pad. If you wanted to act all privileged and entitled while refusing to look anyone in the eye, you would have gone to NYC.
Sign up here for our daily Chicago email and be the first to get all the food/drink/fun in town.