"Hey, look at us. We're Portland and Austin. We're SO weird." -- Portland and Austin. "What was that? Sorry, we couldn't hear you while we were turtle racing and visiting a poop fountain." -- Chicago. When it comes down to it, we actually hold our own in the city weirdness department, and these 15 things pretty much prove it.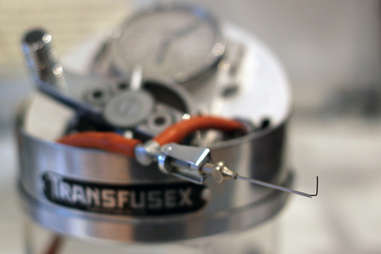 As far as weird museums go, the International Museum of Surgical Science has the biggest muscles and the coolest hair. While some of the displays here verge on downright grotesque, there's really no other place like it in Chicago. Check out the 19th century iron lung, as well as a collection of post-lobotomy human skulls.
Sh*t Fountain
Crafted by internationally known religious sculpture artist Jerzy Kenar, Sh*t Fountain is a sculpture of a big turd that rests on a 3ft-high concrete column. Yes, we're serious. This is a thing.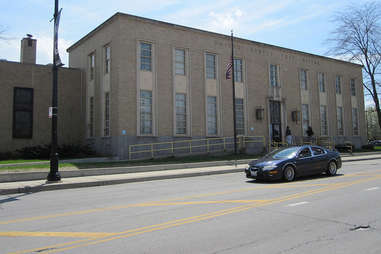 Murder Castle
The 1893 World's Columbian Exposition provided a backdrop for a murderous rampage by Dr. H. H. Holmes, who lured his victims into a trap-filled hotel which he had specifically designed with killing people in mind. Named "Murder Castle," the hotel had asphyxiation chambers, a crematory, and a dissecting table, and was the site of at least 27 (but possibly hundreds) of deaths. While the house has since burned to the ground, a post office currently stands on its original site.
No Pants Subway Ride
As if sitting next to a person who is crying into a cell phone or freestyle rapping to the whole train wasn't enough, your commute may get a lot weirder thanks to the jokesters at Improv Everywhere. Once a year, they organize the No Pants Subway Ride, during which people take off their pants, get on the L, and really crank up the awkwardness level. Why? Why, um, not?
Whether they're filming a small budget film or attempting to recreate a sweat-inducing nightmare, visitors to Zap Props can Lewis-and-Clark a 36,000sqft warehouse that's brimming with oddities. Everything from a deli meat slicer and ship's wheel, to a gold throne and a penny-farthing can be found and rented for a really REALLY awesome weekend.
Carl the umbrella hat guy
Find former Chicago radio DJ Carl Bonafede roaming the streets in his mobile kiosk selling all manner of weird umbrella hats situated atop mannequin heats that're posted on spikes. This guy might be one of our favorite people. Ever.
If the street is the stage of life, then catching a performance by the Puppet Bike is kind of like a night out to a really bizarre opera. Created by artist Jason Trusty, the bike pulls up to busy areas around town and puts on a puppet show for kids, adults, and really, REALLY confused tourists.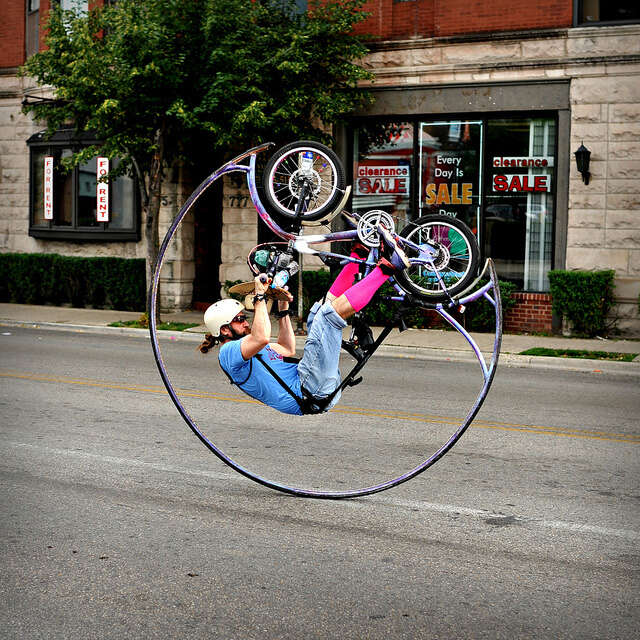 Circle bike dude
The photo pretty much says it all. Don't you think?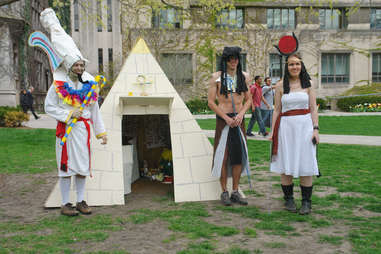 University of Chicago Scavenger Hunt
Also known as Scav Hunt (or Scav), the University of Chicago Scavenger Hunt is a four-day competition where teams compete to acquire items off a list that can probably be best described as "absurd." In the past, notable items have included a live elephant, a Stradivarius, and a breeder nuclear reactor. Hilariously, the team that successfully built the breeder reactor actually came in second place.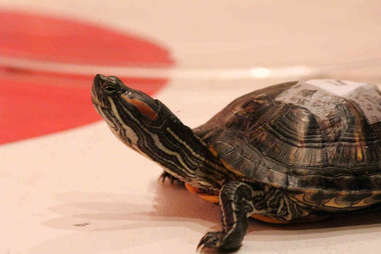 Big Joe's turtle races
The most important part of turtle racing at Big Joe's is realizing that there is an art to it. The second-most important part is keeping an even keel, because you never want to tell anyone that you lost your mortgage on a turtle race.
Pert Cleaners and Antique Fabricare Museum
If you're not getting your formalwear dry-cleaned inside a museum, then you're not doing it right. Fortunately, the staff at Old Irving Park's Pert Cleaners knows how to get your slacks as clean as a never-used whistle. Bonus: while you wait you can check out a variety of old-timey soaps, ironing boards, and steaming machines that show off how folks cleaned back in the awesome-but-not-in-an-ironic-way-mustache days.
Tell your Grandma the button collection she keeps in a shoebox in the attic sucks super hard, and then prove it by showing her the head-spinning assortment of buttons at the Busy Beaver Button Museum. Our favorite? One that simply reads "Down With Pants."
Fancy rugs and Italian leather couches are nice and all, but if you really want to spruce up your pad, how about stopping into Woolly Mammoth Oddities, where you can pick up taxidermied skunks, baby doll heads, human skulls, and violins that sprout wings?
Oasis Café
Ever go shopping for a diamond ring and think: "Boy, I really wish I could get a falafel sandwich right now." Well, you're in luck, because hidden in the back of the Wabash Jewelers Mall, there's a quick-serve Mediterranean joint that offers cheap, tasty eats. Try not to get hummus on your new gold chain.
The Old Country Buffet of auto junkyards, U-Pull-It lets you stroll through a dystopian landscape while ogling row after row of discarded automobiles. You can also grab and remove anything you see, and then pay for it at checkout. It's the perfect spot to get supplies for your engine-block coffee table project.
Sign up here for our daily Chicago email and be the first to get all the food/drink/fun in town.
Raf is a long-tenured Baratheon loyalist and Point Break apologist. You can check out his weird-smelling blog Alley Connoisseur, and follow him at @RafFoSho.