Presented By
There Are So Many Cool Things to Do in Chicago This Summer
There are countless cool things to see, eat, and do in Chicago right now.
Presented By
Don't Tell Comedy

| Photo by Sarah Elizabeth Larson
Don't Tell Comedy

| Photo by Sarah Elizabeth Larson
We've precariously secured AC units in our windows, turned all of last year's jeans into cutoffs, and finally mastered the art of hydration. Chicago summer is still heating up, but we're prepared now—so let's enjoy it while it lasts. From kayaking down the Chicago River to shopping for your next beach book, here are 15 ways to squeeze every last, simmering drop out of Chicago's most lively months.
Outdoor Activities in Chicago
Lake Michigan activities
Sure, you could jump in the lake alone, but it's more fun alongside thousands of fellow floaters. Every Friday throughout the summer, you can join Friday Morning Swim Club at Montrose Harbor for an early morning dip in Lake Michigan. The club started with just eight participants and has since amassed a cult following. If you prefer to stay dry while you appreciate Chicago's waters, set sail on an architecture tour, a culinary cruise, or a party jaunt. Book on Viator or City Cruises.
Chicago River activities
Lake Michigan may get all the hype, but the Chicago River is another one of the city's natural wonders. Stretching 156 miles across the city, the river is home to catfish, carp, beavers, and Chonk, Chicago's infamously hefty snapping turtle. Cast out at one of the city's designated fishing areas, paddle around on a kayak tour, or rent a canoe or kayak and plan an adventure of your own.
When the hustle and bustle of Chicago's lakefront gets to be too much, spend a peaceful hour at one of Chicago's nature conservatories or botanical gardens instead. Chicago Botanic Garden, Garfield Park Conservatory, Lincoln Park Conservatory, Japanese Garden, and Oak Park Conservatory are beautiful spaces where you can rest, recharge, and—of course—take countless selfies. Chicago Botanic Garden has a full calendar of events for nature lovers, including jazz nights, mosaic workshops, live sound meditations, "forest bathing" experiences, and more.
Arts & Entertainment in Chicago
Theater in Chicago
Chicago has served as a theater hub since the mid-1800s, and the city continues to offer a wide range of stage acts that suit a variety of budgets. See an award-winning play at the Goodman Theater or Steppenwolf, catch a free variety show like the Paper Machete at the historic Green Mill Cocktail Lounge, or explore one of Chicago's many storefront theaters. The Neo-Futurist Theater is home to the late night show The Infinite Wrench, which entails 30 original plays performed in 60 minutes—and the audience chooses the order. Don't forget to check out local youth ensembles at the Albany Park Theater Project and Free Street Theater, too.
Chicago blues venues
In the 1940s, Chicago musicians like Muddy Waters, Willie Dixon, Howlin' Wolf, and John Lee Hooker transformed the acoustic "Delta blues" into the electric "Chicago blues," leaving a lasting mark on the genre—and you can still appreciate the blues right here in Chicago. Visit intimate music spots like Rosa's Lounge, Buddy Guy's, Blue Chicago, and Kingston Mines, Chicago's oldest and largest continuously running blues club. Swing through the Chicago Blues Festival, which happens every year in June, to catch traveling acts, local bands, and barbecue.
Chicago comedy clubs
Chicago is well-known for its comedy scene. Venues like Zanie's, Laugh Factory, and The Second City serve up stand-up, improv, and sketch comedy all year, but in the summer, you might be craving outdoor laughs. Comedy Bar's Rooftop Comedy series runs through September 10 on the venue's rooftop patio. If you buy a ticket to one of Don't Tell Comedy's BYOB secret shows, you won't know the name of the venue until the day of the performance—but you might get lucky with an outdoor spot.
Indie bookstores
Introverts, rejoice! Chicago is home to a number of independent bookstores that will help you keep your tote bag stocked with plenty of summer beach reading. Comic book and zine lovers will adore Quimby's, and theater geeks will appreciate The Understudy Coffee & Books, which offers a wide selection of plays. Operating since 1979, Women & Children First is one of the largest feminist bookstores in the country. Check out their children's section for an inclusive, empowering selection of kids' books. The Black-woman-owned Semicolon Bookstore & Gallery is temporarily closed for renovations, but don't worry—you can still shop Semicolon online.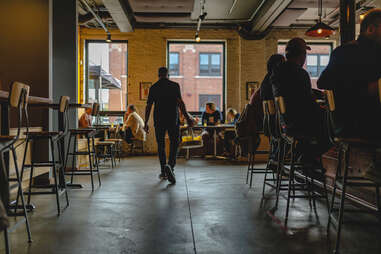 Food & Drink in Chicago
Chicago cooks up more than deep dish pizza, and in the summer, a Chicago-style hot dog from the Wiener's Circle hits the spot. If a classic Chicago sandwich is what you crave, order an Italian beef at Mr. Beef, which inspired Hulu's The Bear; or head to Borinquen Restaurant for a jibarito, which is served on fried plantains instead of bread. Juan "Peter" Figueroa introduced the jibarito at Borinquen in 1996, and it's been a local staple ever since. Want to cook up your own Chicago classic at home? Shop the city's farmers markets to gather ingredients from local vendors.
Beloved bakeries
Still hungry? Chicago's bakeries will satisfy your sweet tooth year-round. Grab cheesecake and other hand-made sweets at Bronzeville's Eméché Cakery and Cafe, pick up Southern-style goods at Chatham's Brown Sugar Bakery, or visit Humboldt Park's Roeser's Bakery, which has been operating since 1911. If you really want to get baked, mosey over to Wake-n-Bake, where you'll find cannabis-infused coffee, tea, baked goods, and more. Of course, you might need a colder treat on those blazing hot days—in that case, head to Fruityland for a cold and spicy mangonada.
No matter which part of the city you're exploring, you're never far from one of Chicago's many breweries or distilleries—so you better quench your thirst with a local brew. Tour Dovetail Brewery, Goose Island's Fulton Street Brewery, or Revolution Brewing. Then stick around in the taproom and order a flight. Chicago has also amassed a number of cideries, including the woman-owned Eris Brewery and Cider House, which has a dog-friendly patio that's perfect for summer nights. Hard liquor lovers can explore Koval Distillery or—if you're feeling brave—cH Distillery, where Chicago's beloved and bitter beverage Malört is made.
Other Fun Things to Do in Chicago
Outdoor dancing lessons
It's time to stop putting it off—this is the summer when you'll learn how to dance. How else will you manage to own the dance circle at your next wedding reception? The Chicago SummerDance series offers free, beginner-friendly lessons for movers of all ages and experience levels. They're all taught by professional instructors in local parks throughout the city. Each class is followed by live music and—you guessed it—more dancing. If you're curious about different dance styles but don't want to trip over your own feet in public, check out Ballroom Dance Chicago for private lessons.
Bird's eye views
Sometimes you need a view from the top to put things into perspective. Fortunately, Chicago offers plenty of opportunities to gaze down on the Windy City—and the view is especially stunning in the summer months. Take a ride on the Navy Pier Centennial Wheel, which soars nearly 200 feet into the air; enjoy a photo opp on the Willis Tower's Skydeck; or take the elevator up to the former John Hancock Center's Observation Deck and enjoy the 360 view. The Observation Deck is also home to CloudBar; the TILT ride, which leans 1,030 feet above the Magnificent Mile; and even a yoga studio. Of course, there are lower-key options, too, like Cindy's rooftop bar, which is perched on the 13th floor of the Chicago Athletic Association, or Devereaux, a poolside rooftop lounge with a swanky atmosphere.
Whether you're queer, trans, or an enthusiastic ally, Chicago's thriving LGBTQ+ community has plenty to offer. LGBTQ+ folks can enjoy the city's many gay bars, venture to one of the city's new lesbian bars—the Black-woman-owned Nobody's Darling in Andersonville and Dorothy Downstairs in Ukranian Village—or catch one of Chicago's rotating queer events. Quiet queer folks and allies may prefer spaces like the Gerber/Hart Library and Archive, which has been preserving LGBTQ+ culture since 1981. The city also has plenty of LGBTQ-owned businesses to support, including Unabridged Bookstore, Jennivee's Bakery, Taylor's Tacos, and sex shop Early to Bed.
School may be out for summer, but it's always a good time to learn about Chicago's rich history. Check out the Chicago History Museum for an overview of Chicago's roots; stop by Jane Addams Hull-House Museum to study up on social justice issues of Chicago's past and present; or visit the DuSable Museum, which offers a number of Chicago-centered Black history exhibits. Adventurous adults will appreciate the Leather Archives and Museum, which houses BDSM cultural relics from Chicago and beyond. If touring historical sites better suits your learning style, sign up for a historical walking tour, a boat tour, or a bus outing like one of the Chicago Mahogany Tours, a historical tour of the city's South Side neighborhoods led by Chicago's favorite TikTok historian Shermann "Dilla" Thomas.
Ghost tours and other spooky activities
Spooky stuff isn't just for Hallowen. Let out your inner goth this summer while you stroll through one of Chicago's stunning historic cemeteries or scare yourself on a ghost tour. If you're desperate for an air-conditioned experience, morbid meanderers with strong stomachs can brave the Medieval Torture Museum, which displays the Middle Ages' most gruesome torture devices, or the International Museum of Surgical Science, which houses medical specimens, historic medical equipment, and art exploring the evolution of surgical technology. Need supplies for your spooky adventure? Stop at Chicago's "Goth Target" on the corner of State and Madison.
Ro White is a contributor for Thrillist.