There's a whole lot of Chicago to love -- the unparalleled food, the plentiful drinks, the endless stream of events, for example -- but chances are you've been neglecting it. Maybe you've been shaken from your slumber because you have to play host, or maybe you've suddenly decided that a life based solely around Netflix is not worth living. Either way, heading straight for The Bean isn't going to cut it.
If you want someone to fall in love with Chicago, or if you want to fall in love with Chicago all over again, we recommend looking a little deeper for the things that are truly worth doing. Luckily for you, we've compiled a list solely composed of those things -- activities that you, your guest, and frankly anyone alive will get excited about.
 
And don't worry: None of them involve Navy Pier.
Recommended Video
Timothy DeLaGhetto and David So Devour all the Bacon at the Blue Ribbon Bacon Festival
Shoot a bow and arrow (or chuck axes at a wall)
If your crew is seeking local activities that lean on the more unique side, you can always point them in the direction of Archery Bow Range Chicago, a hidden gem in Humboldt Park that offers everything from walk-in archery (which they call "open shooting") for newbies to leagues for expert Robin Hood wannabes. Meanwhile, those who want to take out their aggression on an innocent wall can head over to local ax-throwing bar BATL Chicago, which combines ax-throwing with a full bar and kitchen. What could possibly go wrong?
Hike the glorious Chicago Outerbelt
The next time someone tells you there's no such this as nature in Chicago, point them in the direction of the Chicago Outerbelt (after you're done mocking them mercilessly). The Outerbelt is a recently discovered 210-mile greenbelt surrounding the entire metro area, with sections cutting across Lake Michigan and camping available at several Cook County Forest Preserve sites. After you've had your fill of nature, emerge from the forest and walk over to a local bar like Imperial Oak or refuel with some BBQ at old-school icon Russell's Barbecue.
Cruise Chicago's Emerald Necklace
If your mind is drifting more into scenic drive terrain, you could certainly cruise Lake Shore Drive. And by all means, you should. But for a more lesser-known option that allows you to see the actual beating heart of the city instead of just highway, seek out Chicago's Emerald Necklace, a leafy 26-mile network of interior city streets and wide tree-lined boulevards. Linking together some of the city most grandiose parks like Humboldt, Garfield, Washington, and Jackson parks, this is the way Chicago was meant to be seen.
Two words: turtle racing
Chicago is a city filled with not only an array of glorious sports bars, but also a number of ridiculous sports you can take part in yourself. So even if you're not on the field at Wrigley or Soldier, you can still get in on the action by doing some winter ice curling at local bar Kaiser Tiger or honing your shuffleboard skills (with cocktails) at the hip Royal Palms. But of all the local sports going down at local bars, none reign as supreme as the legendary and long-running turtle racing that goes down every Friday night at Big Joe's. Just remember: There are rules.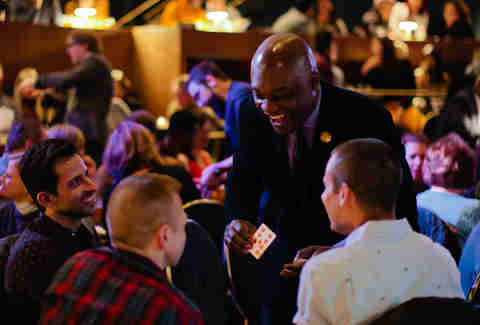 Suddenly appear at an underground magic lounge
Do you like magic? Do you like magic in a sleek cocktail bar setting with a "secret" entrance? Then you'll love Chicago Magic Lounge, a speakeasy-style performance venue you can access through the laundromat of the former 1940s-era commercial laundry facility. But instead of cheesy David Copperfield tricks or The Incredible Burt Wonderstone, you'll discover a cool nightclub vibe with a 120-seat cabaret theater, magicians doing tricks behind the art deco bar, and the likes of pork belly sliders and Publican sausage boards inside a cool 7,200-square-foot space. Probably a better way to impress out-of-towners than the old quarter-behind-the-ear trick.
Take part in one of Chicago's many absurd food challenges
It's no secret than Chicagoans like to eat. Often to excess. Sometimes to the point of parody. But at least you get a free T-shirt. Such is the case at Downtown's casual hang Rudy's Bar & Grille, where ordering the Challenger Burger -- and finishing it within 30 minutes -- will result in you being served a ridiculous 5 and a half pounds of food in a skillet that not only gets you a free shirt, but also a $100 gift certificate, the burger comped, and your signature on the wall. If you're more of a grilled cheese fanatic, head over to local grilled cheese emporium Cheesie's to devour either 5 or 8 pounds of grilled cheese on gargantuan 8- or 16-foot sandwiches to win gift cards, "unlimited high fives," and other prizes. And that's just the start of the madness.
Explore Chicago's red light district
Chicago may be far from Amsterdam, but legal weed is coming next year, and the city does offer more than its fair share of history than leans on the seedy side. Discover some of the city's underbelly as it was experienced in the early 1900s aboard Weird Chicago's Sinner, Victims & Vice: Red Light District Pub Crawl. Back by popular demand, the adults-only bus tour spills the beans on the city's historic vice districts, brothels, and sorted scandals along with plenty of stories you probably won't hear from the local tourism department. Or you could go to the Bean and snap a selfie like everyone else. Your choice.
Get lit at Blacklight Blackout
Hey, hey you. Do you like to party? Do you like to party with free UV-reactive body paint on a crazy blacklit second floor chain link-fenced-in dance floor at a local biker bar? Then you'll love Blacklight Blackout, the eight-years-strong-running monthly rager going down till 4am at Exit with a rotating cast of DJs, special guests, and all manner of insanity. Makes that Bob Marley blacklight poster you had in your college dorm room look pretty tame, right?
Close down a 4am bar
"Don't bother with churches, government buildings or city squares. If you want to know about a culture, spend a night in its bars." Hemingway apparently said that, and who are we to argue? Chicago may not have the 24-hour bar scenes of, say, New Orleans or Las Vegas, but that doesn't mean we don't like to keep the party running late. Chicago's 4am bars (open until 5 on Saturdays) are a notorious bunch and a local rite of passage, ranging from the nudie-painted glory of Old Town Ale House to the do-not-enter-after-age-30 crowd at Beaumont. You've been warned. 
Go skydiving… indoors
If you are your crew are up for some adventure (but not too much adventure), why not try some indoor skydiving? VR experiences give you the full sensation of flight, without the risk of unceremoniously falling to your death. iFLY in Lincoln Park can take you to scenic virtual locations such as base jumping in the Alps or flying over Hawaii. The only downside? No VR experience that allows you to skydive-chase an outlaw Patrick Swayze a la Johnny Utah from Point Break. But that doesn't mean you can't suggest it.
Chill in any of our many parks
Free
Various locations
As the oldest and one of the largest park districts in the US, the Chicago Park District operates 580 parks that stretch out across 8,100 acres of municipal parkland. It would be a shame not to pay at least one of them a visit for an urban nature escape. Lincoln Park and Grant Park get most of the visitor's attention, but Humboldt Park and Jackson Park are other less-visited crown jewels of the park system that you would be a prince to introduce your crew to.
Hike the glorious 606
Free
Runs along Bloomingdale Trail between Ashland and Ridgeway
Modeled after NYC's High Line, The 606 urban hiking trail is the best way to see the city's neighborhoods with a little nature thrown into the mix. The 2.7-mile elevated pathway along an old railway line passes through neighborhoods like Bucktown, Logan Square, and Humboldt Park, with plenty of cool bars and restaurants along the way to stop off at for a little pick-me-up, including Handlebar and Weegee's Lounge.
Stroll the lakefront across a stretch of neighborhoods
Free
Various locations
You ain't seen Chicago until you've seen Chicago from the lakefront. Make it happen (for free) by strolling any portion of the 18-mile lakefront path from Ardmore Street to 71st. You can also tour by Divvy bike or Segway if you've already ingested too much Italian sausage.
Free
Streeterville
Chicago beaches are one of the best things about Chicago summer, yours to enjoy at less crowded but still centrally located spots like the criminally underrated Ohio Street Beach. With its on-site Caffe Oliva slinging drinks and fish tacos with the downtown buildings to one side and the equally underrated Milton Lee Olive Park on the other, there's not a bad view to be had.
Devour an Italian beef sandwich
$
Little Italy/University Village
No doubt Johnnie's Beef in suburban Elmwood Park certainly makes a damn fine Italian beef sandwich. But if you're in the city with out-of-towners and want to show them a unique slice of life, a trip to Chicago's Little Italy/University Village neighborhood should be high on your agenda. Pair your beef sandwich from the historic neighborhood Al's Beef stand with an Italian ice from Mario's Italian Ice to give your visitors a a damn fine taste of old-school Chicago.
$-$$
Downtown
Perhaps the number one touristy activity that locals will be most secretly psyched to participate in is a cruise on the Chicago River. Yes, the boozy variety is an option, but as your fourth-grade teacher once said, you're here so you might as well learn something. The Chicago Architecture Center runs an excellent 90-minute river cruise aboard Chicago's First Lady (with a bar on the boat offering up a heady Chicago Mule, so there ya go). CAC volunteers talk you through the architectural styles, historic landmarks, and new developments that mix and mash along Chicago's gorgeous riverfront, like the very tremendous Trump Tower, those towers from the Wilco album cover, and the Sears, er, the Willis Tower.
Do deep dish -- the right way
$
Various locations
So yeah, most out-of-towners will inevitably inquire about deep dish pizza at some point in the conversation. While you can tell them that that Chicagoans by far prefer thin-crust pizza and that the tourist-packed deep dish joints downtown are akin to Michael Scott's visit to the Times Square Sbarro, there are still neighborhood joints doing deep dish the right way. Pequod's in Lincoln Park is a fine example within city limits, with Burt's Place out in suburban Grove is more than worthy of a little road trip.
Understand why the Chicago-style hot dog is the only style
$
Various locations
Complete the holy trinity of Chicago food by taking down a Chicago-style hot dog at a local institution like retro drive-in Superdawg, which hasn't changed much since opening in 1948. Or if you're particularly hungry, a trip to The Weiner's Circle may be in the offing. Just be prepared; it's one of Chicago's most foul-mouthed culinary experiences.
$
South Loop
It's been a last meal request. It's been a hangover cure. President Obama dined there. As did President Clinton. As did just about every politician who ever set foot in Chicago. And so should you. Power lunch on a Reuben or beef pastrami in this legendary cafeteria-style diner where business (and the occasional shady deal, of course) gets done in Chicago.
Catch some live comedy
$-$$
Various locations
Second City may be the most famous comedy venue in the city, but you can also catch drinking game performances at The Cornservatory or up-and-coming comics at the Lincoln Lodge -- America's longest-running, independently run comedy show -- at Under the Gun Theater. There's even Improvised Shakespeare at the iO Theater and a range of live productions in the back of a brewery at Haymarket Pub's Drinking & Writing Theater. You can also catch stand-up in bars at locations like Timothy O'Toole's, home of the weekly Comedians You Should Know series. Get the full rundown of our best comedy spots here.
Get weird at a weird museum
$
Various locations
While a trip to the Museum of Science & Industry or Shedd Aquarium is never a bad idea, did you know Chicago also hosts a Video Game Art Gallery? And a leather museum with bondage exhibits? And a creepy International Museum of Surgical Sciences which houses medical artifacts like amputation saws and a plaster mask made from the death mask of Napoleon? Bottom line: We've got some amazing museums, and there's no shortage of places to get weird on a rainy day in Chicago.
Visit the South Side to find under-the-radar art
$
Various locations
Head down to the South Side to seek out a pair of the city's most underrated art museums including the Stony Island Arts Bank (housed in a historic bank building) and University of Chicago's Smart Museum of Art. Meanwhile, there's always something interesting going on -- including live music performances and other eclectic underground events -- at Bridgeport experimental arts spaces like Co-Prosperity Sphere and Zhou B Arts Center.
Explore Chinatown (by foot or by boat)
$
Various locations
Your guests will feel like they've entered another world when they enter Chicago's Chinatown, where a food tour seems like as good an idea as anything. You can also check out a secret ping-pong club in a Chinatown back alley and, for a truly authentic experience not a lot of tourists know about, ride the water taxi in from Ping Tom Memorial Park.
Catch a show at any of Chicago's live music venues
$-$$
Various locations
Whether you're grooving to indie rock at Empty Bottle or head-banging to punk at Reggie's, there's never a dull moment in Chicago's thriving underground music scene. The Hideout (which has a bizarre history) is another local gem, and, if that's not enough, you've got plenty of good old-fashioned bars regularly serving up live music as well (California Clipper, anyone?).
Try a shot of Malort at one of our many dive bars
$-$$
Various locations
All cities have dive bars, of course. But in what other city are they as integral to the fabric of the local culture as Chicago? Debate such heady questions at shining (or not-so-shining) beacons of local dive bar glory like Old Town Ale House, which the late Roger Ebert called "The best bar in the world that I know about." Tour them by neighborhood or, if you really want to go off the map, venture into these largely unknown dens of dive bar obscurity. Not sure if you're in a real Chicago dive? Look for the signs and the Malort, one of our finest liqueur innovations.
Sip on drinks and make new friends at a slashie
$-$$
Various locations
Dive bars are one thing, but many out-of-towners have a strange fascination with the Chicago slashie. Half bar/half liquor store, these dwindling palaces of local intrigue can be found in select locations across the city (if you know where to look). But if you had to pick one, a visit to the iconic Rite Liquors is a must for any adventurous itinerary.
... Or splurge big on a fancy dinner at the legendary Alinea
$$$
Lincoln Park
There are restaurants, and then there are the most expensive restaurants around. But you only live once, as the kids like to say, so if your friends happen to be of the well-heeled variety, let that YOLO spirit guide you to one of Chicago's (and the world's) top restaurants. The world-famous Alinea is a spot you should visit at least once in your lifetime. And if someone else is picking up the tab, even better.
$-$$
Various locations
Chicago is blessed with a large and diverse base of neighborhood record stores, which will help any out-of-town guest get a feel for the hood they are exploring. From Reckless Records in Wicker Park to Hyde Park Records in Hyde Park, there are plenty of cool new sounds (and vinyl) on offer from Chicago's welcoming music head community.
Pair craft beer with Donkey Kong at an arcade bar like Emporium
$-$$
Logan Square
Looking to relive your childhood glory by playing games of Space Invaders with a joystick in one hand and an ice-cold Revolution beer in the other? Then it might be time to pay a visit to one of Chicago's arcade bars, the most famous of which would be the Emporium empire spread out across the city -- hands-down one of our best bars in the city. The Logan Square location is a particularly lively place, with plenty of year-round special events and diversions (including themed pop-ups) that will happily eat up hours of your time.
$-$$
Uptown
Jazz fans will find plenty to love at Chicago's legendary Green Mill, formerly Al Capone's favorite bar and one of the oldest bars in the city. These days, it's one of the top jazz clubs in the nation that also hosts an array of eclectic events from poetry slams to a weekly "live magazine." With stiff drinks and a bustling dance floor, it's also the kind of place that makes you instantly feel cooler just by walking through the door.
Hit an indie bookstore (yes, they still exist)
$-$$
Various locations
Think Amazon destroyed the local indie bookstore? Think again when you visit Chicago. Like record stores, Chicago maintains a number of great neighborhood shops where you can take in the local culture while expanding your cultural knowledge. Wicker Park has a nice collection of shops including Myopic Books and Quimby's, while Armadillo's Pillow is a North Side gem in Rogers Park. For a bit more of an out-there appeal, try Space Oddities in Humboldt Park or Challengers Comics in Logan Square.
$-$$
Various locations
Craft beer is big business in Chicago. And while most people have heard of Goose Island, the city is teeming with an array of craft breweries and new tap rooms from the big boys of Revolution and Lagunitas to the more locally known Off Color and Marz. Most breweries offer free tours, which is never a bad way to spend an afternoon when you need to entertain for a few hours with minimal effort.
Map out a world-class donut crawl
$-$$
Various locations
Chicagoans don't have a problem with a little extra Midwestern girth, especially following another grueling winter trapped in cold and darkness. If you want to truly experience the city like the locals do, you should also eat like they do. Which means eating donuts. Lots of them. Try creating your own crawl of any of the best donuts in Chicago or sit back and leave it to the experts. Either way, you can't go wrong with a visit to Do-Rite, one of the best in the nation.
... Or take a boozy boat tour
$$     
Various locations
On a nice summer day in Chicago, there's no better way to see the city than by boat (just ask Vince Vaughn in The Break-Up). But not all booze cruises are created equal. From laid-back architecture tours to raucous floating tiki bars (with waterslides) that you can rent out with 70 of your idiot friends, Chicago knows that this is the best way to enjoy its picturesque lake and river views.
$$-$$$
Various locations
Instead of dragging your out-of-town guests to some stupid skyscraper tourist trap, let them enjoy the jaw-dropping views while hanging out with real-life actual Chicagoans at one of the many excellent rooftop bars that dominate the city skyline. Drumbar in Streeterviller, the J. Parker in Lincoln Park, and Cindy's in the Loop are all fine options. And several of our rooftop bars are open year-round, so you have no excuse not to pay at least one of them a visit.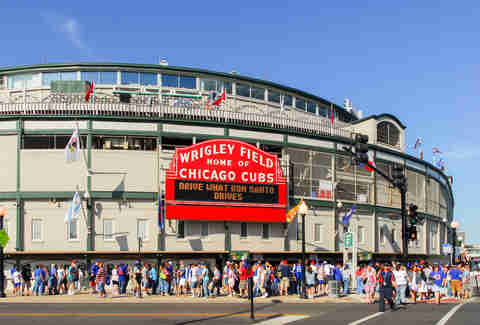 Go full Ferris Bueller at a Cubs game
$$$
Wrigleyville
You didn't actually think we were going to get to the end of this list without mentioning a Cubs game, did you? Is it touristy? Yes. Is it expensive? Yes. Is it worth it? Hell yes. Ferris Bueller was not wrong when he bailed on his responsibilities to pay homage to one of America's most iconic ballparks. And if you're in town when the Cubs are playing and you don't meander over to Wrigley to take in a game, you might as well be Ed Rooney.
And finally, make a pilgrimage to the Shit Fountain
Free
Ukrainian Village
The Art Institute of Chicago and Museum of Contemporary Art are well-known institutions of fine art that are more than worthy of a visit, but street art is where the city's gems can be found. Tour the colorful street murals of Pilsen or head to Ukrainian Village to behold the one and only Shit Fountain: a human feces-shaped sculpture on a residential front lawn created by a Chicagoan fed up with dog poop. Cheers.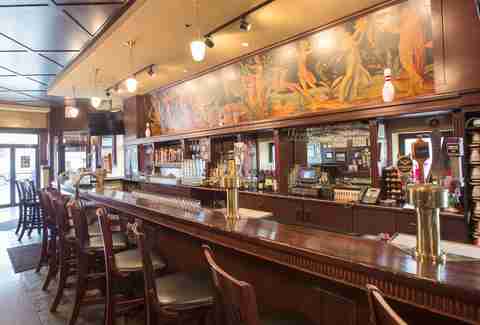 $$
Lakeview
We get it -- not everyone is into bowling. But Southport Lanes is a must-see for anyone visiting Chicago. The old bar has a history as a speakeasy with a brothel upstairs, and while things are much more legitimate and family-friendly now, it's still got that old Chicago vibe, including real-life, human pin-setters who like to get involved in the game. Be ready to tip the pin-setters with cash and keep score by hand, and enjoy a beer at one of the few old neighborhood bars left on the swanky Southport Corridor.
Free-$
Pilsen
Forbes recently named Pilsen one of the coolest neighborhoods in the world, and they're not wrong. Wander through this vibrant Mexican neighborhood to take in some beautiful street art and eat some equally beautiful tacos. Be sure to hit up the National Museum of Mexican Art, which is free for everyone, every day of the year (closed on Mondays). Hot tip: Swing by Don Churro at 1626 S. Blue Island Avenue for some delicious, no-frills, no-fuss dessert.
$
Lakeview, Logan Square
One of the coolest things about Chicago is the Music Box Theatre, a 90-year-old movie palace in the Lakeview neighborhood that plays all kinds of films, old and new, in two theaters. Get there early to catch a drink in the lounge and (if you're lucky) to listen to a live organist before show time. If you're closer to the Northwest side, hit up Logan Theatre.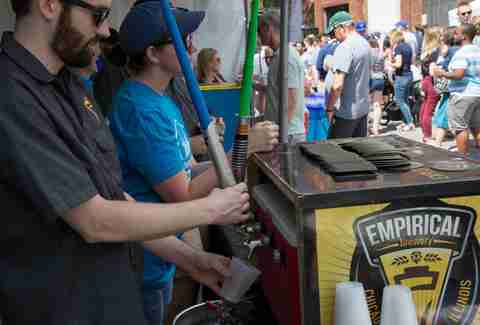 Free-$$$
Ravenswood
Over the past few years, Ravenswood has really stepped up as a great spot for creatives of all kinds: It's been called "the new Printers Row" because of all the screenprinters popping up in once-vacant industrial spaces; it's home to Malt Row, featuring eight breweries in walking distance; and it features Lillstreet Art Center, one of the best-known ceramics facilities and galleries in the country.
Free
Downtown
Yes, go see The Bean, but if your friends are into iconic public art works, don't stop there. Swing by the "Chicago Picasso," or the Calder "Flamingo," or the Tiffany dome in the Chicago Cultural Center. Head down to the southern end of Grant Park to walk among the giant, headless sculptures that make up "Agora." Take a selfie with the Art Institute lions. If it's summertime, catch the Buckingham Fountain while it's on. The concentration of world-class public art in downtown Chicago is astounding and not to be missed.
Sign up here for our daily Chicago email and be the first to get all the food/drink/fun in town.