"Why the hell do we live here?" is a question you often hear muttered through frozen lips during the dark days of Chicago Winter, for which there is only one real answer: Summer. More specifically, July. So do the month right by adding these 12 things to your "Far Side" calendar.
Recommended Video
Get Fit and Look Like A Badass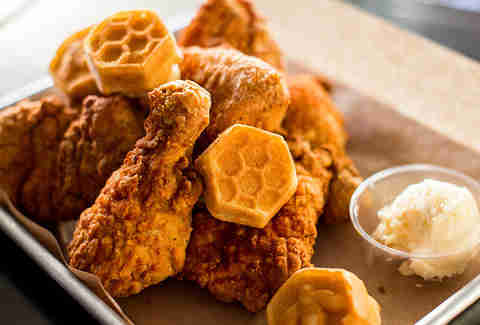 When: July 3-4 (order by July 2)
Where: Wherever the hell you want, as long as it's legal
There's crack, and then there's Honey Butter Fried Chicken. The jury's still out on which is more addictive. Get your fix with an eight-piece fried chicken meal for four with corn muffins, slaw, pasta salad, and four chocolate toffee cookies, all neatly boxed with plenty of hand wipes. Because nothing ruins a picnic faster than t-shirts that double as napkins. (Pickup at 3361 N. Elston Ave.)

Rave like it's 1999 at Chicago's newest music festival
When: July 4-6
Where: Along the Chicago River at Elston & Division
The bad news: Montrose Beach's Wavefront Music Festival went underwater this year. The good news: the River West Music Festival has taken its place, lining the Chicago River with a generous second wave of bikinis and beats. With a deep line up of EDM heavies from Erick Morillo to Rusko to Excision, you might not quite feel like you're in the '90s, but at least you can rave like it.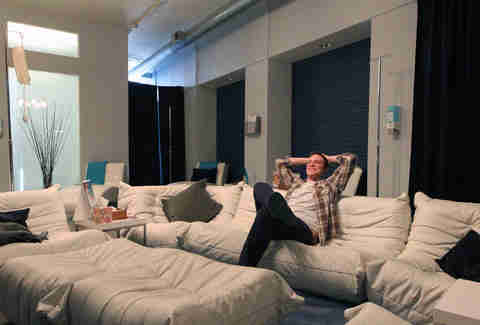 Avoid a 4th of July weekend burnout with the help of an IV
When: July 4-7
Where: IVMe (address and info)
It's a big weekend. You don't want to waste time nursing a hangover. So instead of getting your stomach pumped, head over to IVme and take advantage of its handy 4th of July Weekend Recovery Package, which involves you strapping yourself into a plush sofa for a hangover-killing intravenous influx of fluids and medications. They call it "hydration therapy". It's kind of like corking the bat, but we won't tell.

Do your part in eliminating the bison population
When: July 5
Where: Frontier (address and info)
Bison burgers? Check. Bison hot dogs? Check. Park Rangers? Nowhere to be found. This bison-slaughtering expedition is totally above board, and officially sanctioned by Lagunitas and Metropolitan Brewing at Frontier's All-American Bison BBQ + Craft Beer Sampling. Proud to be an American? Hell yes.
Party with a BBQ world champion (while eating like... a BBQ world champion)
When: July 11-13
Where: Grand Avenue and the Chicago River
Get an early taste of New York-based Dinosaur Bar-B-Que (coming to Chicago in 2015) -- as well as repeat tastes of local BBQ favorites like Smoque, Lillie's Q, and Bub City -- while learning the ins and outs of the art of 'cue from three-time BBQ World Champion Myron Mixon at the Windy City Smokeout. Challenge him to a cook-off. Lose. And don't care.

Have a happy St. Patrick's Day... in July
When: July 11-13
Where: Irish-American Heritage Center (address and info)
Can't wait until next March for your green beer fix? Not to worry, the Irish-American Heritage Festival has you covered, along with 100+ Irish bands, a mashed potato-eating contest, and plenty of dudes in kilts. Warning: if you don't like bagpipe music, this may not be the event for you.

Eat hot dogs in a parking lot (all the cool kids are doing it)
When: July 12
Where: Schubas Tavern (address and info)
Assemble in the Schubas parking lot for a backyard throwdown at the Gapers Block Hot Dog Cookoff, where local chefs from esteemed encased meateries such as Kuma's Corner, ManBQue, and Fat Rice offer new spins on an old classic. Potential Frankenstein's monsters include sushi hot dogs and hot dog donuts. The only thing for sure, though? An endless supply of Old Style.

Quench your thirst with a Bloody Mary BURGER
When: July 12-13
Where: North Center
From elk to banh mi to grilled cheese burgers, Roscoe Village Burger Fest wants you to enjoy America's favorite food in totally weird new ways, sound-tracked by spot-on Talking Heads cover act This Must Be the Band.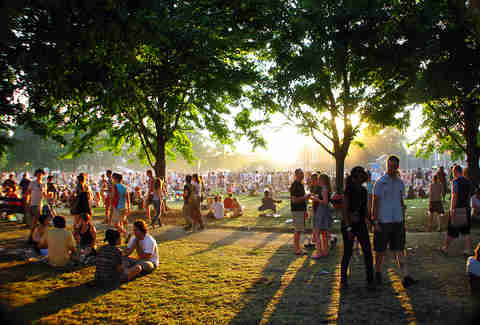 Make fun of hipsters at Pitchfork
When: July 18-20
Where: Union Park
Bust out the skinny jeans and ironic t-shirts at this annual Spring Break for hipsters, where you'll discover cool new bands like the LCD Soundsystem-styled Factory Floor and oddball Animal Collective shootoff Avey Tare's Slasher Flicks. Or just hang back and sing "I'm a loser, baby" with Beck, while telling all your friends you knew him before he went mainstream.

Assist Blackhawk Bryan Bickell with your sweet-ass facial hair
When: July 19
Where: River North
Despite what your girlfriend tells you, that facial hair can cash checks (for charity). Case in point: the Mustache Bar Crawl, where you can sprout your follicles for a good cause in a forest of River North bars, from Public House to Hubbard Inn to Blackfinn. Put away $3 Goose Island beers and $4 Tito's cocktails to help support the Bryan and Amanda Bickell Foundation. Because what could be more charitable than sipping booze from your mustache?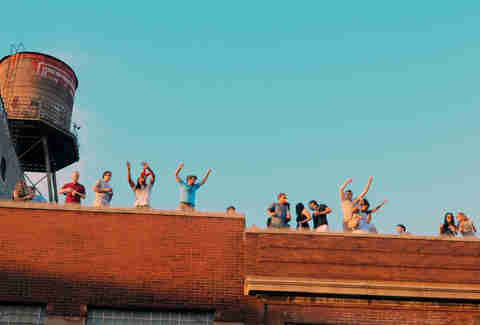 Enjoy one of the biggest steals of Summer at Wicker Park Fest
When: July 26-27
Where: Milwaukee Avenue between North and Paulina
A $5 suggested donation is an absurdly low price to pay to see rising Pitchfork-quality bands on the streets of Wicker Park. Check out Mad Men theme creator RJD2 and instrumental experimentalists El Ten Eleven while drinking more sangria than any man ever should.

Be the first to check out Chicago's newest music venue/nose-to-tail restaurant
When: TBA
Where: Hyde Park
Having recently opened Pilsen venue Thalia Hall, Empty Bottle owner Bruce Finkelman has set his sights on Hyde Park for the highly anticipated, long-delayed project The Promontory. With Dusek's Chef Jared Wentworth and Punch House beverage director Will Duncan in tow, the music venue/restaurant will take over the historic, renovated Piccadilly Theatre sometime this Summer. We're predicting July, because we're meat-eating optimists.

Jay Gentile is the publisher of Chicago INNERVIEW Magazine and a Chicago-based freelance writer who is wondering why we can't do this whole "July" thing every month. Follow him at @innerviewmag.